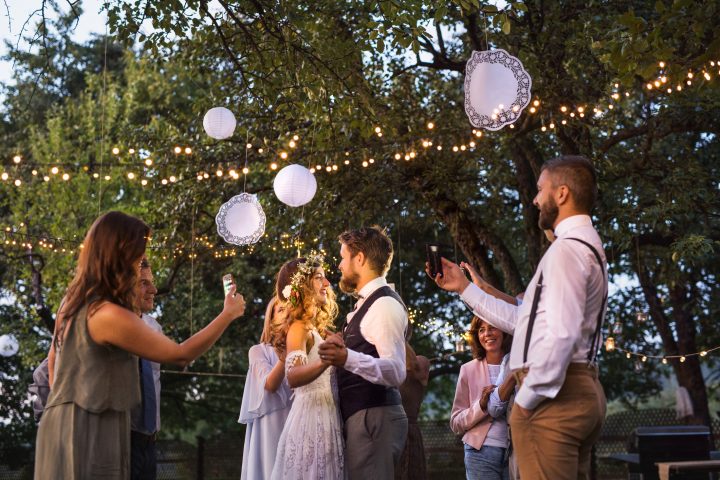 If you're thinking of having a backyard wedding, then it could only mean one thing… you're a Pinterest addict. This is a judge-free zone, so don't panic. It is not- as my siblings like to call it- an older people's app. 
Why are backyard weddings becoming so popular nowadays? There are several reasons, but the most popular are flexibility, familiarity, personal, and of course, cheaper. 
While this event combines comfort, close family, and your magical touch to every little thing, keep in mind, it also requires more planning, anticipation, and attention to detail. 
Who will decorate the backyard? Which vendors are available to come to your home? Who's in charge of chairs, tables, and arrangements? Is your photographer familiar with your backyard setting, so he knows what photos will work best? Do you have house insurance in case something goes wrong? And the vilest, who's on cleanup duty? The happy couple is going to be busy after their wedding to do any cleaning, so who will fall behind and spend the night cleaning among your loved ones? 
This is also a great way to know which of your loved ones love you the most. 
Preparation is essential here. If you need help with ideas, a wedding coordinator is always a great idea and massive support. Here's what you need to know so you can have the perfect backyard wedding
Be Specific in Your Invitations
Unless your backyard grows concrete instead of grass, you'll want to let your guests know which attire is acceptable. Especially footwear. 
This way, it cannot be held against you. Believe me, I've seen women wear high heels to these events and blame the bride for having it in her backyard in the first place. You either wear flats or go barefoot, there is no other option. You need to be specific if you have a particular theme (country, Disney, Fall, white, etc.). Let people know what the weather may be like that day, so they're well prepared. Other details such as time and place are common sense, so don't forget to place them on the invitation. 
A.I.S (Ass In Seat)
An excellent reference from one of my favorite sitcoms of all time. 
The most crucial factor in every wedding is your guests. How many are attending, and is your space large enough to accommodate the number of people you've invited? Backyard weddings tend to be more intimate and cozy, and only the closest to the couple are invited. If you're well-accommodated for seating, keep in mind the tables you'll need if you're planning on feeding your guests (which I hope you do). They can't eat from their laps. You're better than that. 
A beautiful ceremony is one that is not overcrowded, and people are comfortable moving around. Set up the chairs and tables needed before the wedding and take a good long look! If you are hiring vendors or food trucks, take those into account. The less space you have, the more fidgety the guest, the less they'll want to stick around. Your guest's comfort is a priority. 
Give Your Backyard a Makeover
Grab your hedge trimmers, or a professional, and tidy up. Your backyard may or may not be an utter mess, but trimming your bushes, planting some peonies, and taking a second look at the landscape- in general- is critical. In fact, it needs to be thought out months in advance, especially if you're planting flowers or want your wedding photos to look suave and absolutely stunning. 
If some bushes or plants are in dire need of removal, then please remove them. Again, space is everything here. Maybe you want to set up a themed photo booth for your guests. You can remove anything that takes up too much space and give your guests something to smile about and create some memories of their own!
Yes, Hello? I Have a Noise Complaint. 
How's your relationship with your neighbors? I mean, do they like you? Do they know what you have planned? Will they be able to handle the music, the noise, and dozens of cars taking up parking on the street? Yes or no, you need to consult with your neighbors about your ceremony, when it will take place, and when it will end. 
I've had a neighbor kindly address me on the same matter, and my husband and I rented a hotel room for the night because I knew I couldn't handle the noise. It's considerate and quite frankly, the right thing to do. By informing others, they will be able to act accordingly and not call the cops. 
Rent Everything For Decor, Including People
Yes, I do mean tables, chairs, tents, and wedding staff. We mentioned above that having a family member help with cleanup is OK, but hiring a cleanup crew is less of a headache. They'll do the job right from the beginning because hello, you're paying them! 
Tents are lifesavers from a cold breeze or scorching sun, so keep that in mind when decorating your backyard. By renting all this equipment, the vendor will come set them up, come back, pack them up, and leave. No hassle or extra work for you or anyone else. Don't forget to check out fairy lights, Chinese lanterns, or string lights to add that touch of Disney magic to the atmosphere. 
Last, But Not Least
 Food. Drinks. Porta-Potties. Food. 
Your guests will be hungry, so whether it's home cooking or vendor cooking, make sure there's enough to go around. That includes drinks and water. Depending on how many people are attending, you'll need to research the Porta-Potties, so click here for the 411. Most importantly, soak in the moments and enjoy your new life as a married couple. Cheers!