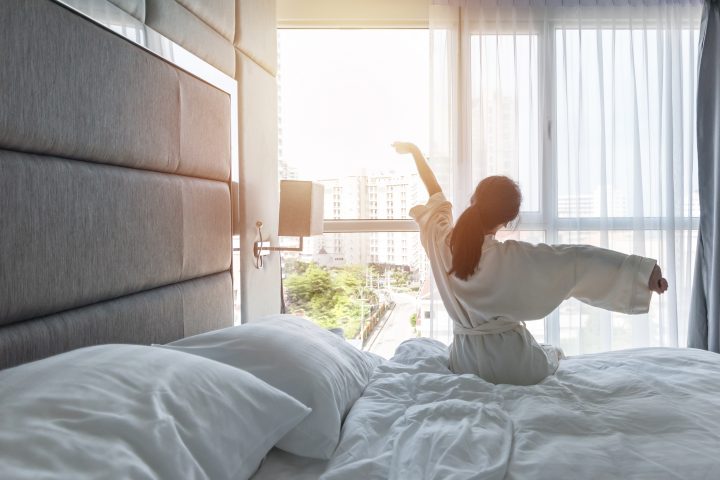 My first time traveling alone, my father sat me down, pointed to his phone, and said, "This is the hotel I booked for you." At first glance, it seemed like an ordinary hotel, nothing too fancy. The only thing that stuck out was the three stars shining right above the reviews. The hotel location was near a busy intersection, where coincidentally, a police station was right down the road. 
I can't blame my father for choosing safety as a priority, especially for his little girl traveling alone. In today's world, most travelers-especially the younger ones- are so tech-savvy that finding a hotel with all the commodities they need is a click away. By setting your price range, location, and people's recommendation, booking a hotel takes less than ten minutes. 
So, without further ado, here are a few things to consider when booking a hotel room. 
Discounts or Special Offers 
Finding the hotel of your dreams is great, but how about finding a great hotel with a significant discount? 
As we all know, hotel reservations can be very expensive, especially if you're on a budget or traveling with more than one person. People tend to look at the price per night more than anything else. According to Pavini at Coupons.com, asking for a corner room and booking business hotels in the summer is a surefire way to land a great deal. Some hotels may get you to sign up for their loyalty programs, which gives you access to more exclusive upgrades, events, and experiences. 
Special Services/ Commodities 
If you or someone you're traveling with has a physical disability, then you're going to prioritize hotels that accommodate to your needs. If you're away on business and your trip will mostly consist of conferences and meetings, it's nice to have the hotel staff provide you with a wake-up call and a cup of brewing hot coffee on your way out. Many people like to travel with their pets, so you need to confirm that that hotel you've booked is pet friendly. 
When you walk into your room, is there a small box of chocolate on your pillow compliments of the hotel? Are shampoo, soap, and towels provided for you? These are little details that make a big difference. 
Room Cleanliness
While it may be rare to enter a hotel room and find it a mess, it does tend to happen. How would you know if your hotel overall is a clean estate? 
Look in the comments, check the customer's reviews. These people have been there and have more experience, so if you see more than one person complaining about dirty sheets, smelly bathrooms, or trash underneath the bed, it's safe to say it's not as clean as the pictures posted on their site. 
Easy Transportation
If you're situated by an intersection or anywhere else that may be busy all hours of the day, you may have difficulty finding transportation or getting anywhere on foot. 
Say you call for a taxi and need to be somewhere important, but the streets are so busy that your taxi gets stuck in traffic, forcing you to be late to whatever event you were attending. The hotel may offer transportation, or there might be a bus route you can take, but keep in mind that both those options rely on other people's schedules and not your own. 
Customer Reviews
As I've mentioned before, customer reviews are the go-to when you're hanging between a yes or no. Many people will describe their experiences, be it good or bad. 
You'll get an idea of what attractions surround the hotel, the best places to eat, what museums are worth a visit and a fellow human being might even mention a few secret upgrades of the hotel that no one knows. The comments may not be all accurate, but they're helpful in the long run.
Wi-Fi Strength 
When on vacation, I tend to have my phone off all day until right before bed to check for any urgent messages or emails. If it's a business trip, you can expect me to be on my laptop while I'm sitting, standing, eating, and sometimes sleeping. It's not a business trip for nothing. 
Because of this, I need to immediately have the hotel Wi-Fi connected so I can quickly get to work. Do you know what I hate? Having to call the front desk over ten times a day to ask why the Wi-Fi is so slow. I'm sure they hate it, too. If having a fast internet connection is a priority, make sure to check with the hotel beforehand. 
Complimentary Food
Reserving in a hotel with delicious food is excellent. Booking in a hotel with complimentary breakfast food and free open buffets is a bonus.
Before checking in, few hotels will inform you that you can eat all the food you want by paying a couple of dollars more. Personally paying a few extra bucks won't break the bank, and you won't have to order room service, which we all know can be very pricey. 
Fitness Center
I know it shouldn't be, but this is a priority of mine when searching for hotels. I immediately check their fitness center to see the types of equipment they offer, and if it's large enough to be good enough. 
Now, it's not a deal-breaker, but the only way I don't slack on vacations or work trips is when the hotel gym is beautifully built. It motivates me to workout and allows me to enjoy the equipment they have to offer.