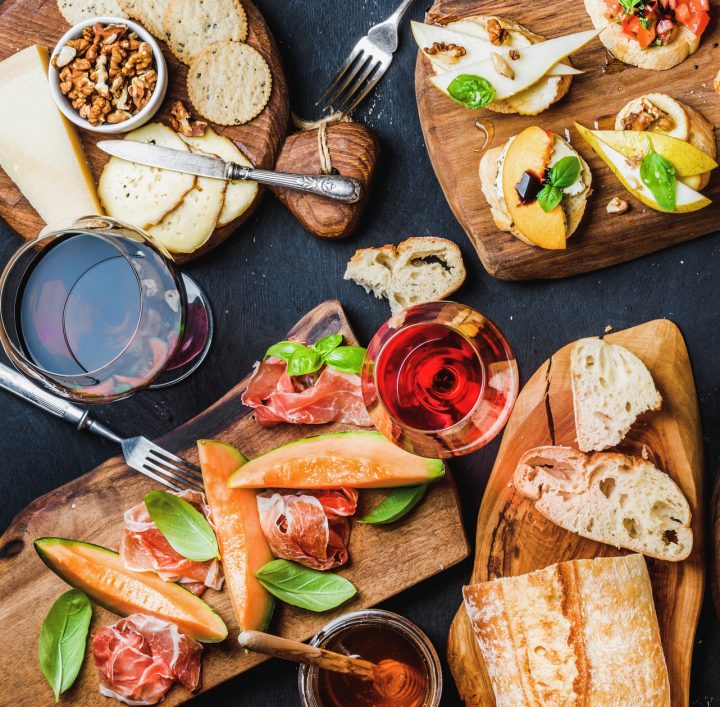 Where I come from, football is played with the feet, not hands. In fact, if you were to describe American football to a foreigner, they wouldn't think much of it because, um hello, its 300-pound men in tights chasing each other for an oddly shaped ball.
So, yes, even I can admit that I know zilch about football except for the name Tom Brady, whose face dominated my Instagram feed thanks to all the Patriots fans I surprisingly know.
While my knowledge of football is lacking, there is one thing I am particularly good at that has nothing to do with the sport and that is hosting a party! The planning, the drinks, the DIYs (damn you, Pinterest, will it never end?), and most importantly, the food! You don't even have to be a fan of football to host a party, because if you're like me, you do it for the fun and the whole YOLO thing.
If you're looking to host the Superbowl at your home this year, I got you! Here's what you need to know.
Football Theme
Don't worry; your walls don't need to be draped in NFL flags. A few simple ideas include football shaped cookies, plates and cups,  balloons with your favorite team's colors, a table cover resembling a football field, balloon letters spelling "Touchdown," and if you are really up for a challenge…a football-shaped cake. The possibilities are endless, and if you were to Google football themes, you would be overwhelmed with choices. The point is, there's no need to overdo it or have the "perfect" party. By creating a football theme, you will be encouraging your guests and yourself to get in the Superbowl spirit.
Set Up Extra Chairs, Tables, and Garbage Bags
If you know how many people are going to be attending your event, then you know how many seats you will need. Since Superbowl parties usually consist of 10+ people, then you need to figure out how to set up your seating area! If you have couches, consider moving them aside and setting up only chairs. Believe me, if you care for your couches fabrics, you will do this. Your home will be full of men jumping up and down roaring at a television set, and SOME STAINS DO NOT COME OUT.
Plus, it's always best to be on the safe side in case someone brings a plus one with them. You don't want half your guests sitting and the rest standing. To avoid a (bigger) mess, tape garbage bags to the side of your table or chairs so trash will have a place to go other than your floor.
Make a Food and Drinks Bar
Here is the best advice I can give you when it comes to food: do not overdo it. I've got two words for you: finger foods.
Keep in mind that even though this is a gathering of friends and family, you won't be all seated together, so there's no need to fuss over what goes in their mouths. You buy some bags of chips, 24 pack cupcakes, two brands of beers, order some Buffalo Wild Wings, and relax. Set plates at the bar and everyone can stack what they want. Put the drinks in the cooler and throw a bag of ice over them! Boom! That's literally it; you're done.
You can even ask your guests to all bring something along so there won't be a shortage of food. If you're the MS (Martha Stewart) type, then get cooking a day ahead so you won't be flustered the day of.
Have A Separate Room for Non-fans
That's me. I'm the non-fan. And I do know I'm not the only one so being the considerate person I am, I always set up a room that's meant for peace, quiet, and casual conversation. Keep in mind it's going to be a loud day and not everyone will be comfortable watching football. Some guests might bring their children with them so this room would also be considered a safe haven for them if they need a break or have to take a nap.
Keep Children in Mind
Most likely, more than a couple guests will bring their kids with them, so it's best to be prepared. With that said, make sure you have kid-friendly snacks, juice pouches, and anything else that might help kids stay occupied. If you have an extra TV screen, set it up in the separate room and choose a few children films, so they have something to watch if they get bored.
If you get overwhelmed about hosting a party, you can always ask a close friend to help you out! There's nothing worse than feeling you're alone in something, even if it's just a party. If you're confused about anything, always remember Google is your friend. By keeping these simple steps in mind, you'll have a touchdown of a party!
Did I use that right? No?
Ok, I'm done.