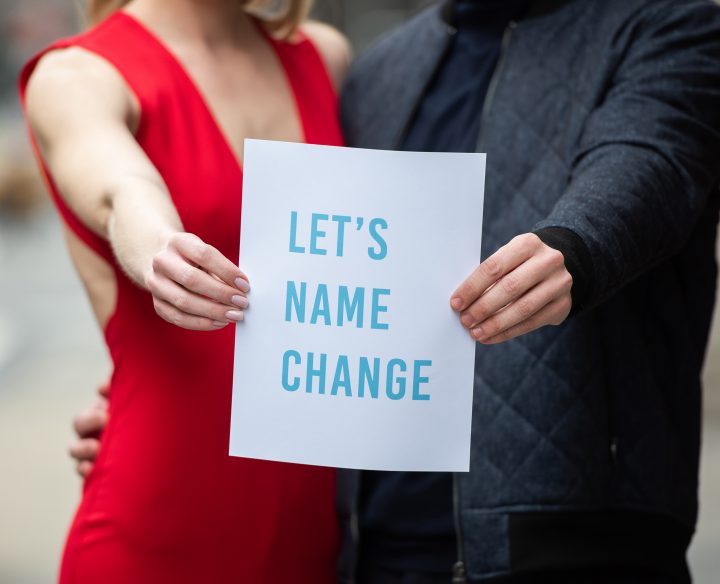 Of all the things to think about when planning a wedding, a name change might be at the top of your list. In today's modern world, it is more socially acceptable to change your name to whatever you want. When it comes to the final decision regarding changing your name, here are a few options to consider.
Stick With The Name Your Mama Gave Ya
You decide to stick with the name given to you at birth because of obvious reasons. Every person has an idea as to why they keep their name as is and there's nothing wrong with that. By keeping your maiden name, you'll save yourself the trouble of filling out countless applications and visits to the happiest place on earth: the DMV. It's widely known that in many parts of the world, a woman taking her husband's last name is not only mandatory but what makes a marriage last. With the numbers of women seeking a part in the work field quickly on the rise, the percentage of women keeping their maiden name for professional reasons is a prominent one.

Pragya Agarwal, a researcher the University of Liverpool and business owner of Hedge and Hog Prints states that her name is a "huge part" of her identity and being responsible for several academic publications, "it did not make sense to change it." It also makes that women will keep their maiden name to be credited for the professional work they present in their field.

https://media.giphy.com/media/HLrWXhKzIgwM0/giphy.gif
Take Your Spouse's Name
The most common-traditional route. Several women in today's world choose to take their spouse's last name after marriage. The procedure is a long one but can be fairly explained here.

First, the couple needs to obtain an official copy of their marriage certificate. Depending on which state you reside in, you'll end up paying a different fee for a copy (you will probably need more than one). You will then need to apply for a new SSN (completely free) along with your ID and marriage certificate. You can either choose to mail in your form or head over to the nearest Social Security office.

Next up is your driver license and passport. Again, depending on where you live, fees will vary. Be sure to fill out the appropriate forms for a new passport after the name change. If you are a frequent traveler, you don't want your ID stating a different name than your passport. That won't look too good when you're trying to board that plane to Bora Bora for your honeymoon.

https://media.giphy.com/media/6Q3M4BIK0lX44/giphy.gif
Click here if you need to update your passport photo from the comfort of your home.
Hyphenate Your Names
If you want to hyphenate your name-taking both maiden names and combining them to make two family names- you will still have to go through the same name change process and fill out the same applications. Read more about the process here.

Some people choose to hyphenate their names as soon as they get married, and some like Nicole Bradley-Bernard decided to change it after six years of marriage. In her article, she states that her long-awaited decision came after the realization of self-importance. She goes on to say how one's name shouldn't be tossed out just because of outdated traditions.

https://media.giphy.com/media/DP6efTzaBlYe4/giphy.gif
By choosing to have your husband's name does not mean you need to give up yours. It's always been expected of women to give up their identity after marriage, and alas, women are stepping up and holding on to their original status. Hyphenating your last names is a great way to keep your name and take your husband's name. It's also a great example of unity within a family once couples decide to bring children in the picture.
Change Name Legally, But Keep It Professional
Hannah Montana said it best: you get the best of both worlds.
This is the route I took because my career depends on my name. I'll admit, it has not been easy because it causes some confusion among my peers and friends. It's like having two identities and of course, people constantly asking why I don't just use my husband's last name.

https://media.giphy.com/media/eGi9RrBhbguQw/giphy.gif
Imagine working your butt off for the work you do, just to put it under a different name that isn't even you! I mean, that's how I saw it, at least. Like I said above, more women are becoming part of the work field, and most nowadays are keeping their maiden name because it is their professional name. If this the route you want to pursue, be sure to consider all the pros and cons of the decision.
Create A Hybrid Last Name
Yes, this is an actual thing. If all the above options aren't to your liking, you can make up your last name. I mean, seriously, how fun would that be? If I knew about this option, I would've changed my last name to Stark nine years ago. With the eighth season of Game of Thrones coming out, it becomes more tempting as the days go by…
https://media.giphy.com/media/xTcnTehwgRcbgymhTW/giphy.gif
Winter is officially here, you guys. If Jon Snow doesn't end up on the throne, my life will officially have no meaning.

For a list of people who completely changed their last name and didn't have a single regret, click here.
Make sure to let your work of employment, government agencies, your bank, and social media know of your name change after changing it.