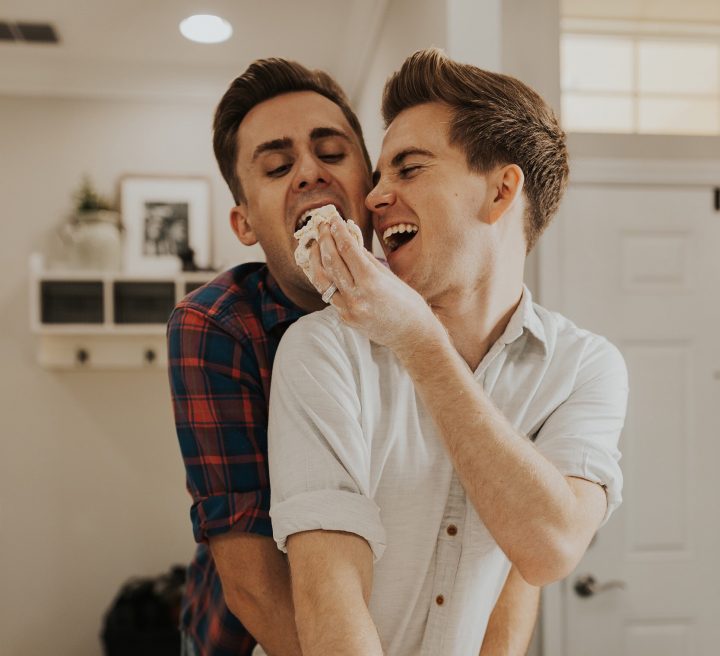 How did you two meet?
We met a little over 5 years ago on Instagram. After 2 weeks of talking, I asked Grant to fly out to Santa Barbara, where I was going to school at the time. We ended up splitting a plane ticket and he flew out the very next week. From the moment we first met at the airport, we knew we had something special. Grant was relieved that I was as tall as I said I was and I thought Grant was even more handsome than his photos could have ever shown.
What's the most memorable date you've ever had?  Why was it so special?
Our most memorable date was our first. We went to a sushi restaurant in Santa Barbara, and unknown to me at the time, this was Grant's first time eating sushi even though he said he did. He ended up taking the large chunk of wasabi sitting on his plate and said, "I love avocado"! I, of course, thought he was kidding, but he ate the entire thing and tried not to let me notice how uncomfortable he actually was. We still laugh about that moment today. After dinner, we enjoyed an early evening walk down State Street and ended our night with cake at a little Danish bakery, which was important to me because I am Danish. This date was perfect and our most memorable.
When did you know that you wanted to get married? 
We knew we were getting married probably about six months into our relationship. Grant started hinting at getting married about a year and then I finally popped the question after about 2 years.
Tell us more about your proposal! 
 I ended up proposing to Grant in Central Park in New York. The night before, we ended up staying at the Ritz Carlton in Central Park. Grant was blown away and he thought it was my Christmas gift to him. The very next morning, his family flew into New York and it was perfect time to propose. We were checking out of the hotel and he did not suspect a thing. We walked into Central Park to get some photos with his family, and while he was turned around, I got on one knee, in front of the bridge in the Home Alone 2 scene, and asked him to marry me.
Where was your wedding? 
 We ended up getting married at the Four Seasons in Orlando Florida. This was the perfect place for our family in Florida and also for our guests out of town to come visit for the wedding, but also make a vacation out of their trip.
What was the most fun part of planning your wedding?
 The most fun part about planning our wedding was picking the venue. We ended up getting married at the Four Seasons Orlando. The entire process from picking the space to trying out the food was definitely our favorite part of planning.
What is your favorite wedding memory?
Our favorite wedding memory was a moment shared at the reception. All of the music seemed to go away completely and we looked over at everyone eating their dinner and began to realize how perfect the night was. This moment was very special to the both of us because it was a way to recognize all of the hard work we put into the wedding but also a time to realize how much we loved each other and that this was the beginning to the rest of our lives together.
What does your current name mean to you? Or what did your birth name (name at birth) mean to you?  
Our birth names mean a lot to us, however, they do not define who we are individually or as a couple. We are still able to carry on traditions from both families while we begin to create our own.
Are you both changing your name? If not, how did you decide who would change their name?
Only one of us is changing their name. The way this came about was actually very simple and funny at the same time. A week into dating, I told Grant he had to switch his name if you ever plan on getting married to me and he said yes. Some people say that is unfair or demanding, but it was very important to me and Grant knew that.
What does changing your name mean to you?
 Changing our names means the world to both of us. We plan on having kids someday and want to share the same name with our entire family. This way, we can grow as a family by having the same last names as our kids, and their kids in the future.