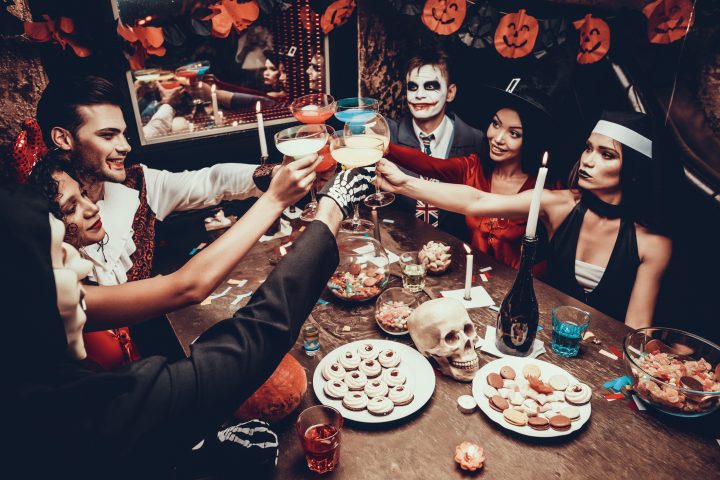 The month of October has finally bestowed itself upon us mere mortals. The month of candy corns, jack-o-lanterns, pumpkin carving, haunted houses, and 20+ visits to the Party City around the corner. 
Yup, it's all coming together. 
The last three months of the year are always the busiest and most stress-inducing months of the year. The holidays all roll up right after one another, and if you're playing host for any event, then you've got your hands full. But before we drown ourselves into endless tasks and sleepless nights, the best night of the year has arrived. 
Here's the thing, there was a point in life when we were adults (college parties, sexy Catwoman costumes, blackout drunk), and another point where we became adults adults (marriage, work, children). Responsibilities seem to tally up as we get older. But that doesn't mean we can't unleash our inner kid, wear a costume, and eat copious amounts of candy on Halloween. 
Hey, if anyone deserves it, it's you. So whether you're hosting a Halloween party or attending one, here's how to keep it memorable and fun. 
Invite All Your Witches (And Warlocks)
Being an adult in the modern world is challenging. Now try being a working/parenting/never sleeping adult. It's laborious keeping a schedule considering there's so much to get done. Calling or texting all your friends and family is a great way to get your invite across, but why not keep it exciting and send out Halloween invitations instead?
It's a surefire way to get people to come since fewer people are likely to flake with an invitation. If you have any specific requests, rules, or theme for your party, make sure to state them in your message to let people know. 
Let's All Have Some Skele-fun
What's the difference between Halloween games when you were a kid and Halloween games now? 
Alcohol. At this point, it's the only thing that makes life fun. But it's not the only thing. 
Bobbing for alcohol is a fun twist on bobbing for apples, but instead of water, it's sangria, and for apples, it's mini bottles of liquor. If you've got a big day planned the next day and you and other adults have kids that are waiting at home, then simpler things such as a costume contest, pumpkin carving contest, and donuts on a string will do the trick. 
The goal is to have fun, enjoy yourself, and keep it classy for your friends and family. For more fun Halloween games, click here. 
Give Them Pumpkin to Talk About
How vital are decorations when it comes to adult parties? 
Extremely. If you think I'm coming for your food and skillfully decorated cupcakes, you're absolutely right, but more importantly, how superior are your home decorating skills? I spend an hour a day on Pinterest (no judging) praising moms for their DIY and decor skills, and now I'm here for yours. 
It's not always easy, so if it helps, try setting a theme. We're all adults here, so you don't have to go all out for this party. Keep it spooky with a splash of chic. Click here to check out some beautiful Halloween decor ideas! 
Boooo-vie Night 
There's bound to be some people at your party that simply do not want to…party. 
Hey, it happens, so let's not overlook it. If you have a spare room, try setting up a TV or projector with movie options that capture the spirit of Halloween. Depending on how many people are attending your party, seating will differentiate. You can choose from couches to lawn chairs and even bean bags. Have a separate table set with spooky snacks for your guests, plus don't forget to set the mood for the movies (ex. Low lighting, cobwebs, mini pumpkins)!
Creep it Real
By that, I mean, make sure your guests are comfortable. For most adults, it's challenging to get away and enjoy a night like this. 
Personally, I'd go to any adult party just to have some fun regardless of which holiday it is. Make sure you have enough snacks or food for your guests, and music playing in the background is a must (please don't blast it). Here are a few party ideas to help get you started. 
Have a few contests, down a few drinks, laugh till you pee your pants, and enjoy the spookiest night of the year. 
Extra note: Halloween is great, but keep in mind the dangers that loom on this spooky night. To make the best of your night, please read these safety guidelines and pass them along to friends and family! Happy Halloween!