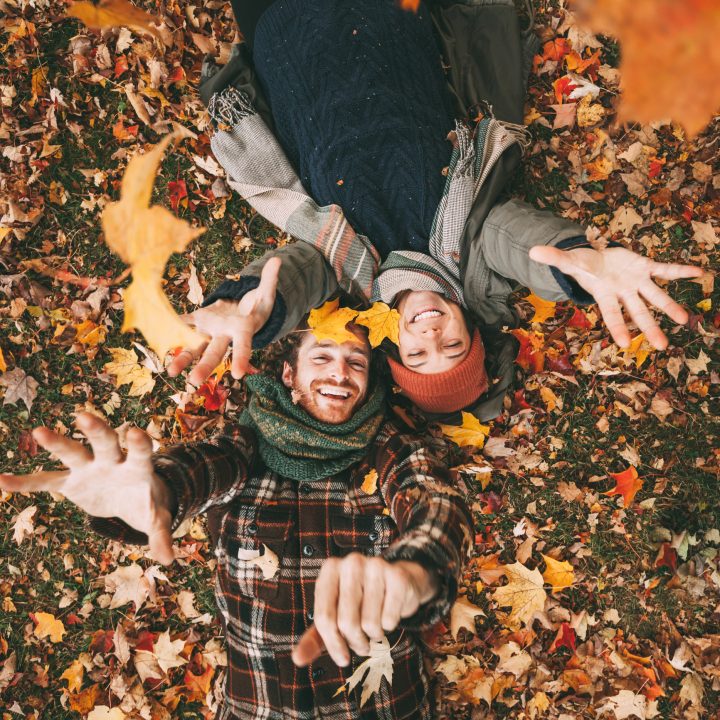 (And Families!)
It's incredible how every season comes with its own set of to-do activities. While every season has it's happy moments; it always feels like fall and winter are the best times to create some fun. Something about the fresh fall air makes you want to either cuddle up at home with a spiced pumpkin latte or head out to the nearest pumpkin patch and enjoy the cinnamon air. While there are hundreds of options to choose from, we've picked a few of our favorites that are both family and couple friendly!
Check them out! 
Spend an Evening at the Beach 
End of October, beginning of November is when the weather is just perfect for a day to cozy up at the shore. There's nothing like spending a single evening at the beach with your significant other. Nothing too spontaneous, I promise. Gather up a few blankets, couple pillows, and a tent if you're feeling bold! There's nothing like the sound of the waves and the smell of the salt to give you complete tranquillity and lull you to sleep. 
To especially get the most out of your day, don't forget to pick up some beautiful shells before you head home. Keep them in a jar to remember this special day. 
Cook a Fall Dinner Together 
I know what you're thinking. What the hell is a "fall dinner?" 
Think hearty, whole, and something to warm the belly. Most meals in autumn fall in the category of slow cookers or a one-pan meal, and this is what makes this plan so simple and great. Pumpkins, acorn squash, spaghetti squash, and the entire squash family are in the spotlight at this time of year, so incorporating them into your recipes or as sides is an excellent way to get into the seasonal spirit. 
For simple, quick, and delicious recipe ideas, click here. 
Pumpkin Spiced Latte Hunt
The chain of coffee shops in America is endless. Starbucks is the most recognized for its infamous pumpkin spiced latte that makes its appearance around the colder season. But there is still so much to be bought and tasted! 
Spend the day with your partner taste testing the pumpkin spiced lattes in your own town coffee shops! Who knows? Maybe you'll acquire a new, unexpected favorite. 
Read a Book Together
Anyone else feels like reading a book when the air is cooler changes you?
If you will, imagine this: you're sitting at a family-owned cafe in Paris (or Santa Monica), the streets are quiet, and a drizzle of rain is the only sound surrounding you. You're sitting with a cup of robust Colombian coffee because you know chai lattes are overrated. 
You're reading a book about a boy who stole a painting of a goldfinch. Your partner is waiting at the counter for the chocolate croissant you've been craving and wouldn't stop talking about. You know it's going to be a fantastic day because one, you're there with the most precious person in your life, and two, this book has immersed you in its chapters. 
You're wearing the scarf grandma knitted for you two falls ago. It's a good Autumn day.
County Fair 
Undoubtedly, the most common and exciting fall activity for families and couples alike. If your town doesn't host a county fair, then the next town closest probably will. What better way to spend the day than hayrides and corn mazes? Plus booths upon booths of delicious food and fried desserts? 
What more could you want? Fields of apple trees, pumpkin field, face painting, game booths, rides, and so much more! There are so many things to do at the fair that you'll need to go every day of the week to gain the full experience. 
Have a Disney Movie Marathon
Usually, around this time, Disney broadcasts it's familiar Halloween films on cable. Even Youtube has full Disney episodes on live throughout the month! If those both don't work out for you, then Netflix is an excellent choice since there are several Disney films to choose from. 
Family-friendly films are a great way to spend the night with your loved ones. You can make your snacks at home or keep it simple and pass out buckets of popcorn. You can always bring out sleeping bags (or any blankets) and camp out in the TV room as a bonus! 
Just don't forget the smores!
Bring Out Your Artistic Side
With the leaves rapidly changing colors and the weather getting crispier, a lot of people like to linger indoors. 
Getting artsy in Autumn is a productive way to spend a family day. You get to go out and collect leaves, pinecones, rocks, and get truly creative. Artsy Crafty Mom has an incredible list of ideas that are bound to keep the family busy and content. Several of these ideas don't require much and can be framed and hung after you're finished. 
This is the perfect activity for those rainy days where the kids are unbelievably bored, and there's nothing to do!