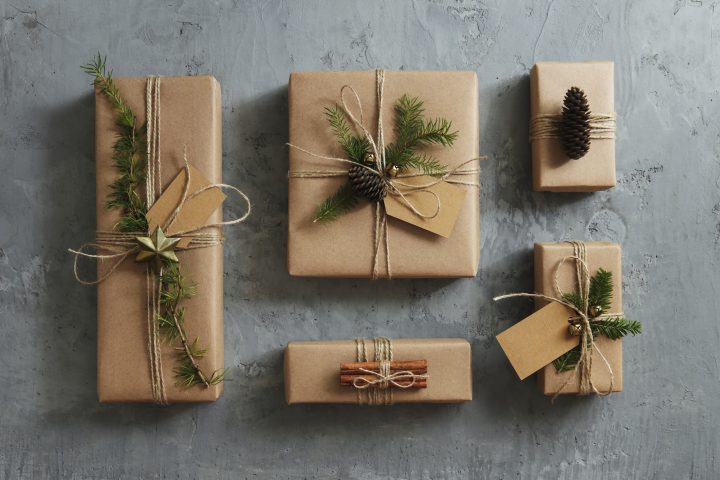 Ah
, the holidays. Oh, the
holidays
.
Well, which one are you? If you say both, I get it. You believe that this time of year is all about spending time with family, reuniting with friends, eating long buffets of food, enjoying your vacation, and hoping your bank balance won't show negative by the end of all the holiday shopping. Everyone has different views on how these last couple of months should be celebrated, but we all can agree on one thing: if there's any way we can spend less money, we want to know about it. I mean, you spend the whole year saving up and earning this hard-earned money, so why not spend it gradually? 
Here a few consumer-friendly tricks to help you pick out the best presents without hopefully drying out your wallet. 
Review Your Budget
Before you start adding up your spending list, take a look at your bank balance. Why not sit down and ask yourself: how much can I really afford to spend this year? It's not a shameless question, and you shouldn't feel obliged to use any money if you are incapable. 
Certain groups of people such as college students, unemployed relatives, and even the ones with underpaid jobs with long hours have a long list of things to think about, and they're all more likely to be 100% more important than buying you a gift!
Who Made the List?
It's incredible how many people you can eliminate from your list once you've set a budget. Some people are meant to be prioritized, and that's the cold hard truth. Usually, the top three people to make it are your partner, your mom, and your dad. 
Usually. Many of us can't be home for the holidays, which results in online shopping (and shipping), which in most cases, is expensive. We'll get into that later. 
What I'm saying is your friend Dave from work does not need a present, nor does anyone else you "sometimes" hang around. Again, it's crucial to prioritize the most relevant people in your life, so you don't overspend. 
Comparison and Affordability
We live in a futuristic system, which means there is a replica for everything ever created. Take Airpods, for example. They go as high as $300… That's crazy for a pair of Bluetooth earphones considering there are hundreds more that provide the same function. 
Brand names are just that…brands. Don't lose yourself in today's marketing, where their ultimate goal is to sell you their low-cost products for an outlandish price. People, we live in the internet era. If you can find the product you need for a more moderate amount and it's highly suggested by other users, buy it. Take advantage of the ratings!
Coupons Are Life Savers (Literally)
I could say that and be done with it. Seriously. When I think of coupons, I automatically think of Bath and Body Works because they're out here giving out coupons like it's nothing. Obviously, I'm more than ok with that. But I'm honestly wondering at this point, how many candles are considered too many? 
Anyways, coupons and promo codes are especially helpful when it comes to purchasing products. You can indeed find anything online, but to be safe, check out these money-saving apps that will change the way you view spending. 
Holiday Shopping Isn't Just for the Holidays
Companies tend to have annual or weekly sales throughout the year. Of course, we cannot forget the most critical day of the year (for me, at least), Black Friday. 
Yes, a day so legendary that it has spread to over 15 countries. Also, you can find wild deals on Amazon year-round, so keep your eyes peeled! There's nothing wrong with purchasing gifts at a lower price and saving them for this particular time of year. Be the savvy smart shopper your mother always wanted you to be.
Online Instead of In Line
Remember when we used to go into retail stores, wander around, ask for help, and pay with cash? It's a nostalgic time, that's for sure. According to CNBC, "Online sales are now the fourth largest sector overall, bringing in about $59.8 billion in adjusted sales for February (2019)". 
You may have noticed it in…yourself. You prefer to buy things from the comfort of your own home, and that's perfectly fine. The speed at which people are switching to online shopping is genuinely terrifying. When Amazon becomes the only retailer left out there, just know we- as a negligent generation- made it happen.
If You Can't Afford It, Ignore It
Simple as that. Remember that priority list we talked about? Keep going back to it because it is imperative. It may sound harsh, especially for this time of year, but you don't "owe" anyone anything, I promise. If people understand your situation, then they will have no problem with you not being able to buy them a six hundred espresso coffee machine.
It's the holidays. If you didn't know, it was never about materialism. It's about family, closest friends, and realizing how blessed you are to have a plate of food on your table. Soak in all the love, enjoy the laughs, and cherish these memories! 
Happy Holidays!