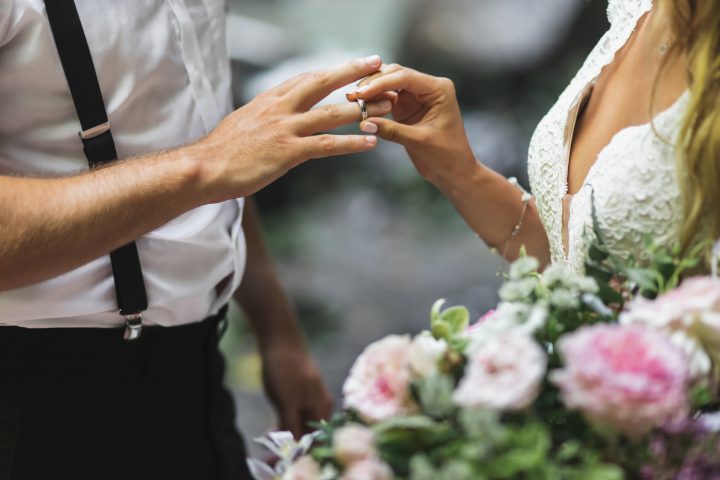 Before one does anything life-changing, they usually think of everything it will affect in their future. For example, if you're moving to another state, you will undoubtedly research the area you're moving to, the crime rates, school district, transportation, weather, and so much more. If you're familiar with the "fight or flight" response, then you know well that as humans, we've evolved to create safe spaces and develop connections with others, prioritizing our wellbeing. 
According to the CDC, in the U.S alone, there is one divorce approximately every 36 seconds. That's 2,400 divorces per day! The percentage of divorces since the 1980s hasn't budged much in the last four decades, and the reasons are endless, but that's not our story for today. If you're lucky enough to find a partner to spend life's precious moments with, that's wonderful! Here's what you might have to consider before deciding to put a ring on it and remaining healthy throughout the marriage. 
Who They Are
How well do you know your soulmate? How long have you two been together? Are you familiar with their routines? Their likes and dislikes? How about this: do you know their middle name or even their favorite color? 
Yes, these questions sound a bit outrageous, but if you find yourself not knowing the answer to even one of these questions, then few reconsiderations are in order. No, that doesn't mean you have to reconsider everything you know, but knowing your partner is a vital part of every marriage. 
A study was conducted where 47 married couples completed an attitude familiarity questionnaire to see how well they knew their partners. It concluded that attitude familiarity with your spouse "also related to lower overall ambulatory systolic blood pressure and diastolic blood pressure." Truly knowing your partner is a vital link in a sustainable relationship. 
Addictions Cause Friction
It's no secret that addictions can not only ruin lives but take them, as well. If you're entering a marriage with a partner who has a worrisome habit, let me stop you right there. 
A person's addictions (and that person can be you) can have irreversible damage on a marriage. It's been said a million times before, and it's a widely known fact: an addict's needs and obsession with their drug of choice will always override the needs of their partner, children, career, and apparent necessities. 
Keep in mind that addicts are mentally ill people who will do whatever it takes to get what they want. This includes lying to cover up tracks, quitting their job, infidelity, and landing a family in massive debt. Because of their unreliability, it's common to see the other spouse become the primary caretaker. If you or your partner is battling with addiction, get help, and avoid wedding bells for the time being
Role-Play (Not
That
One)
When you think of your partner's role after marriage, what do you envision? Do you see them staying at home and taking care of the kids while you're working a 9-5 job? Or do you see yourself working from home in your office, while your partner takes care of everything else? Who's the chef? Are women solely responsible for cleaning up after you and sorting out your laundry, or have we broken down those traditional sexist barriers already? 
What you assume may not be what you bargained for. Master life coach and counselor, David Essel, says, "these assumptions can kill a relationship." Premarital counseling is imperative for particular couples, but not enough choose to see a professional. Ask your partner what your role should be in a marriage. Their answer may or may not scare you. 
Let's Talk Careers
 Who's the breadwinner of the family? 
According to the CPS, "among married-couple families, both the husband and wife were employed in 48.0 percent of families". Even a mediocre lifestyle has a big price stamp on it at the end of the month, and bills must be paid. 
More families are choosing to work to bring in a more substantial sum of income at the end of the month. Traditionally, it's always been the man's job to… well, have a job. With more women entering the work field, tradition is getting its ass kicked. Not that I'm complaining, of course. 
If your job requires long hours, several meetings, traveling, late nights, or even early mornings, you might want to check in with your partner. Before marriage, it's something that one rarely thinks about, but after marriage is a whole different story. 
Unresolved Issues
All couples have their ups and downs, their rights and wrongs, and their own way of forgiveness. Think: is there something that has occurred in your relationship that you've decided to forget and not forgive? 
Be very cautious as these events can lead to anger and miscommunication even after marriage. I know you don't need a professional to inform you that communication is a crucial part of any marriage, and a clean slate is required for a new beginning. Hiding how you feel towards certain events can lead to suppression of anger/depressions, which will-believe me- end a marriage. Find time to sit with your partner and bring up any unresolved issues. 
Talk about them, cry about them, and together, start anew.