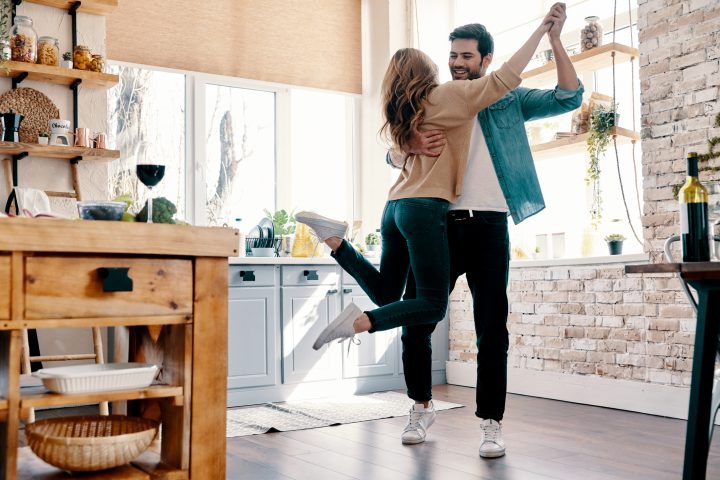 With everyone around the world still on lockdown, couples everywhere are forced to make the best out of their situation while staying indoors. Many are celebrating their anniversaries from the comfort of their couch, and others have brought out their creative side to keep the romance sparkling. 
Believe it or not, indoor dates with your partner are a great way to reconnect on a more intimate level. Why is that? It gives you both a chance to re-discover the traits you fell in love with when you first met. If your dates always consisted of crowded places, then this is your chance to create something more meaningful between the two of you. 
Are you ready for a bond that goes beyond Netflix and chilling? Here are eight creative indoor dates that will cure boredom and keep the sparks flying. 
Paint a Room 
Are you or your partner painters? It's alright if you're not because this won't require much experience. You can master anything nowadays by watching YouTube. Painting is a therapeutic experience, and if you're the artful couple, then this may be an excellent way to spend your date at home. 
Pick a room in your home that can use a change, agree on a color (or colors), and start painting together! This video provides essential painting tips that will help you get started. If you are renting a property, painting on canvas is another marvelous idea.
Blaze It (In the Kitchen)
When it comes to food, it's safe to say my partner and I are always famished. We eat a lot. Couples who eat together, stay together, right? So why not kick it up a notch and initiate a cooking competition? Nothing too brutal, obviously, this isn't Masterchef. 
But you can make it enjoyable by setting some ground rules (ECCO rules), and the loser having to either give something up or commit to cleaning up after dinner. 
This is a great way to enjoy each other's company and spice it up in the kitchen. Wine should be present, uncontrollable laughter is a guarantee, and profanity is a must. I know it's just a friendly competition, but in the end…there can only be one winner. 
Order Take out + Virtual Tour 
Since all our favorite restaurants are closed due to the pandemic, few are offering take-out. Thank God for those of us who have children. If you decide that sitting on your couch, eating Thai food, and watching a virtual tour online is the best date night choice, then so be it. If anything, I am sincerely jealous since my partner neither likes take-out or watching anything longer than twenty minutes. 
Expect lots of cuddling, "wow"s, and depending on your take-out- plenty of gas. Yes, romance is in the air, but it's best you don't breathe it in at the moment. 
Marco Polo  (The Adult Version)
Ah, touchy time. It's scientifically proven that anything that involves a blindfold after twenty-one is sexy time (don't Google that). Are you ready to turn your childhood game into a sex game? Hey, it's still a date night, after all. 
You or your partner will wear a blindfold, and the other will situate themselves somewhere in the room. You can stick with the traditional "Marco Polo," or you can dig deeper and get a little dirty. The idea is to get your partner (and yourself) as riled up as possible before…you know. 
Don't forget champagne, chocolate, whipped cream, chocolate-covered strawberries…your choices are endless. You didn't read those 50 Shades of Grey books for nothing, right?.
Sleep Under the Stars 
If you own a backyard, then camping out underneath the stars is literally the best date idea ever. It's not the wilderness; it's better. You can go number two in your own bathroom. S'mores? Pop them in the oven. Wild animals? There aren't any. Alcohol? Plenty. When gazing at the stars, you can simply stare and be at peace, or you can show off your smarticles and name the constellations. 
Regardless, wrapped in the arms of your loved ones at the end of the day is all the comfort you need to end this spontaneous date. 
Find out more about backyard camping, click here. 
Take a Trip Down Memory Lane 
"Remember when," have to be the two most nostalgic words in the English language. They refer back to the struggles, the success, the losses, the wins, the heartbreaks, and the day you fell in love with your significant other. If you have photo albums, now's the time to dust them off. 
Watching videos is another great way to reminisce and hold your partner closer. Memories can spark joy or tears, and maybe tears of joy. Sit back, relax, grab a wine bottle, and take a stroll back in time. 
Shoot a YouTube Video 
If you've never done it before, this is the time. You're stuck at home all day anyways! You can talk about anything, create a tutorial, something personal for loved ones, show off your baking skills, show off your musical talents, or even teach a course.
Recreate Your First Date
Simple, right?
Or is it? Who here remembers how they met their partners, let alone their first date? In all honesty, I don't. But if you do, you can surprise your partner by recreating the moment you made it official. Try your best to arrange the setting to match that day. To make it more interesting, act out like it's the first time you're really meeting! 
Good luck, and stay safe!