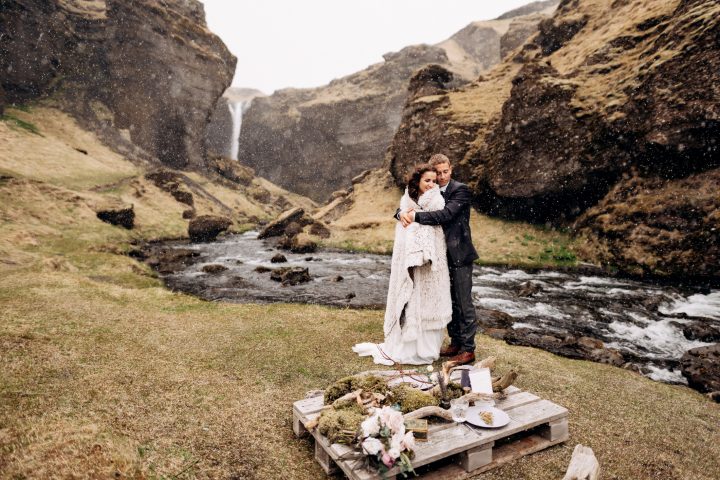 Brides are being faced with a major dilemma in 2020, how to recreate their dream wedding while keeping everyone safe. If you're one of those brides, you know it's a tough task, but you're going to get through this. 
Of course, you could completely postpone your wedding, but you've been building up to this day for a long time. Completely postponing it would be too painful. If anyone is going to find a way to celebrate, it's you. Women are creative problem-solvers and once we have our hearts set on a goal nothing can stop us. 
I want to give you a helping hand. Here are six different ways for you to take back your wedding date. Change them up, mix and match, make them your own, and always double-check your state's guidelines.
Elope!
When you hear eloping, most people think of a courthouse or Las Vegas wedding. Throw that mentality out the window! If you want to go down either of those paths, more power to you, but those aren't your only options. There are so many ways you can elope. 
You can get married on a beautifully lit balcony overlooking your favorite city or on a boat circling the Statue of Liberty. Take the time to decorate your backyard and turn it into a romantic scene with candles and fairy lights. 
The best part of eloping is that you can do it anywhere. Plus, eloping can be more personal and romantic than a huge wedding. There's a vulnerability that you're able to get with your partner when reciting your vows that is nearly impossible to get when there are a hundred people listening.
Small Wedding Now, Big Wedding Later
This has been a popular solution for a lot of brides. They want the wedding of their dreams, but that just isn't possible right now. If we're being honest, no bride wants to wait another year to finally be a wife. You waited long enough for the ring. 
The first ceremony is typically held with the couple's close family and bridal party. The goal is to keep this event as intimate as possible. The second wedding will be the big bash you've always wanted.  
Two ceremonies, parties, memories, and anniversaries mean there is no downside. A couple of years from now, you might even love that you had to split it up. For the rest of your life, you will have two days a year when you can celebrate your love. It's a beautiful silver lining.
Live Stream The Ceremony
Streaming your wedding is truly a modern solution. All you need is an officiant and a good Wi-Fi connection. It's the most cost efficient idea on this list and it's also my favorite.
You can have an unlimited number of people at your wedding. There are no wedding niceties where you have to go around and greet everyone individually, there's no cost per-plate, and there is no hassle. 
Simply get married, thank everyone for coming, end the stream, sign the marriage certificate, and order a pizza. Real pros will already have the pizza waiting in the oven. The rest of the night is yours to spend as you please with your brand new husband. 
Find A Large Outdoor Space And Social Distance
I don't recommend this option if your state is having a hard time with COVID, but in less populated areas of the nation a large outdoor space could be a great venue. You can choose from farms, parks, and other large open spaces.
Set the chairs six feet apart, keep the group small, and maybe bring a microphone so the people in the back can hear you. Cater the event or make it a BYOB picnic! This is a great option for the laid back bride.
Car Parade
It feels like I hear the honking and screaming of car parades every day in my neighborhood. Every birthday, graduation, anniversary, and any other occasion now demand one. So why not a wedding?
This is a great idea to combine with elopements or live stream weddings! If your friends and family can't attend your ceremony, this is a fantastic way to get them involved on the actual day.
Plan ahead and have everyone decorate their cars. Make a playlist and jam out while your loved ones line up down the street to say congratulations. This is a great way to spend one-on-one time with each car-load of people. Thank them individually for their love and support on your wedding day.
Drive-In Wedding
Everything is drive-in or drive-thru now, so why not a wedding? Instead of watching Jaws, a drive-in classic, have your ceremony! If Las Vegas can have drive-thru weddings all year round, you can have a drive-in wedding during a pandemic. 
Rent out a beach or park that people can drive on. Set up a platform with a microphone and speakers or get everyone synced up so they can hear it on the radio like a real drive-in. 
Servers can go around with drinks and snacks before and after the ceremony to keep everyone happy. As an added bonus, your guests can stay cool in their car's air-conditioning.
Don't Give Up Hope!
Think hard, keep your eyes open, and use your imagination. The solution to a COVID-19 wedding could be right around the corner. This is the perfect time to be as unconventional and creative as you want. 
Don't let anything get in the way of celebrating your special day.