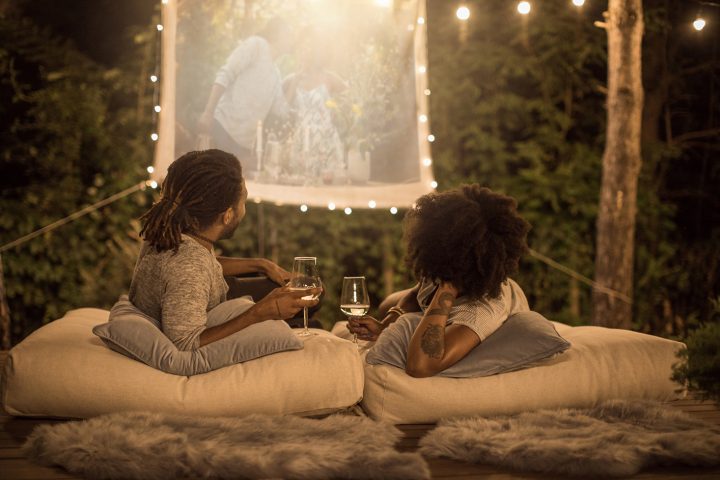 Whether you're looking for wedding inspo, a feel good drama, or some comedic relief to take you out of the woes of wedding planning, we have a movie recommendation for you. We have a few recent movies to check out, some classics you should go watch right now if you haven't already, and a couple new releases to look forward to this year.
EMMA (2020)
Emma (2020) is a modern depiction of the 1816 classic novel by Jane Austen, the last to be published in her lifetime. This comedy follows a very fortunate woman, who does not need to marry for money like many heroines of this time period. She also turns out to be a very confident, but perhaps misguided, matchmaker who likes to meddle in the love lives of her friends and family.
PALM SPRINGS (2020)
A comedy featuring the time-loop trope, Palm Springs (2020) follows two wedding guests stuck re-living the same day over and over. As such, a romance between the two begins to form. Starring Andy Sandberg and How I Met Your Mother's Cristin Milioti, this one is sure to make you laugh out loud.
LOVE, ROSIE (2014) 
In Love, Rosie (2014), Rosie (Lily Collins) and Alex (Sam Claflin) are two lifelong best friends that, despite having fallen in love with each other along the way, keep getting separated by life's circumstances. This heart-wrenching movie showcases the meaning of friendship, family, loss, and love in a real and raw way.
MY BIG FAT GREEK WEDDING (2002)
A wedding classic that touches on family, heritage, and culture, My Big Fat Greek Wedding (2002) stars comedian Nia Vardalos. She plays Toula Portokalos, a 30 year old unmarried woman deemed "failure" by her family's standards. She falls in love with a non-Greek, the first one of her family to do so, and they must come to accept him. All the while, Toula has to come to accept herself, her large and loud family, and her cultural identity.
BRIDESMAIDS (2011)
Full of comedy and chaos, Bridesmaids (2011) follows Annie (Kristen Wiig) who's only light point in her life is being asked to be the maid of honor at her best friend's wedding. Things go south when she discovers one of the bridesmaids is competing with Annie to take over the organization of bridal festivities, as well as Annie's spot as best-friend-of-the-bride. 
27 DRESSES (2008)
In 27 Dresses (2008), Katherine Heigl plays Jane Nichols, a perpetual bridesmaid who's collected all 27 of her bridesmaid dresses. She's caring and selfless, and ensures everything goes right for the bride on her special day, while in turn gets overlooked and holds herself back from pursuing her own desires. She only starts to really resent her continual role of bridesmaid when her sister gets engaged to the man she's in love with. Meanwhile, a handsome reporter (James Marsden) picks up on her odd story.
THE WEDDING PLANNER (2001)
This throwback and classic stars Jennifer Lopez and Matthew McConaughey. While chock full of familiar tropes and drama, it's still one of the most iconic wedding movies of all time. It follows a successful wedding planner who winds up falling in love with someone else's husband-to-be.
MARRY ME (FEBRUARY 2022)
JLo is back for another rom-com in Marry Me (2022). In this upcoming movie, two music superstars are about to wed live in front of millions of fans when Kat Valdez (Jennifer Lopez) learns her fiancé and performing partner is cheating on her. Instead of being humiliated onstage, Kat decides to marry a strange man (Owen Wilson) from the crowd.
TICKET TO PARADISE (OCTOBER 2022)
Ticket To Paradise (2022) is an upcoming romantic comedy starring Julia Roberts, George Clooney, Billie Lourd, and Kaitlyn Dever. Two college graduates Wren (Lourd) and Lily (Dever) take a celebratory trip to Bali. When Lily winds up in an impromptu engagement to a Balinese local, her divorced parents race to Bali to prevent their daughter from making the same mistake they did. Amidst all the drama and wedding festivities, Wren begins to find her own romance with a local doctor. 
Sources:
https://www.weddingwire.com/wedding-ideas/best-movies-to-watch-wedding-planning
https://www.cosmopolitan.com/entertainment/movies/a38805473/best-romance-movies-2022/
https://www.harpersbazaar.com/wedding/planning/g32435048/wedding-movie/
https://www.imdb.com/title/tt9214832/?ref_=ttpl_pl_tt
https://www.rogerebert.com/reviews/palm-springs-movie-review-2020
https://www.rogerebert.com/reviews/my-big-fat-greek-wedding-2002
https://www.imdb.com/title/tt1478338/?ref_=ttpl_pl_tt
https://www.imdb.com/title/tt10223460/?ref_=vp_back
https://en.wikipedia.org/wiki/Ticket_to_Paradise_(2022_film)