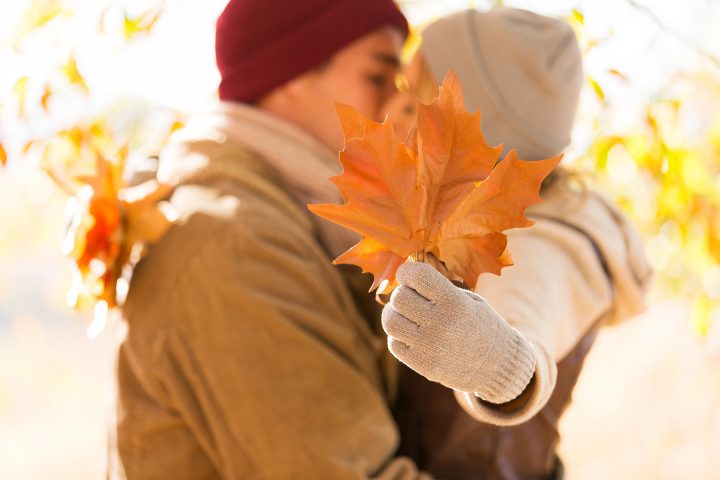 Fall is such an idyllic time of year. The summer winds down, and the leaves begin to change into a beautiful assortment of warm colors. The temperatures begin to drop, and flannel and thick socks return as wardrobe staples. And most importantly, there is a whole slew of new date ideas that are perfect for the season! Whether you are looking to go out or stay in with that special someone, we have got some fun and romantic suggestions to check out below. From festivals to hikes to scary movies, there are some great fall date ideas that you will want to start planning for yourself and your partner! 
Attend a Fall Festival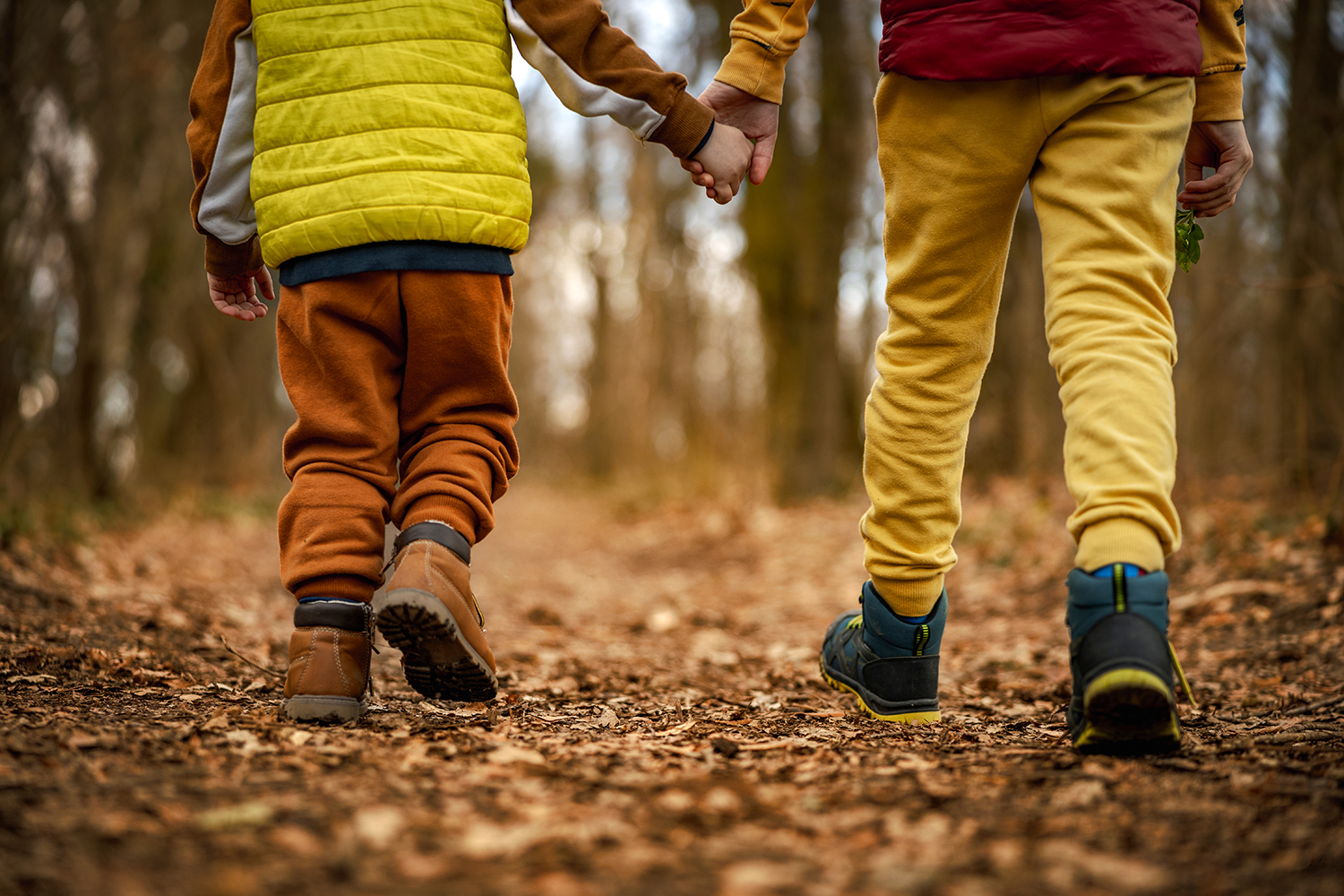 Attending a fall festival is a must-do fall activity. It's also a great date idea! There are often a few to choose from throughout the season, depending on your area. Fall festivals usually have tons to do, with food vendors, craft vendors, games, and more. They are fun ways to get out and have fun with your date. A lot of fall festivals also have fall-themed activities like corn mazes and hay rides. Enjoy wandering around the event with your date while trying different foods and drinks, shopping for handmade items, and seeing all the festival has to offer. 
Take a Hike and a Picnic in the Park
Another great fall date idea requires lacing up your hiking boots and packing up a picnic meal. Going for a hike in the fall can be a peaceful and romantic date experience, especially if you are in an area with a lot of deciduous trees. Do some research beforehand to choose the right park and hiking trail for you and your date. You likely won't want to choose anything too lengthy or strenuous (unless hiking is your thing – more power to you!) Bonus points if your hike leads you to a particularly scenic spot, like near a waterfall or overlook. Share a delicious picnic meal with tasty treats you and your date enjoy. Lean into the fall theme with an apple or pumpkin dessert – the perfect treat for a perfect fall hike and picnic.  
Have a Cozy Night on the Town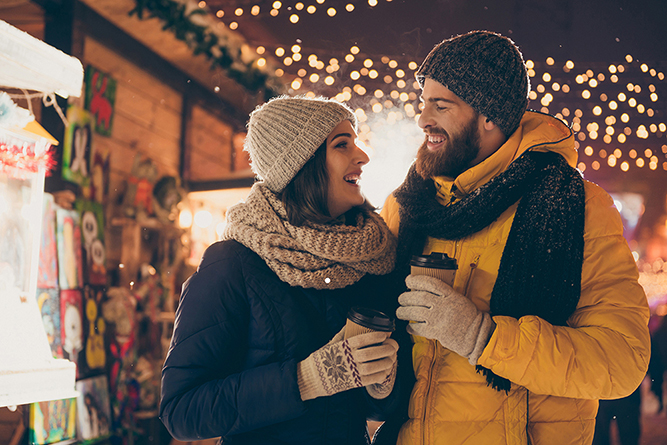 We know, we know. You've heard of a cozy night in – but a cozy night on the town? Let us explain how a cozy night on the town is a wonderful fall date idea. Firstly, you can bundle up in comfy fall clothes like flannels and chunky knits. Next, you and your date can head over to a shopping district in your area. You are looking for somewhere with the following places close to each other: a restaurant, a bookstore, a café, and a dessert shop. Once you are all dressed up and ready to go, you and your date can enjoy a delicious meal at your chosen restaurant. After that, explore a nearby bookstore looking for your next favorite read. The night is still young, so stop by a café for a hot beverage like coffee, hot chocolate, or hot apple cider to warm up on a cool fall night. Finish the night with a sweet treat from a dessert shop for a perfect end to a lovely, cozy night on the town. 
Host a Scary Movie Night
Having a scary movie night is another awesome fall date idea. They are a fun excuse to stay inside and spend hours in front of the TV while digging into an assortment of snacks. If this sounds like an ideal date for you, keep reading! For your scary movie night (or not-so-scary movie night), you will want to pick two to four movies themed around spooky or scary plots. From classics to newer films to family-friendly options, there are a lot to choose from! Verify that you have access to play or stream them beforehand. For the setup, you will want to turn your living room into a comfortable, dimly lit environment. Make sure you have an adequate amount of lighting and plenty of throw blankets and pillows. For the snack spread, you can never go wrong with popcorn and candy. Incorporate some fall treats into the mix, like candy corn, candied apples, or pumpkin bread. Watch some thrilling movies with your date while feasting on tasty fall snacks for a perfect scary movie night.  
Go on a Camping Trip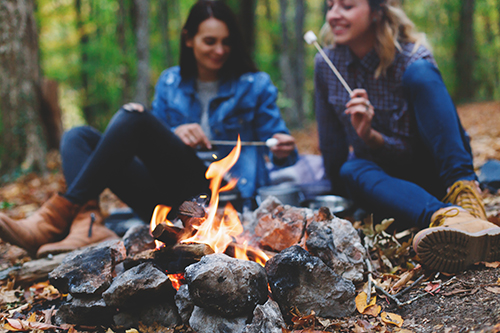 A camping trip is a fun fall date option for those who like to be outdoorsy! Camping in the fall is enjoyable because of the cooler weather, fewer bugs, and quieter campgrounds. Pick a great campsite for you and your date, and make sure you pack all the essential camping gear like a tent, sleeping bags, flashlights, food, and water. Fun bonuses to pack include a telescope or binoculars for stargazing and dry kindling and equipment to start a bonfire. Enjoy making s'mores with your date while exchanging scary campfire stories over a bonfire. Set up in a clearing to do some stargazing on a crisp fall night. Enjoy so many great aspects of fall during this fun camping date!