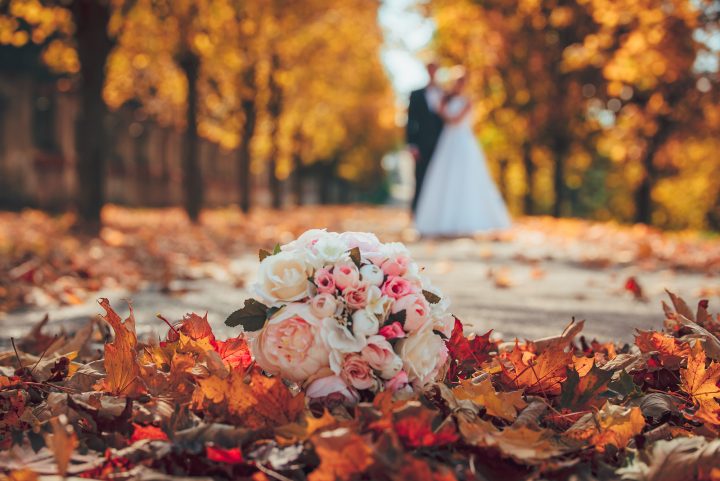 As the seasons begin to change, you may find yourself surrounded by crisp, cool air and the crunch of yellow and orange leaves beneath your feet. With the beautiful weather and colorful scenery, it is easy to see why so many couples decide to tie the knot during the captivating season of fall. 
Autumn is the perfect backdrop for your dream wedding. It offers a palette of warm, rich colors and a sense of romance that is hard to beat. As you embark on your journey to plan your fall wedding, let's dive into some of the hottest trends that will make your celebration unforgettable. 
From warm color palettes to rustic decor, from mouthwatering seasonal dishes to outdoor ceremonies surrounded by breathtaking foliage, we've got you covered. With these trendy fall wedding ideas, your special day is sure to be an unforgettable autumn extravaganza. Embrace the season's natural beauty, indulge in its delectable offerings, and let your love bloom like the vibrant foliage that surrounds you. 
Warm Color Palettes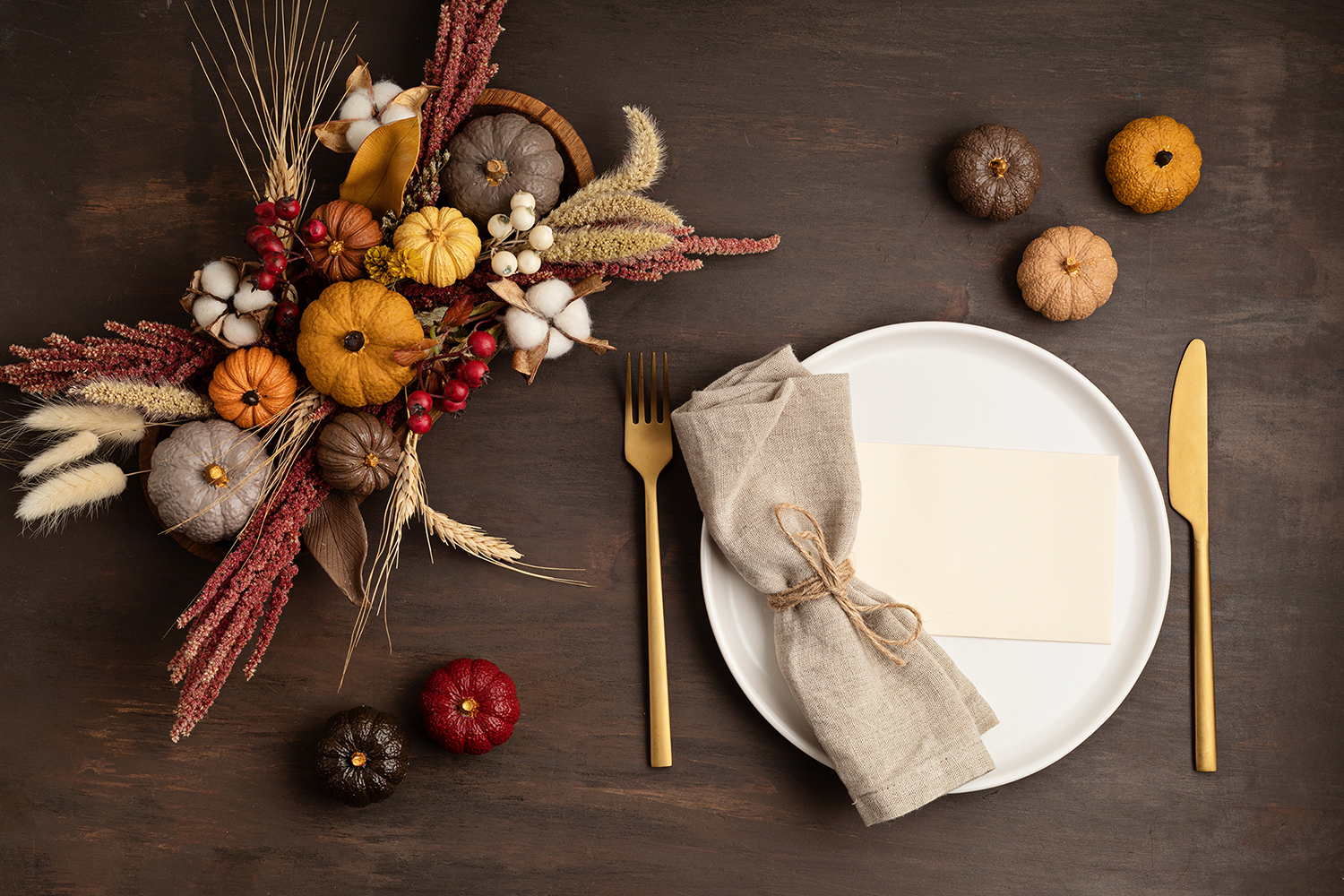 First up, let's talk about the colors of fall! When it comes to planning a fall wedding, your color palette is like an artist's canvas, setting the tone and mood for your entire celebration. Imagine a world awash in the enchanting hues of autumn – deep reds, burnt oranges, earthy browns, and rich burgundies. 
These warm and inviting colors aren't just a reflection of the changing leaves; they're a symphony of nature's beauty that will serve as the backdrop for your special day. Utilize warm color palettes when choosing your invitations and stationary, bridesmaids' dresses, floral arrangements, table settings, and more! 
Seasonal Florals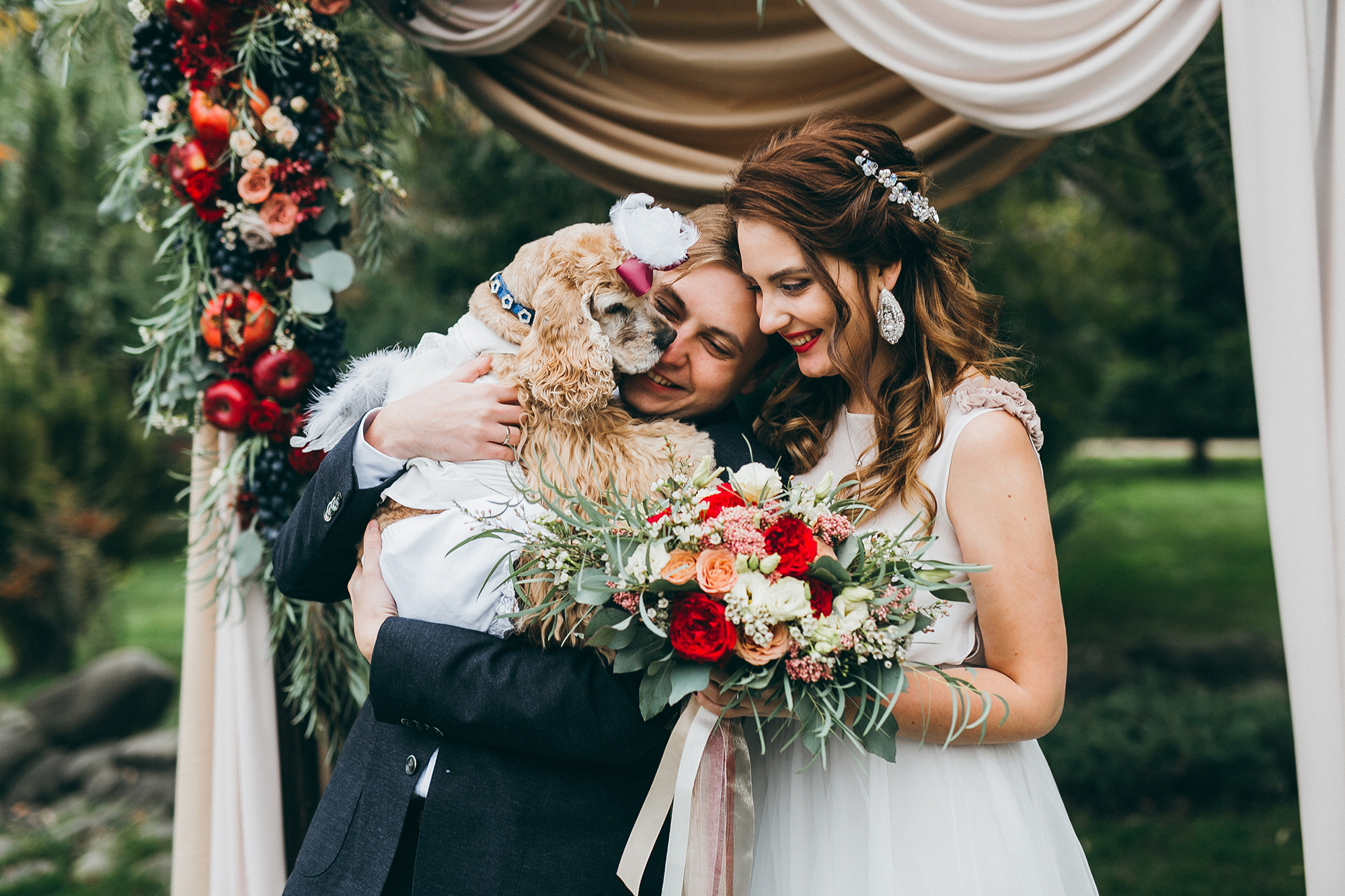 Flowers are the delicate and fragrant stars of any wedding, and when it comes to a fall celebration, embracing the beauty of autumn through your floral choices can truly elevate the ambiance of your special day. Consider florals such as dahlias, sunflowers, mums, and deep-colored roses. Use the addition of autumn foliage like maple leaves and eucalyptus to round out your floral arrangements.
Incorporating seasonal florals into your fall wedding isn't just about choosing beautiful flowers; it's about crafting an atmosphere that reflects the beauty, warmth, and magic of the season. Your floral arrangements will tell a story of love, renewal, and the spirit of autumn, making your wedding a lively experience. 
Fall Wedding Dresses and Formalwear
In the realm of fall wedding dresses and formalwear, the key is to strike the perfect balance between style and comfort. Embrace the season's cozy elegance with long-sleeved gowns, chic bridesmaids' attire, and suave groomsmen suits. Pair these ideas with warm colors, shawls, and jackets when choosing wedding day outfits for the wedding party. By choosing attire that resonates with the autumn aesthetic, you and your wedding party will look stunning in a style of the season's unique beauty.
Rustic and Natural Décor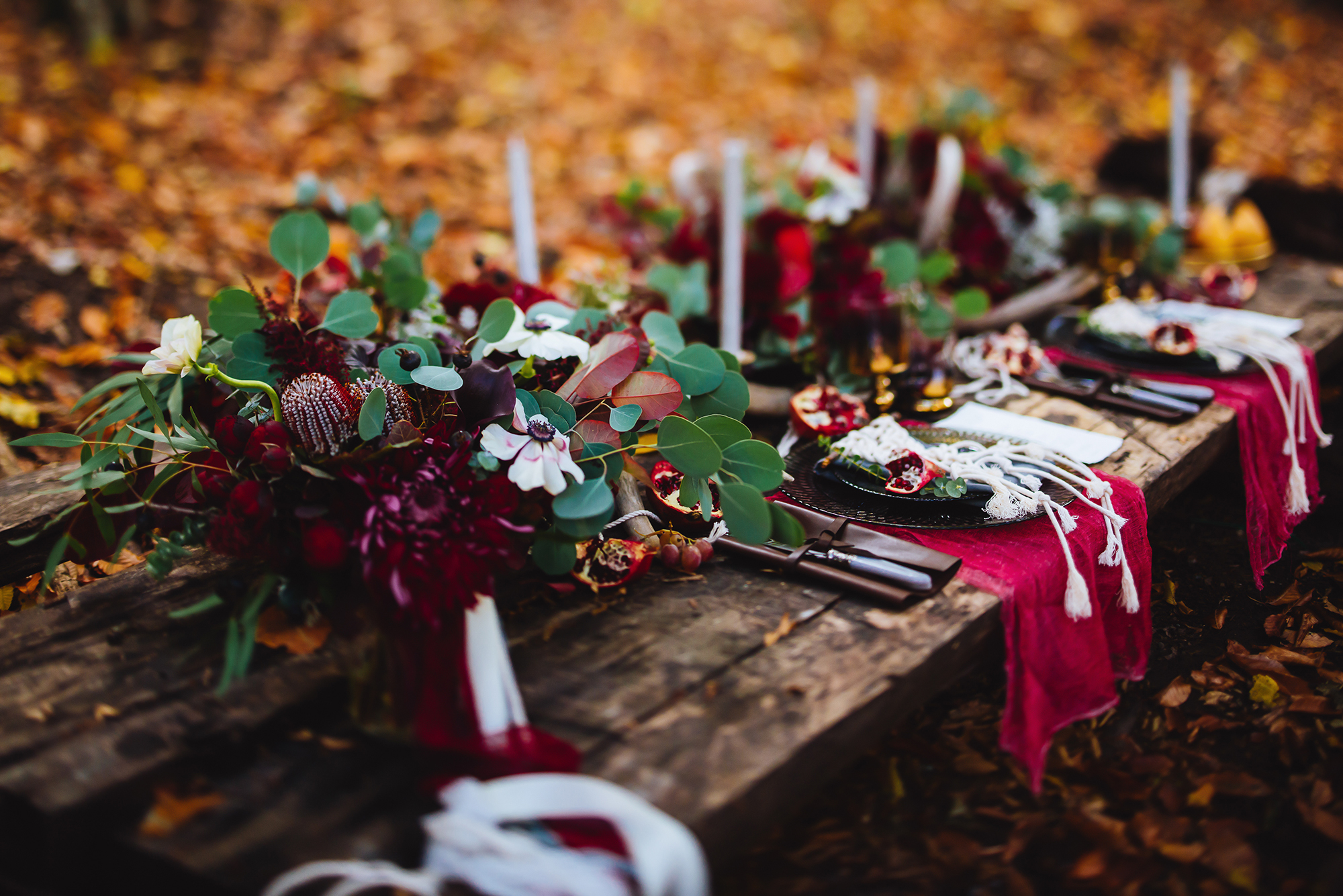 Nothing says fall like rustic decor! Create a natural seasonal environment with wood accents, burlap table runners, and even hay bales – all of which can give your wedding that quintessential fall feel. Candlelit centerpieces and twinkling fairy lights will create a romantic atmosphere that will have your guests swooning.
Fall Wedding Food and Drinks
Now, let's satisfy those taste buds! Your fall wedding menu can feature seasonal delights like pumpkin, butternut squash, apples, and cranberries. Consider serving up hot apple cider or spiced cocktails as signature drinks. And don't forget the dessert! Think apple pie, pumpkin spice cupcakes, or even warm cinnamon rolls. 
Your fall wedding menu and drinks should not only delight the palate but also celebrate the unique flavors of the season. From hearty main courses to signature cocktails and irresistible desserts, your guests will savor every bite and sip, making your autumn celebration a flavorful feast.
Fall-Themed Guest Experiences
Make your guests' experience memorable with some fun and interactive fall-themed elements:
Caramel Apple Bar

: Let your wedding guests create their own sweet treats with crisp, fall apples, caramel, chocolate, and tasty toppings.
Photo Booth with Fall Props

: Capture hilarious and heartwarming moments with a photo booth stocked with autumn-themed props.
Bonfires and S'mores

: As the night gets cooler, set up a bonfire or fire pit for your guests to cozy up to, complete with marshmallows, chocolate, and graham crackers for delicious DIY s'mores.
Outdoor Wedding Ceremonies
One of the most enchanting perks of a fall wedding is the opportunity to celebrate your love amidst the breathtaking beauty of the season's changing landscapes. The crisp air, the rustling leaves, and the golden sunlight filtering through the trees create an atmosphere of romance that's hard to replicate indoors. So, why not take full advantage of this remarkable backdrop and host your wedding ceremony outdoors? 
An outdoor fall wedding ceremony surrounded by nature's finest display of colors is an unforgettable experience for both you and your guests. The beauty of the season harmonizes perfectly with the beauty of your commitment, creating a moment in time that's as stunning and timeless as the love you share. So, whether you choose a vineyard, an orchard, a garden, or a lakeside locale, your outdoor autumnal vows will be a celebration of love and nature's beauty that you'll cherish forever.