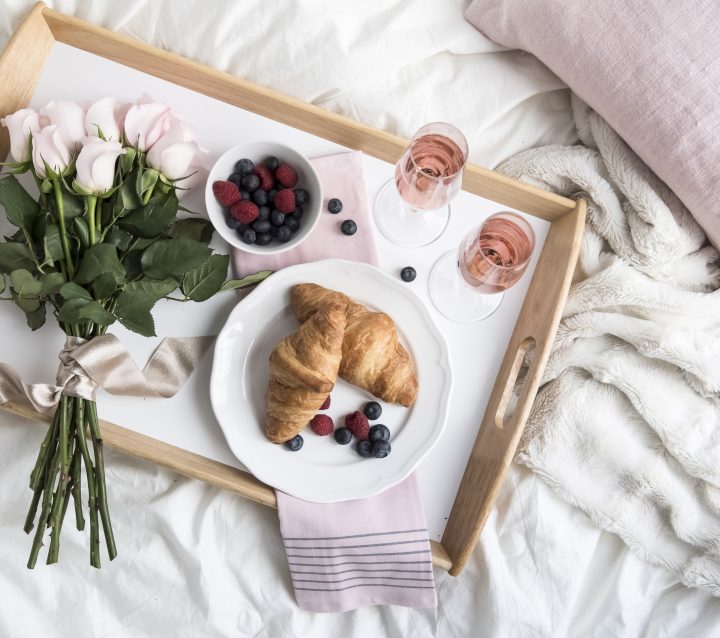 Let's face it: no matter the circumstance, family dynamics can be awkward. You've lived this long trying to figure out your own friggin' family and now that you're married, you've got an entire new round-up of relatives to decode! (Good luck.) Lucky for you, we have some tips to make this process a little bit smoother.
Be a Little Extra
Showing that you care by exerting real effort to make your new family comfortable is as endearing as it gets. Go the extra mile by stocking their room with fresh towels, a small flower arrangement and some reading material. Are homemade cookies too much? We think not.
Know When To Serve (Or Curb)
A little libation will loosen anyone up, and there's nothing wrong with poppin' a little bubbly when the family gets together. Plus, what a perfect excuse to show off your champagne flutes from Aunt Joanne and your baller ice bucket from Cousin Richard.
If your in-laws practically invented the Tom Collins, then maybe just pretend to have run out of the sauce after the first bottle is finished.
Plan a (Flexible) Activity
Plan an activity for the family to enjoy together. If they're particularly active, try a family bike ride, a round of golf, or take a walking tour around your town. If they're homebodies, try a family game night featuring Pictionary or Scrabble. Keep it flexible (date, time and actual level of activity) to avoid a potentially stressful schedule.
Find Common Ground
Start small by talking about a dish you love to cook (or eat), an activity most everyone enjoys (like taking a walk or traveling to the beach), or a fond family memory. If they're being especially difficult and giving you short answers, you can combat the coldness by following up with, "And why is that?" or "What about you?" Even the little brother co-ed who appears to be majoring in eye rolls and Tolstoy will open up once you've created a foundation with him.
Good-Hearted Ribbing
Families love to tease each other. Shared laughter creates a bond, so it's smart to join in on the fun. As long as it stays light-hearted, making fun of your sister-in-law's high school Emo phase or father-in-law's 60s fumanchu is a great way to engage the natives.
Turn to TV
It may be rude to watch television when you have guests, but it's not rude to talk about how awesome television is with guests. Everyone can bond over a mutual love of Game of Thrones (what is happening with that ice dragon!?) or Mad Men and you can learn more about their interests and the entertainment they value.
Get a Buffer
Everyone has that one black sheep in the family. And that person is usually awesome. If all else fails, invite that person and let them save you. They're likely much better at navigating the rough waters and can bring you up to speed on who to sit next to and who to avoid at the family gatherings.