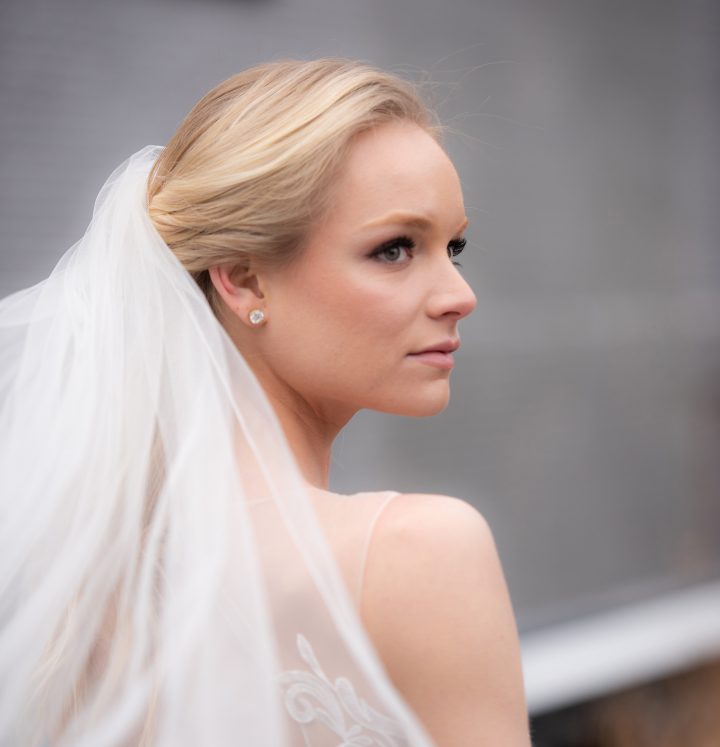 Ladies, let's admit it, the best thing about being a bride is heading to every David's Bridal in your town and trying on dresses waaaaay out of your budget. I mean, it's all fun in the end, and it's an experience some of us only experience once in a lifetime.

So how much did you end up paying for that white gown of glory? A grand? Two? Hell, maybe it exceeded the threshold of ten grand?

Maybe you did what I did and googled "David Bridal Discount Dresses" and bought a Vera Wang wedding dress that cost $300 instead of three thousand. Hey, I was looking to save as much as I could and had to be clever about my spending.

Side note: I looked auh-mazing.

The list of expensive wedding dresses is a tough one, but I eventually found a few jaw-dropping ones that will have you craving another wedding!

Just kidding, at this point, I just crave some sleep.

1. Angela Yueng
The first time I've heard of this Chinese actress/singer/model (sheesh), it was about how she's tied the knot with her boyfriend and her $31 million wedding. She wore a custom made Dior gown that took nearly five months to create! According to Forbes, the dress was "Crafted out of 115 feet of ivory satin organza and 165 feet of tulle, the intricate piece features a 10-foot-long train, and nearly a hundred hand-cut rose bouquets made of Chantilly Lace".

Now, the price of the dress was actually never disclosed, which leaves one to wonder: Out of that $31 million, how much did that dress really cost?

These are the things that keep me up at night.

2. Kate Middleton
You better believe a royal wedding is going to make this list. I am utterly in love with Kate Middleton. Her incredible sense of style, her modest looks, her role in several charities, and obviously, that smile. When she wore an Alexander Mcqueen on her wedding, I was in tears. The lace of the dress was crafted at the Royal School of Needlework. I know that sounds fake, but it's the UK, so I promise it's a real thing.

The dress was long sleeve, hand embroidered with flowers on both the bodice and hips and Kate's train was over eight feet long. The dress reportedly hit a six-figure price and cost $434,000.

3. Mariah Carey
'Cause when you love someone, you just don't treat them bad, you messed up all we had, probably thinking I'm coming back.

See more: Mariah Carey Burns Wedding Dress

Those are the lyrics of Mariah Carey's "I Don't," where in her music video, she burned her $335,000 Valentino wedding dress to ashes. The singer was engaged to billionaire James Packer at the time, but the two broke off their engagement before we got to see Mimi flaunt her stuff in Bora Bora (planned wedding destination). You see, ladies, we can all learn a little something here. Next time your man pisses you off…you know what to do.
4. Diana Spencer
Really? Another royal?

Yes, you guys, these guys are flushed with cash, so they're at the top of most lists.

Lady Diana Spencer wed Prince Charles in 1981 and wore a dress so beautiful that it is still talked about till this day. The dress was embroidered with ivory silk taffeta and antique lace, with a 25-foot train and valued at $115,000. Elizabeth Manuel and her husband created it at the time. Lady Diana herself worked with the designers to ensure that the dress was kept modest and up to expectations.

5. Victoria Adams
Formerly known as Victoria Beckham, a world renowned style icon. Now, if you want a reminder of what the nineties were like, then Victoria and David Beckham's wedding is the perfect visual. The Spice Girl and former England football captain wed in 1999 in a castle in Clonsilla. That's what happens when you have friends in high places, people.
And you're a famous football player with a successful artist for a partner.

Regarding Victoria's dress, she wore a Vera Wang with a 20-foot train that was estimated to have cost $100,000.
6. Kleinfeld
You might have heard or seen the name Kleinfeld in movies, magazines, and tv shows including the popular TLC show "Say Yes to the Dress."

Fun fact: Kleinfeld wasn't always a bridal retailer. It started as a fur salon in 1941, until the Kleinfeld realized there was a demand for wedding dresses in NYC. Kleinfeld is known for accommodating to every bride's request and spending several hours putting in work (and love) into every dress.

Although their prices vary, the most expensive dress that left Kleinfeld's doors was custom made Pnina Tornai and cost the bride $80,000.