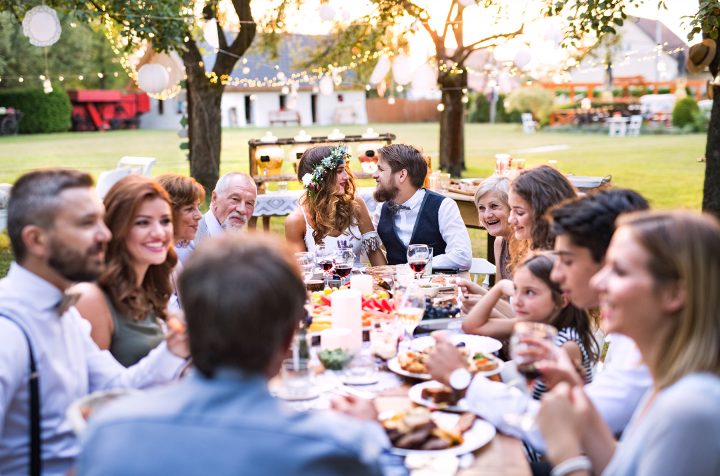 It seems like your whole wedding planning experience is focused on the dress, the cake, the reception, the food. It's your special day so who else should you be focused on more than you? Sometimes, weddings are a once in a lifetime experience for us, so attempting to make it the best possible event is understandable. While only thinking of yourself is your God-given right on this particular day, there are some thoughts you need to leave room for. How are you going to make your close friends and loved ones more comfortable at your party?
You can play both the beautiful bride and gracious host! Here are a few tips on how to make comfort priority at your reception. 
Comfortable Seating
How many times have you been to a wedding and had to sit for hours on an uncomfortable wooden chair until your ass got numb? 
Please don't be shy to admit it, because we've all been there. Safe to say, wedding chairs provided by the venue or family are not always the most comfortable. 
Hey, I get it, you're looking to save as much coin as possible, and chairs are the last to cross your mind when it comes to comfort! Plus, you expect people to be more on their feet than their butts, so there's not much to think about. Cushion pads such as these are a great way to add a tiny bit more comfort to your guests behind, and most are affordable so you hopefully won't be breaking the bank. 
Sandals /flip flops/socks
If you like to throw your hands in the air and wave them like you just don't care, then keep them up. 
I'm just going to go right out and say it; if you go to a wedding and don't get jiggy with it, then what are you doing there? If you've downed a drink or two and still haven't found your way to the dancefloor, then you need to reassess critical parts of your life. 
Now, I've learned from past mistakes and now only show up to events wearing flats, or any other shoes that feel like Tempurpedic for my feet. You can find flip flops as low as 3 dollars and socks in bulk for an incredible price on amazon! If you're a woman and you know the pain of dancing in heels, then providing your female (or male) guests with wearable footwear is an excellent idea!
Toiletries in the bathrooms
Storytime: when I first became a mother, I had to ditch my Michael Kors bag to a diaper bag. 
Best. Decision. Ever. I could fit Narnia in that frikin' diaper bag, but Michael Kors? A cell phone, car keys, wallet, and deodorant stick was the limit. 
But I can't bring a diaper bag to a wedding…or can I? Nope, I can't. 
Aside from the bathrooms being clean and posh, placing baskets full of toiletries for both men and women is a lifesaver. It's a wedding! Your guests are going to be dancing, laughing, and yes, sweating. Deodorant, sample perfumes, pads/tampons, combs, mouthwash, lotion, and body powder are just some idea of what could help ease your guest's mind! 
Easy access to entrances 
I cannot stress this enough! Please keep in mind any of your handicapped and/or elderly guests. 
When selecting a venue, make sure there ramps, elevators, and not too many stairs! The entry to your venue should be easily accessible, like the bathrooms, and other room you're using for your celebration. 
I once had a friend host her wedding on one floor, and dinner on the second floor. While most of the staff was there to help, why make it so difficult from the very beginning? With that said, please remind yourself to remember those of us who have a difficult time with such things. They may not thank you in person, but trust me, they are eternally grateful to be considered. 
Weather appropriate accessories 
Summer weddings are all the hype. With that said, know what to provide your guests with at every table. Items such as sunscreen, sunglasses, bug spray, shade, and fans are a must in this summer heat.
You should be willing to provide these simple items if your loved ones are coming out to celebrate, say, in the middle of July. 
Winter weddings don't demand as much, but the weather can be very unpredictable. Providing simple favors such as blankets and umbrellas is an excellent way of thanking your guests and showing them you care. 
Taxis on wait for tired/intoxicated guests 
Not much to be said here. 
Someone is bound to have one too many drinks and will need help when driving home. If they live far, make arrangements with the nearest hotels to let them know that guests may be coming to spend the night, and you are responsible for them. Their safety should be your priority. 
Most importantly, food. 
One, I don't care what you serve and two, just make there's enough to go around, ok? 
No little salmon fillet with creamy lemon dill sauce that I can finish down in two bites, I beg you. I don't have time to stop at the nearest Del Taco on my way home. Maybe you won't hear it from anyone else, so here it is: I've been busy all day trying to figure out what to wear and what color eyeliner I should apply to bring out my brown eyes, that I forgot to eat. 
Yes, I know it's your wedding, but that doesn't mean I can't look my best. Now that the truth has been set free…do your guests a favor and provide them with enough food. That's all we ask.