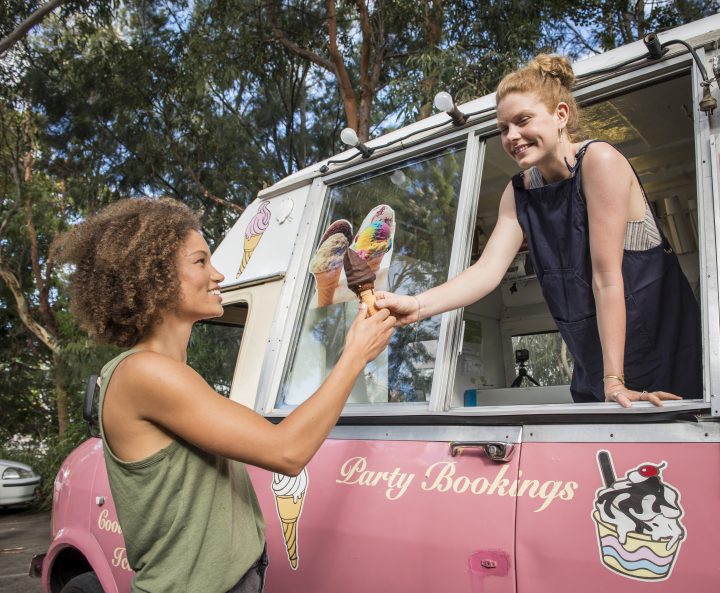 Your wedding day is the most exclusive, most anticipated day of your life. Or at least, I hope it is. Other people may not, but you will always remember this day to the last detail. That is if the circumstances are worth remembering, of course. 
While your typical American wedding consists of the usual vendors, revenues, and traditions, why not make it a day to cherish for all your wonderful guests as well? Nothing too outrageous, I promise, but a little something that has people wondering, "Why didn't I think of that?" 
Here a few ideas worth having on your special day to win your audience over and leave a lasting impression. 
Ice Cream TRUCK
Of course, something edible is going to make the top of this list, because people are always hungry. If they say they aren't, they are lying. What says thank you for coming more than ice cream? No, no scratch that, what says I love every one of you individually more than ice cream? You'd think it's not that serious, but when was the last time you went to a wedding, and they had an ice cream stall or truck? 
Answer: never.
This is an excellent idea to implement if you're hosting a summer wedding and if children are going to be in attendance. Contraband Events works internationally and offers two designs for hire: A 1930s Art Deco or 1960s Yellow Psychedelic. Their award-winning flavors are the missing piece to your guest's fantastic stay. 
Sparklers
While I did believe fireworks should make #2, it suddenly dawned on me, "what's something sensational that can involve my guest without any of the hard work?" 
Sparklers are a pleasant way to make your guests feel like they're a part of something bigger. You can set a box of sparklers on each table with a note asking the guests to participate in due time. It could be when you're walking the aisle, or your first dance as a married person, or any moment you feel like sparks should fly! 
You can purchase customized wedding sparklers on amazon without hurting your budget. Please use caution if children are present!
Photo Booth 
Do you have a theme for your wedding? Or is your plan to be as traditional as possible? 
Either way, a photo booth is a must. It could be set when guests first walk in, or after dinner. I believe there are more pros than cons regarding a photo booth. Your friends and family will have the chance to surprise you with photos, especially if props are available. Because we all know how busy the bride and groom are, and as much as you want to see all your loved ones, time will simply not allow it. 
It's important to consider that a photo booth might take up too much attention from the reception, so have a schedule set with the vendor, so people don't get distracted. If you're looking to hire an affordable photo booth, click here. 
Jazz Band 
Ok, but why Jazz? Because of Ray Charles, Quincy Jones, The Duke, and Ella Fitzgerald. I could go on and on…and on. The legends that have made this sweet, sweet music that you can't help but move and swing your body to all night. Even if you're not a fan of Jazz, you have to admit; it's musical powers grips onto you tighter than spandex. 
No, you do not have to go with jazz; everything, in the end, is a preference. I'm merely showing you one path that will lead to exhausted and ecstatic dancers. It's tough to find a great jazz band, but not impossible. 
Jazz Bands for Hire is a great place to start looking. 
Comedian 
Whatever type of entertainment you had in mind, abandon it. Ok, not entirely, but if you're not thinking of hiring a comedian to make you laugh your ass off, then what are you doing? Weddings are tear-jerker events, damn it, and people want to laugh. 
You could set 30 minutes for a comedian to come in after you've made your marriage official,  your father-daughter dance, before dinner, or any time you have to spare. 
Comedians can drastically change the wedding atmosphere into fun, casual, and friendly. Just make sure to review the comedian's skit if you're looking to hire. It's improbable that a comedian won't have some crude humor, so make sure everyone is old enough to be there! The last thing you want on your wedding day are the judgemental eyes of several parents who brought their kids along. 
Trust me; I've been there.