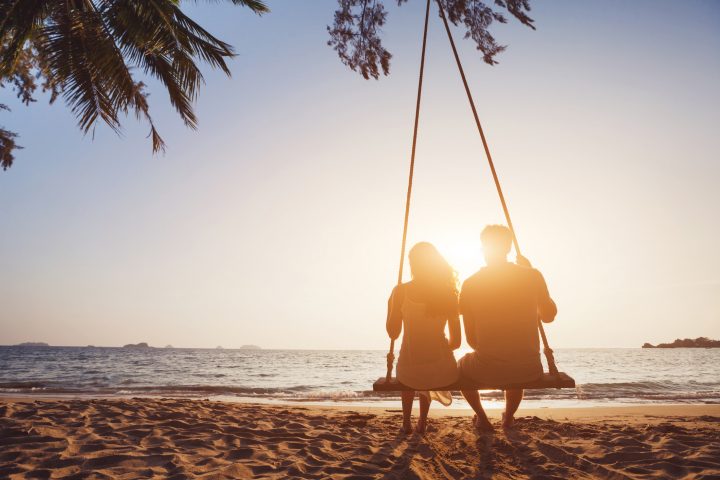 (Plus the Details on Having a Mini-Moon!)
For those of you wondering, the answer is no, a honeymoon and a mini-moon are not the same things. Both are great and have their pros and cons but share a slight difference. By definition, a honeymoon is a long break taken in a faraway place which is most likely on the list of dream destinations. A mini-moon is made closer to home, consists of less vacation time, and probably won't cost you half the price of your traditional honeymoon. 
More people are opting for mini-moons for various reasons, and I can't blame them! After spending thousands of dollars on a wedding, the last thing I need is to spend more money on places like Aruba or the Caribbeans. Would it be ideal? Of course, but I prefer to save my money for more reasonable things…like a two million dollar beach house.
Kidding. But seriously, the amazing thing about mini-moons is that you still have the chance to decompress after the wedding. Being closer to home just means you're familiar with the terrain, it's inexpensive, and you can bring your dog along! Plus, if you're a workaholic like me, you're closer to work in case something urgent pops up (don't judge me). 
This little mini-vacation doesn't have to be boring! You can still visit somewhere exciting, depending on where you live. For example, someone who lives in a small town in California can head to San Francisco or book a hotel at Disneyland! Every state has it's "Eiffel Tower," somewhere everybody wants to visit. 
Granted, this isn't the vacation you've been dreaming of since you were twelve, but it will give you a chance to save up and plan for the future. 
With that being said, let's talk about the best time for you and your partner to take that honeymoon you've been anticipating. 
By now, you probably already know that when it comes to planning a honeymoon, three things need to be on your side: timing, weather, and a budget. You also probably already know it's going to be tough to have all three. So listen closely…
Budget
You've just spent thousands of dollars on a wedding that took months (maybe even years) to plan and now, it's over. A honeymoon requires its very own budget for plane tickets, hotels, fare, food, souvenirs, and $25 for a spiked coconut drink that I am still very outraged about till this day. 
Don't worry; there are ways to save. Scott's Cheap Flights allows you to receive notifications anytime tickets become more affordable, and can help you save "up to 90% on international flights". That's a lavish deal and a ton of savings! 
When it comes to booking a hotel, keep in mind shoulder season. According to Insider, "Both flights and hotels are often discounted during the fall because fewer people are traveling during that time…so in addition to saving money, you're also likely going to avoid crowds and long lines in typically tourist-filled cities if you travel in the fall."
Weather 
Do not rely on the internet for accurate weather forecasts. I will repeat it because I have been a victim of the buffoonery. 
Do not rely on the internet for accurate weather forecasts. 
You are better off calling the location of which you are planning to visit and get an answer from them. Whether it's Aruba or the African Savanna, weather plays a huge role and maybe the difference between an exceptional or regretful honeymoon. 
Timing 
Visionary and author Stefan Emunds once said: "Time is an illusion; timing is an art." 
Timing is everything. Nobody wants to schedule a honeymoon on the busiest months of the year. You get to the airport, its flooded with people and delayed flights and crying kids and cranky people and the worst part of all…the TSA. You finally get to your destination, wherever it is, and it is overly crowded, and you don't get the chance to enjoy your stay the way you envisioned. 
All I'm saying is be cautious of your planning because this is your honeymoon. It's meant to be a memorable stay, so set aside some time to figure out what works best for you and your partner!
Best of luck!