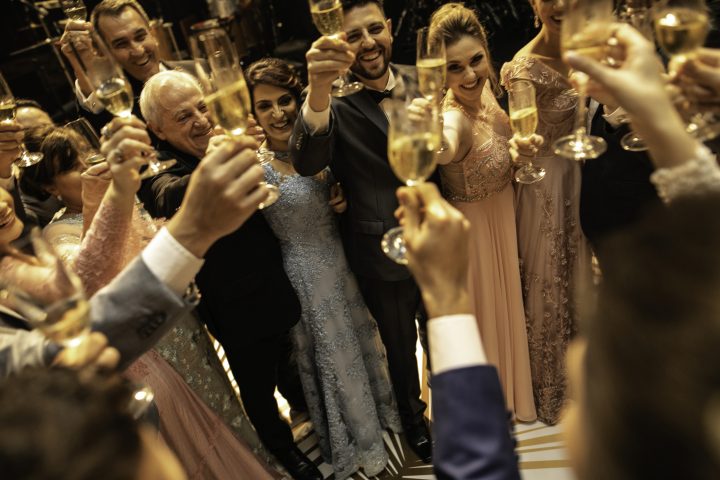 A wise man once said, "sweatpants, hair ties, chillin' with no makeup on, that's when you're the prettiest, I hope that you don't take it wrong." And I didn't, because that's my daily look. It could be because I'm a mom, or simply because I'm too lazy and don't bother to admit it. Hey, we'll never know. Although Drake's words of wisdom are tattooed in my head for all the right reasons, I cannot implement them to every event that transpires in my life. 
Unfortunately. 
For example, weddings are celebrations that require you to dress in proper attire according to the theme, setting, or dress code if the couple chooses. For those of us with an acute fashion sense might have it easy, but there are people out there who struggle more than the bride and groom to prep for this day. Those people hold a special place in my heart because they are me. Well, fret no more, for I am here to educate you on what makes the perfect wedding guest attire. 
Before we go any further, let's review what's a definite no-no on this special day:
Anything you'd wear to the gym (or grocery store) is a no. This includes leggings, sweatpants, crop tops, and believe it or not, leather shorts. I know that's very specific, but I've seen it in action. Please don't. 

Nothing too short (mini-dresses), schoolgirl skirts (you

know

the ones), extremely exposed clothing, plunging necklines, or neon colors (why would you even…?)

Nothing shiny, sparkly, or bedazzled that might possibly blind the other guests. 

No open-toed footwear (sandals, flip-flops). None. It's not fashion; it's a catastrophe. 

Last but not least, ladies and gentlemen…

you cannot wear white

. Unless the bride is having a themed wedding and is wearing a red, blue, or yellow dress, then go ahead. If not, then you have no reason to wear white and upstage the couple on their wedding day.

 
Alright, let's get down to it. 
First off, both men and women should be aware if there is a specific theme and location for the wedding they're attending. Is it a casual beach wedding? Will it be ordained at a church and require formal wear? Or maybe it's in the backyard of your childhood best friend? Are you aware of the weather on that day, and if so, are you prepared? 
When you grasp where the wedding will take place, if it requires a theme, and what season it falls in, you're three steps closer to attaining the perfect outfit.
Gentleman, I have grown to understand that picking out wedding attire as a guest is exceptionally painful for you. While many people believe that men have it more comfortable, it's actually the opposite. Women have endless options when it comes to picking something out. The only reason most people believe that men have it easier is because they just need to find a suit. 
Thanks to the evolution of suits in our modern world, picking out the right outfit is not a simple choice. My Dream Wedding has one of the most practical guides for men in helping them pick their Cinderella suit. Their options vary depending on the wedding instructions. They can choose from a wide assortment that incorporates white/black tie, casual/formal wear, cufflinks, pocket squares, and ties. 
Other than the suit itself, men need to find the right footwear. The idea is not to under-dress nor overdress. At least, not to the point where the attention is on you and not the groom. Dark colors for men are usually the go-to for weddings, but specific themes may require you to go for lighter shades. 
Oh, and one last thing for men. Casual doesn't mean wearing jeans with a navy blazer. Clearly, it's rude, and it shows no effort on your part. The effort you put into your ensemble shows the wedding couple how meaningful this day is to you as well. 
Ladies. Where do I start? 
First, keep in mind this isn't your wedding. You're a guest, so act like one. 
People seem to have a misconception when it comes to what a woman can wear to a wedding. A woman's decisions are not limited to dresses and gowns. Pants are options, so are jumpsuits, and black suits. When attending a wedding, I always ask myself this question when trying anything on: will it attract too much attention? Because if I'm honest, I love being the center of attention, but just not on this day. A line needs to be drawn.  
Try going for neutral colors, and if you're planning on donning a dark color, see if black is acceptable. I've received a wedding invitation once that specified no black attire, including the males. Some couples are quite picky when it comes to attire, and not following the dress code can be highly offensive. 
Obsessing over what to wear as a guest can be mind-numbing, but by sticking to the dress code provided, your options will undoubtedly shorten. Refinery29 has the perfect slideshow to help you determine what to wear. 
Remember, this is a personal and memorable day for other people, and they've invited you to be a part of it all, so play it safe and create some memories!