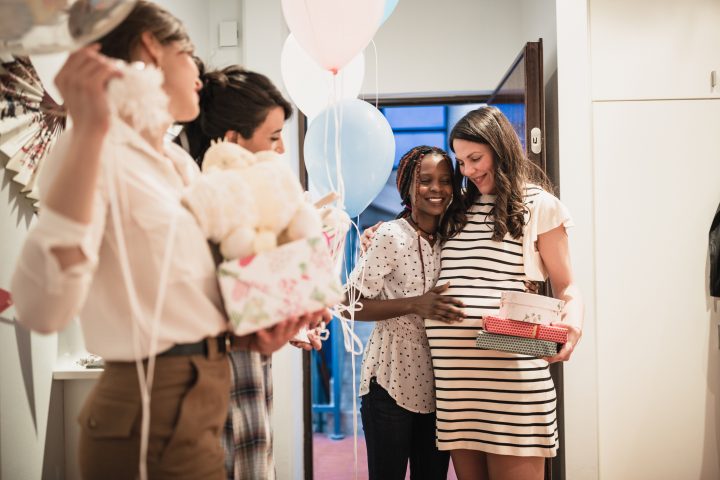 When it comes to planning anything, my mind automatically brings up the most useful invention known to humankind: the list. Lists are lifesavers when planning events, especially events that you're planning for others, require tons of brainstorming, and attention to every detail. While this article may sound like it's about the wonders of lists and how I personally can't live without them, it's not. 
Planning a baby shower can sometimes feel similar to planning a wedding. No, that's not an over-exaggeration as both events do demand hard work and full heartedness.
You have to go through the guest list, discover a theme, figure out what foods to prepare, what games to play, etc. All planning becomes hectic unless you have a checklist and a solid idea of how you'll be moving forward. This is a war zone, people. Do not tread lightly.  
No worries, it's easier than you may think. I mean, you're throwing a party for an unborn fetus, trust me, it shouldn't be that complicated. Here are some of my favorite tips for throwing an unforgettable baby shower. 
Who's Invited?
A guest list will always be one of the most important things you do because it provides you with valuable information on how many guests you will accommodate. Therefore, how to plan the rest of the party. 
Now, there are three ways you can do this: phone calls, emails, or traditional letters in the mail. The number of possibilities for designs is astronomical. Designs range from cartoon characters, baby animals, Disney favorites, pink flowers, blue cars, etc. A quick email would be the most straightforward thing to do, but we're looking for unforgettable here, so go the extra mile and stick with the postal office. 
Want to really impress the mother to be and your guests? Send out onesies or stroller shaped invitations. Once you unleash your creative side, there's nothing you can't do. 
Pick a Theme 
Whether you're planning your own party, or you're someone helping out a friend, it's essential to know what theme to pick. This could solely be based on the mother's personal choice, discovering imaginative ideas from Pinterest, children's books, or the King of all themes- a Winnie the Pooh theme. You don't want to give away the gender of the baby, so avoid gender-based topics such as princess or fast cars. 
Your choice of theme is what will help you tie up the smaller details later. For example, say you pick a baby animal theme. When you're decorating cupcakes (or buying them, no judging), you know to use baby animals as inspiration and decoration. 
Game Face ON
It's game time. If you have a competitive streak, please keep in mind you're at a baby shower. Focus more on the fun than winning. 
You can go all out in this category or do something as simple as having your guests paint white onesies. There are sitting games (baby bingo) and couple games (these are more competitive). Depending on how well you plan these games, it's going to be what everyone's going to talk, laugh, and remember later. 
Here's a list of games that will leave an impression. 
Who's Hungry?
Many people believe that baby shower food must be colored pink and blue, but that's not true. The good idea is to be familiar with the host's likes and dislikes when it comes to food. In honor of them, you'd focus on making or buying their favorite foods. While some people do correlate the food with the theme, it's not mandatory. In the end, the presentation is truly everything. 
Check out Mom Junction for some great and manageable recipe ideas. 
Make it Personal
As you plan and execute all the beautiful things you're doing, don't lose sight of the VIP of the party- the mother to be. In honor of her, the majority of her favorite foods, drinks, and activities should all be included on your checklist. 
If possible, try to arrange the party at her favorite place, whether it be a restaurant, cafe, or park. This will not only get you bonus points with the host,  but your guests will also regard the hard work you've put in. 
Baby Party Favors
Are they a must? Eh, no, but again, unforgettable. There is no need to be over the top, I promise, but something to let your guests know you're grateful to them for attending and participating. Also, the host will be ecstatic that you went the extra mile for her guests because it shows you genuinely care. 
There are places where you can buy customized party favors, but if you're trying to keep expenses low, then DIY is also a fantastic idea. Ultimately, it's the thought that matters. 
Click here for some DIY favors that will make you look like a professional.