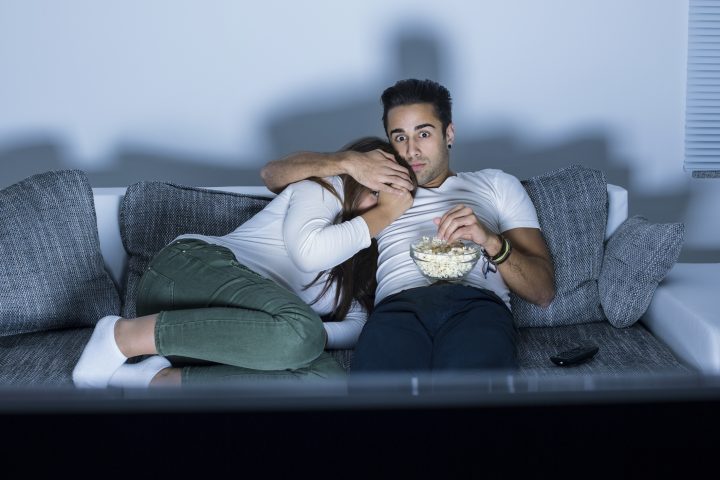 Here Are 5 Horror Films to Keep You up at Night
If you're a fan of horror films and watching movies where someone's chopping another's body like they're short on meat for dinner, we cannot be friends. Fun fact about me: I got kicked out of the AMC for excessive screaming when watching Insidious. Excessive screaming. Isn't that the point of these films? 
I never like to think of myself as a weak-hearted and generally very wussy person, but there are exceptions…horror films. I don't care if this is "the best horror film you've seen in forever." I don't want to hear the plot, Karen; I am fragile. When I do feel brave enough-which is unfortunately very rare- I do insist on recommendations to ride out what I like to call the "brave wave." Do I ultimately enjoy the film (that I've watched with five other people in the room)? Yes, of course. Do I regret it when I'm lying in bed and my husband's working late? Yes, absolutely.
The thing is, I'll rewatch the film because hey, now I've grasped the plot and there's no way I'll be surprised again. If anything, it should toughen me up a bit, but no. I become jumpy all over again. 
As exciting as my life story as a horror film hater is, there are a few films that have caught my attention and had me on the edge of my seat…and digging my nails into my partner's arms. I have a love-hate relationship with these films, and if you've got the guts, be sure to add them to your watch list. 
Insidious: Chapter 3
When anyone asks for a movie recommendation, this is my go-to, because 1) I want them to recognize how brave I am and 2) it's the first horror film I've ever seen. There are four of these films combined, but having only watched this one, it's safe to say I don't want to watch the rest. 
In this chapter, the main character, a teenage girl named Quinn, wishes to contact her deceased mother. She locates a psychic to help her perform the connection, but everything backfires when an evil spirit answers her call and creates physical damage to her and her surroundings. Expect a few screams to jump out of you, a couple of squeals, burying your face in a pillow, and more than a few sleepless nights. Till this day, if I hear a knock through the wall, I leave the house. Yes, I know, weak.
It Follows
This movie was a bit easier to live down. It took a couple of weeks, but eventually, I got over it. Our main character Jay becomes the recipient of a "fatal curse" after intercourse with her date. 
You see, the curse could only be passed on to another through sex. Jay begins to see figures of strangers or friends follow her wherever she goes, and no one can see them but her. This ultimately makes her look insane in front of her friends. If it touches you, you die, so Jay and her friends go on the run, hoping to leave it behind. As her friends begin to see what Jay sees, they realize it's impossible to get away from it, and killing it is the solution. If you want bonus points, watch this in the dark, and whatever you do, don't look behind you. 
Don't Breathe
Rocky's dream is to move to California to create a better life for her and her sister. Short on money, she and two of her friends decide to break into the home of a Gulf War veteran who is rumored to have a safe packed with cash. They quickly discover the blind veteran isn't as vulnerable as he looks. Packed with suspense, gore, and confined spaces, you'll have goosebumps throughout this suspense thriller. 
The audience is left with two choices: should they kill the old man and get away with it or the old man kills them? Both seem to be morally corrupt. 
A word of advice? Make sure to take a deep breath every once in a while because this film is not for the faint-hearted. 
The Invisible Man 
Imagine being haunted by something you can't see but can see and touch you. The brilliant Elisabeth Moss has once again outdone herself in this captivating horror/thriller masterpiece. 
Nowadays, most horror films have a supernatural element, but The Invisible Man is truly a horror that stands out due to its Sci-Fi element. Thanks to her riveting performance, the main character's fears and hopes will become yours throughout the film. The music soundtrack keeps you in a deep trance as the camera slowly spans across the room, sending chills down your spine. Following its notorious ending, you can't help but wonder who the real monster is but I can tell you this, lions, tigers, and bears, isn't it. 
The Autopsy of Jane Doe
This is one of those psychological horrors that you can't stop thinking about all day. It's true what you've heard; most of the plot is predictable but an incredible storyline, nonetheless. 
As father and son coroners perform an autopsy on an unidentified woman, questions keep piling up. As the majority of the film is shot from the inside of the morgue, the atmosphere remains eerie, and of course, the creepy sound effects always come at the exact moment. Overall, it's worth a watch as the suspense will have you biting on your nails. Be warned, though, this is the type of horror flick that will cause you to lose sleep.