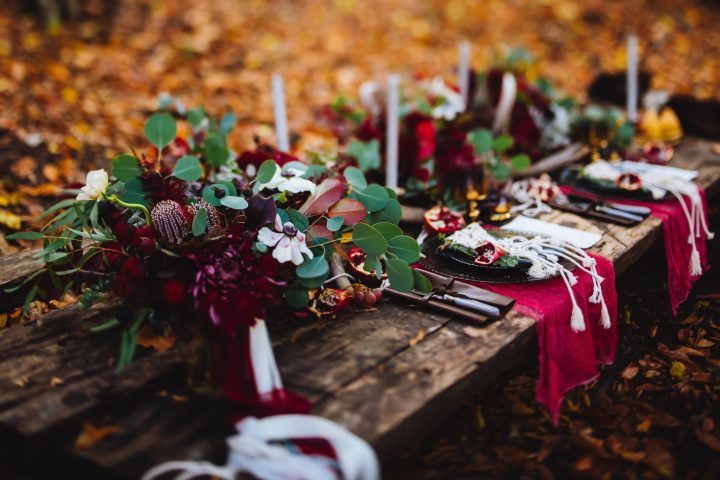 A fall wedding has three main components: rich colors, gorgeous foliage, and a cool breeze. As a fall bride, it's time to learn what it takes to have the best and most aesthetically pleasing wedding possible.  
Color Schemes
Burgundy or a wine red is a popular fall color. The rich tone of the burgundy can be paired with a beautiful warm gray. This color pallet is a favorite because of how romantic it can be. Red roses and silver details will bring this wedding to life.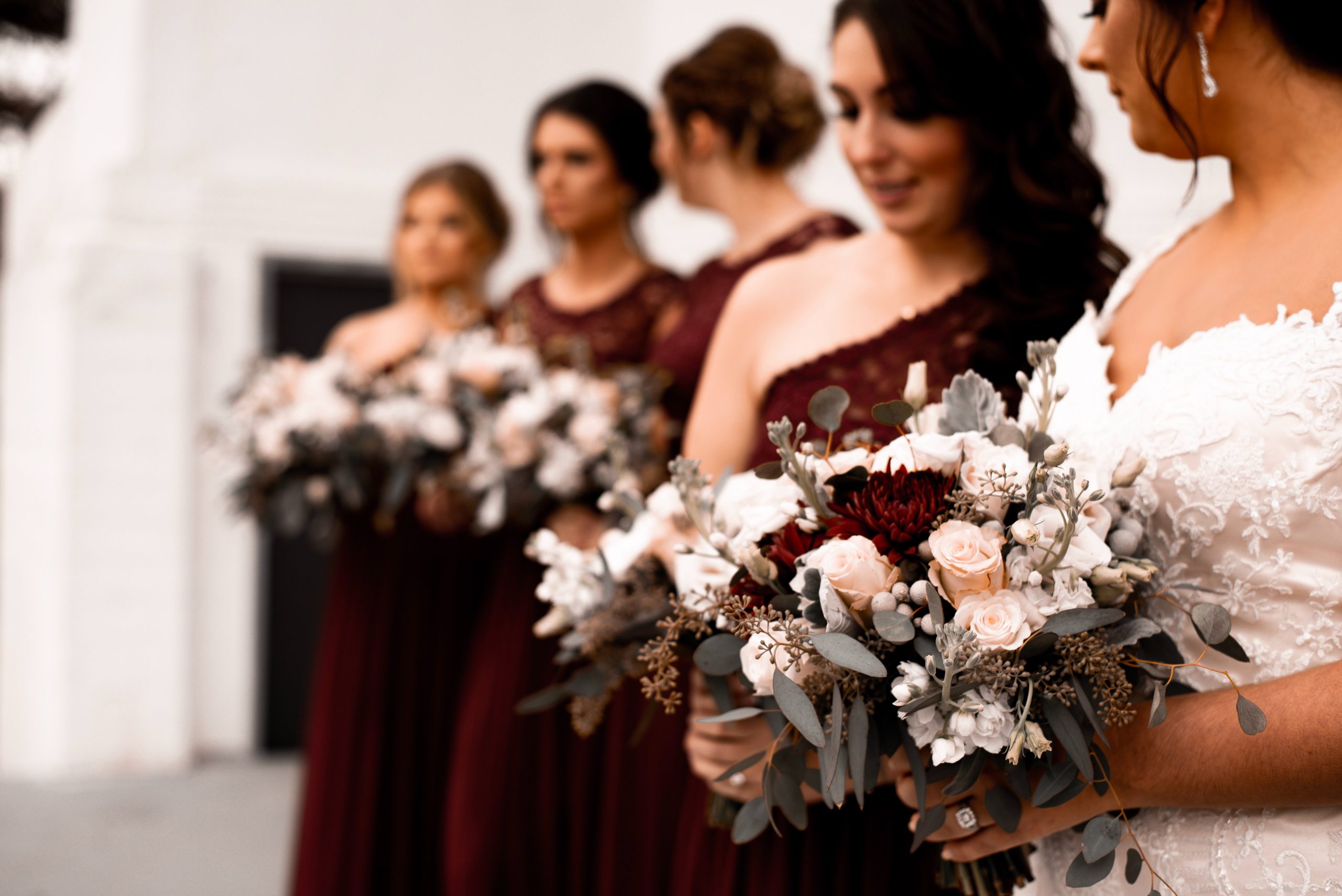 For the fun and adventurous bride, dark teal matched with burnt orange is the way to go. Bright, vibrant colors aren't typically used at fall weddings, but this is a way around that. They may not be as bright, but they will stand out amongst the brown background of fall. 
If you have more of a monotone style, rust colors, like red, orange, and yellow, create a seamless flow of color. Autumn is the best backdrop for this color scheme because it reflects the colors of the leaves so well. It's also an easy color pallet to pair with in-season flowers.
A wedding that's being held later in the season could feature a darker color scheme. Emerald and gold make an elegant and regal pairing. Brides with a darker or maybe spookier style will love all the flexibility that comes with this pallet. It allows you to flaunt your darker side while maintaining the classy vibes of a wedding.
Themes
While there are several themes that could be utilized in the fall, there are some favorites among brides. Rustic, bohemian, and romantic themes are incredibly prevalent. They provide the best ambiance for an outdoor wedding and allow you to utilize nature in your décor and venue. This gives you a great starting point to start building your wedding. 
The barn house rustic wedding is a sweet and dreamy theme that opens up a lot of possibilities. Natural wood and leafy floral arrangements always go hand in hand at these events. Venues that allow for indoor and outdoor spaces make for great fall weddings. 
The indoor space is ideal for dinner and the dance floor. The outdoor space is where your rustic theme can shine, and a fantastic fall breeze will accompany your cocktail hour. Once cocktail hour is over, set up some outdoor games like horseshoes or cornhole. They will keep your guests entertained the whole night.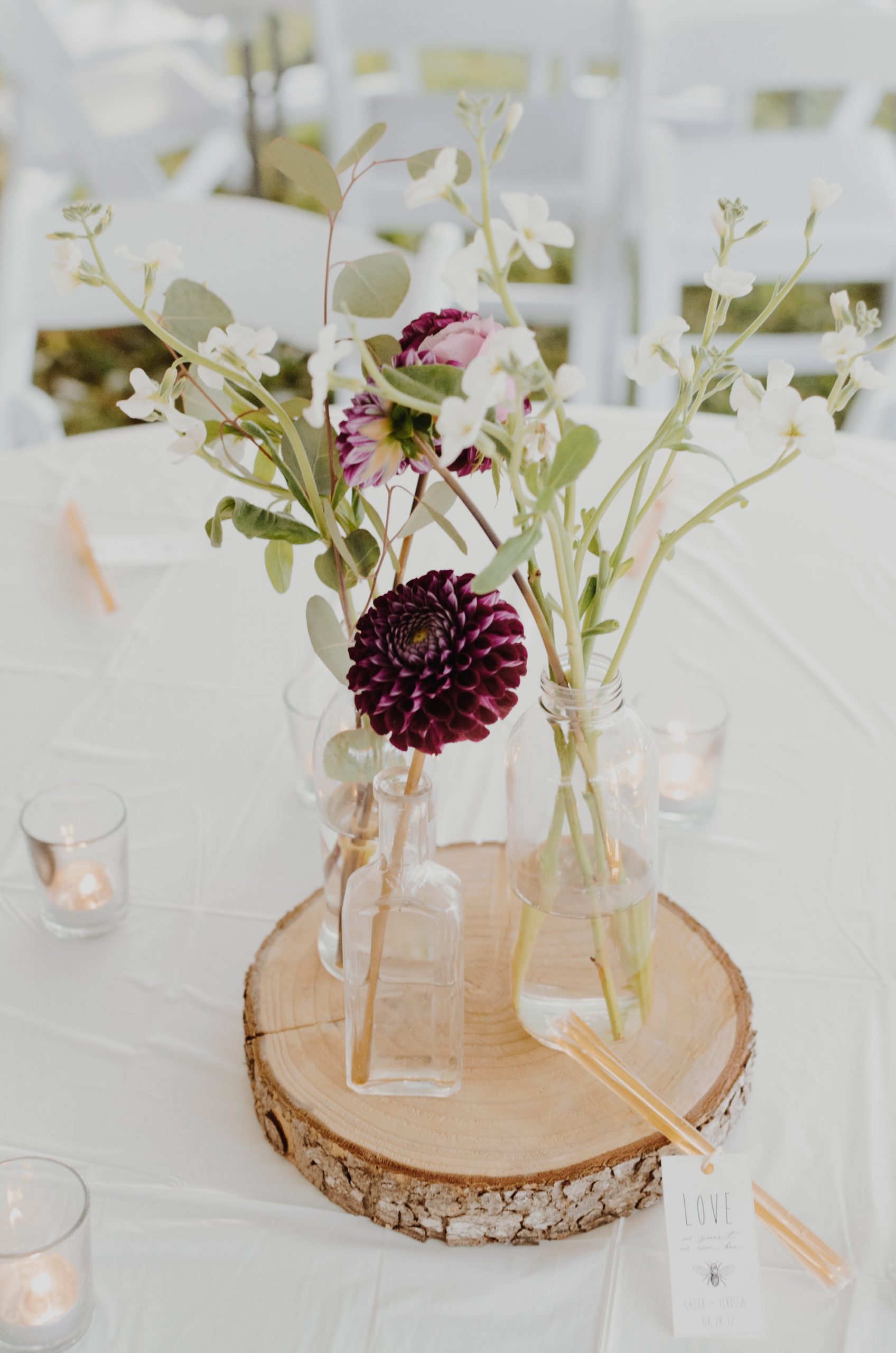 Bohemian themed weddings are perfect for the fall, even though they're not exclusively fall themed. These weddings tend to be outdoors while revolving around nature-themed décor. Autumn is the only season that allows brides to have an outdoor wedding without really having to worry about the heat, the cold, or the rain.
The bouquets for bohemian weddings are always the showstopper. They're filled with big bright flowers, lush green leaves, and pampas grass. Pampas grass can also be found in every corner of a boho wedding in everything from the centerpieces to the wedding arch. 
In addition to all of the unique flowers, boho brides tend to love lace. It adds a delicate feel to the bridal gown as well as place settings and favors. You can incorporate lace in so many pretty and different ways. It's also something that can be tied into your invitations and thank you notes.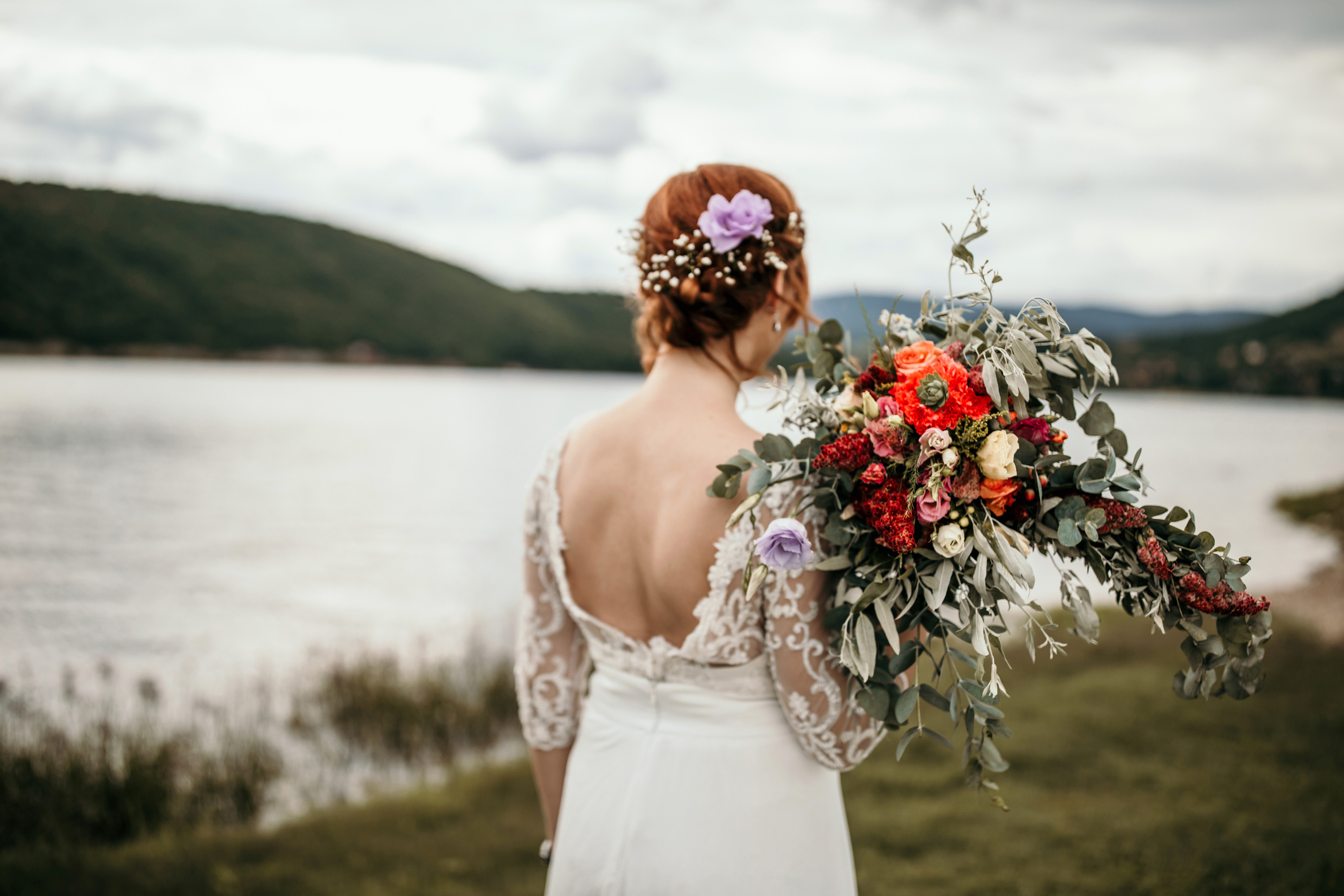 Romantic weddings, in my opinion, are one of the best themes for weddings. It's simple and understated, but it captures the essence of a wedding so well. This is the best theme to go with the burgundy and gray color scheme.
This theme begs the bride to incorporate roses, candles, and fairy lights all over their venue. Show everyone at your event how much you and your partner love each other. With a romantic theme, they'll be able to feel the love too. Some might say it's too sappy, but it's a wedding! If you can't be sentimental here, where can you be?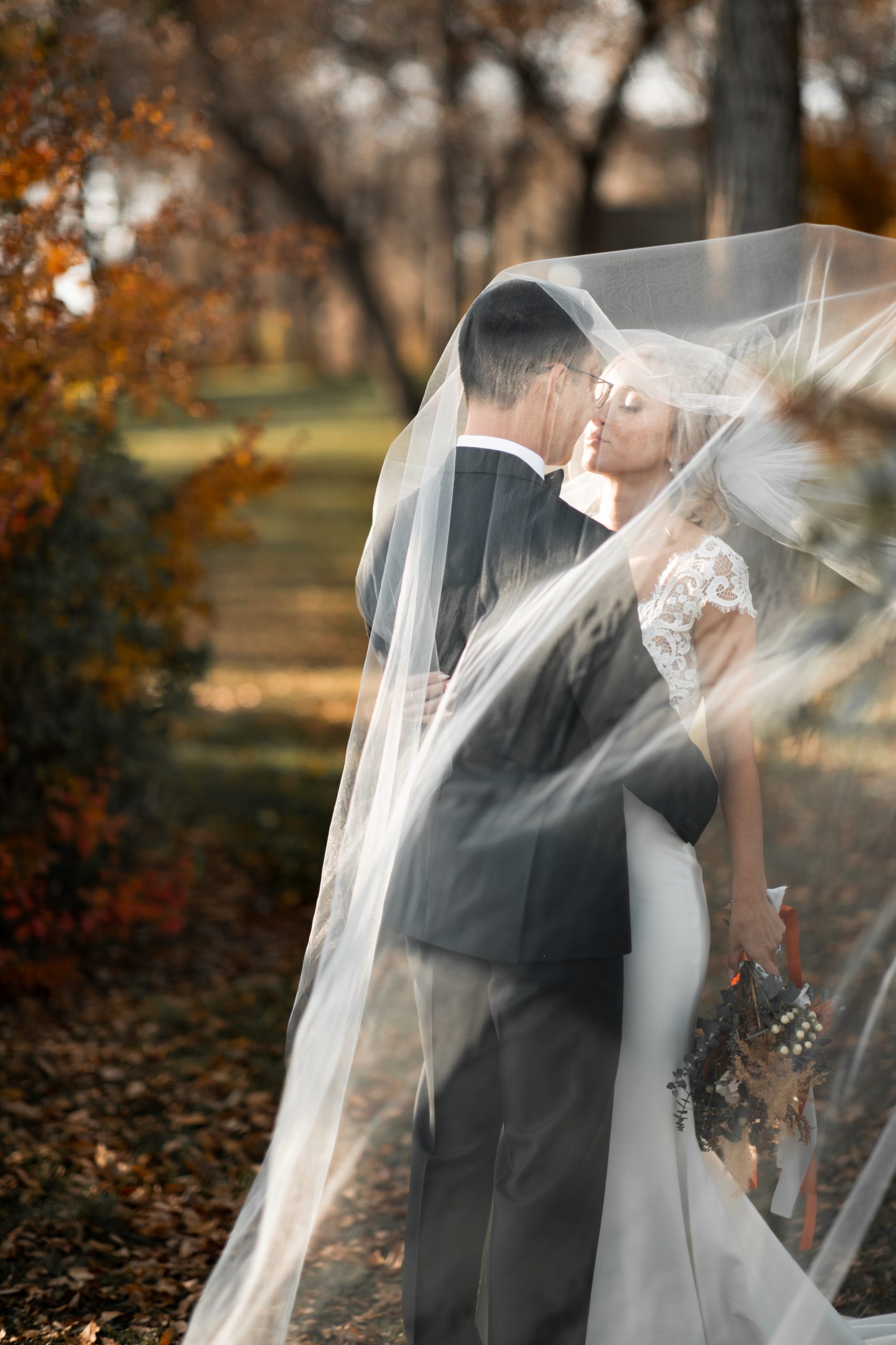 Inspiration
Continue the fall theme into cocktail hour by making specialty drinks. Apple flavored liquor makes an excellent specialty drink that will compliment your fall wedding. It can be a complicated apple martini or a large batch of apple pie sangria. Just make sure it's delicious. 
What's the number one fall treat? S'mores! Consider creating a create-your-own s'more bar for you and your guests to enjoy. Get creative and add different types of chocolate and a variety of graham crackers. If you want to get super fancy, throw some other candy, like Snickers, on the bar to use instead of chocolate. It's a fun and interactive dessert option that everyone will enjoy.
If you're not a fan of the wedding cake, a fall wedding gives you a great reason not to have one. Get pies instead! Apple, pumpkin, pecan, the list goes on and on. Instead of everyone having to settle for one or two flavors of cake, everyone can choose a slice of their favorite pie. If you don't want to skip the cake, there's no reason why you can't eat your cake and have pie too. 
There are ways, other than food, to add fall flair to your reception. Photo booths are a crowd-pleaser, but they're also a way to tie in your theme. You can stage your photo booth to look rustic with hay bales, pumpkins, and corn stalks. You can also stage it to have a floral background with fairy lights if you want a more elegant and pretty feel.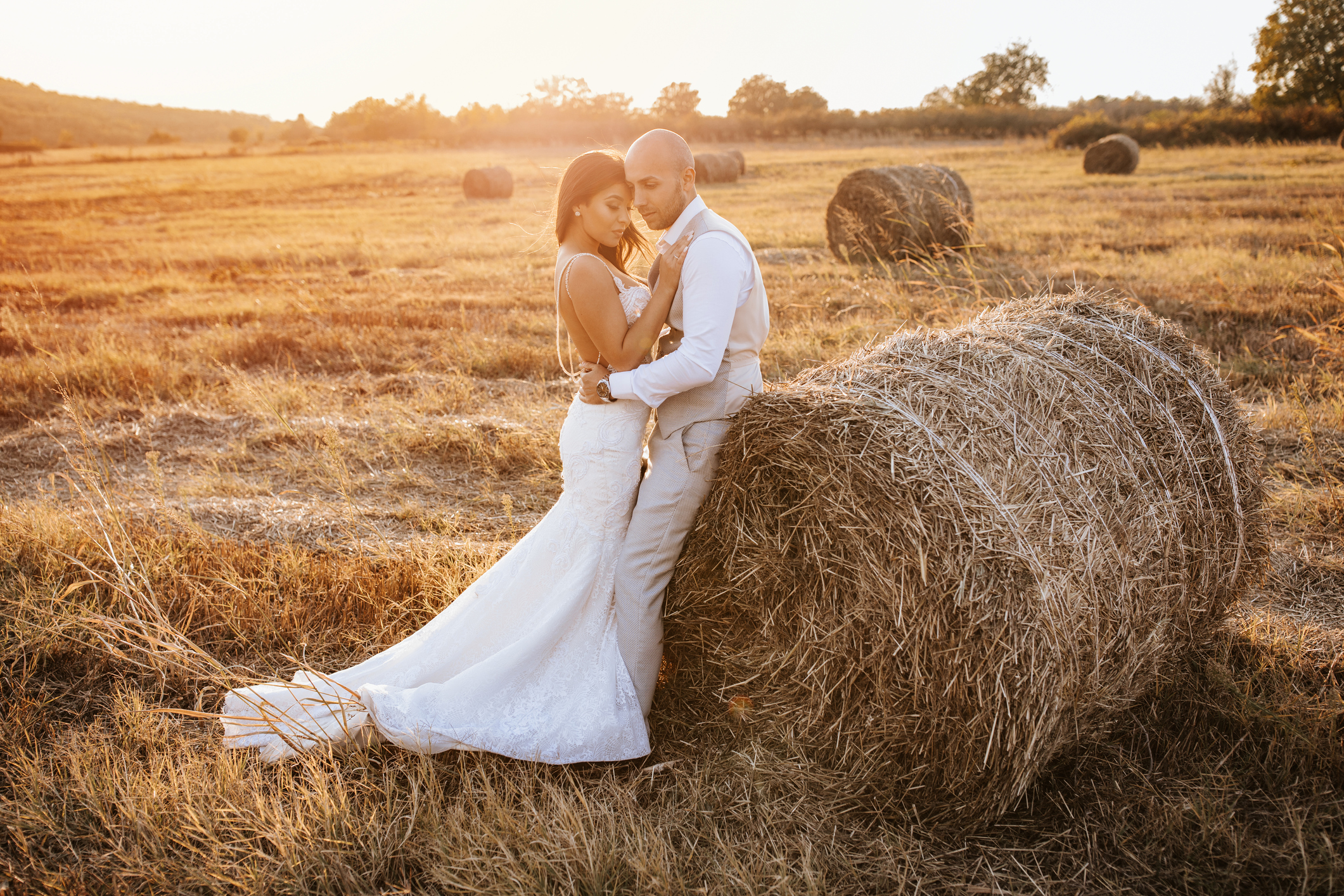 Finally, if you don't want fall to take over your wedding entirely but you still want a fall aspect, put it in your favor. Give out favors that no one will be able to leave at their table. For example, a fall-themed candle, a mini pie in a mason jar, a take home s'mores kit, or a caramel apple. If you're having your wedding in the North East, give your guests maple syrup to take home. 
A fall wedding will give you so many options and variations to choose from. Choose a theme or a color scheme and see what fall-inspired aspects will match!