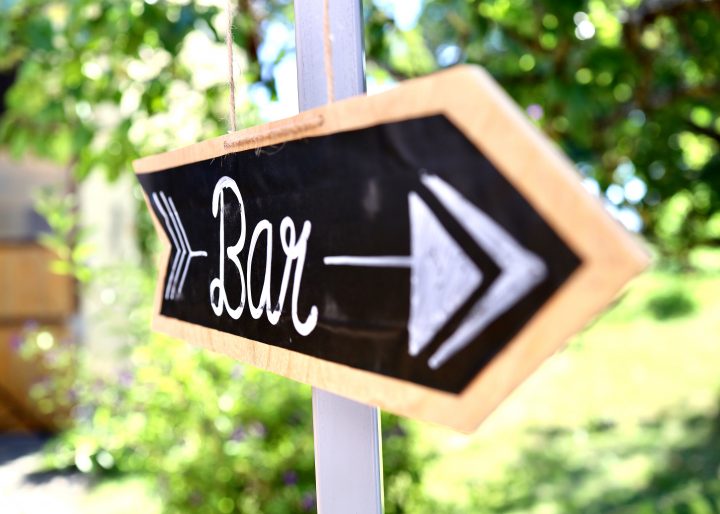 Beer, wine, and liquor bars are typical fixtures at modern weddings. Still, they are not the only bars that you can have. If you really want to stand out and impress your guests, you need more. Build your own food stations are the peak of wedding food. 
Savory Appetizer or Dinner Options
Savory food bars are an excellent option for appetizers, and they're a fun stop on a buffet line. As a bonus, any picky eaters will be able to create a side dish that is to their liking. 
Nacho Bar
Let's start strong with a very delicious and very customizable bar. Nachos are a crowd favorite. The only challenging aspect of nachos is that everyone wants something different on them. Well, that won't be a problem at your wedding. Carnivores can have their pick of chicken, pork, or beef, and vegetarians can pick different mixes of vegetables. 
Wow your friends and family by having the classic cheese, salsa, and sour cream toppings in addition to shrimp, guacamole, and bacon. When it comes to nacho toppings, the limit does not exist. 
Mashed Potato Bar
You can find photos of this all over Pinterest. The mashed potatoes are always classed up by serving them in a martini glass, making it delicious and aesthetically pleasing. No two servings will be the same. Give your guest the option of regular, garlic, or sweet mashed potatoes. Then let them choose between a few different types of gravy before loading on the toppings.
You can easily turn a mashed potato bar into a baked potato bar. It's the same concept, just a different form of potato. Wrap white and sweet potatoes in aluminum foil to keep them warm until the servers take the foil off and cut them open. 
Pretzel Bar
A pretzel bar will give you so many opportunities to have a beautiful setup and yummy options. Obviously, soft pretzels would be the ideal pretzel to utilize for this bar, but you can always change the toppings.
Of course, you need to have the classic salt pretzel, but don't forget about cinnamon sugar pretzels! You can also have everything seasoned and plain pretzels. Dipping sauces can range from spicy mustard to sticky caramel.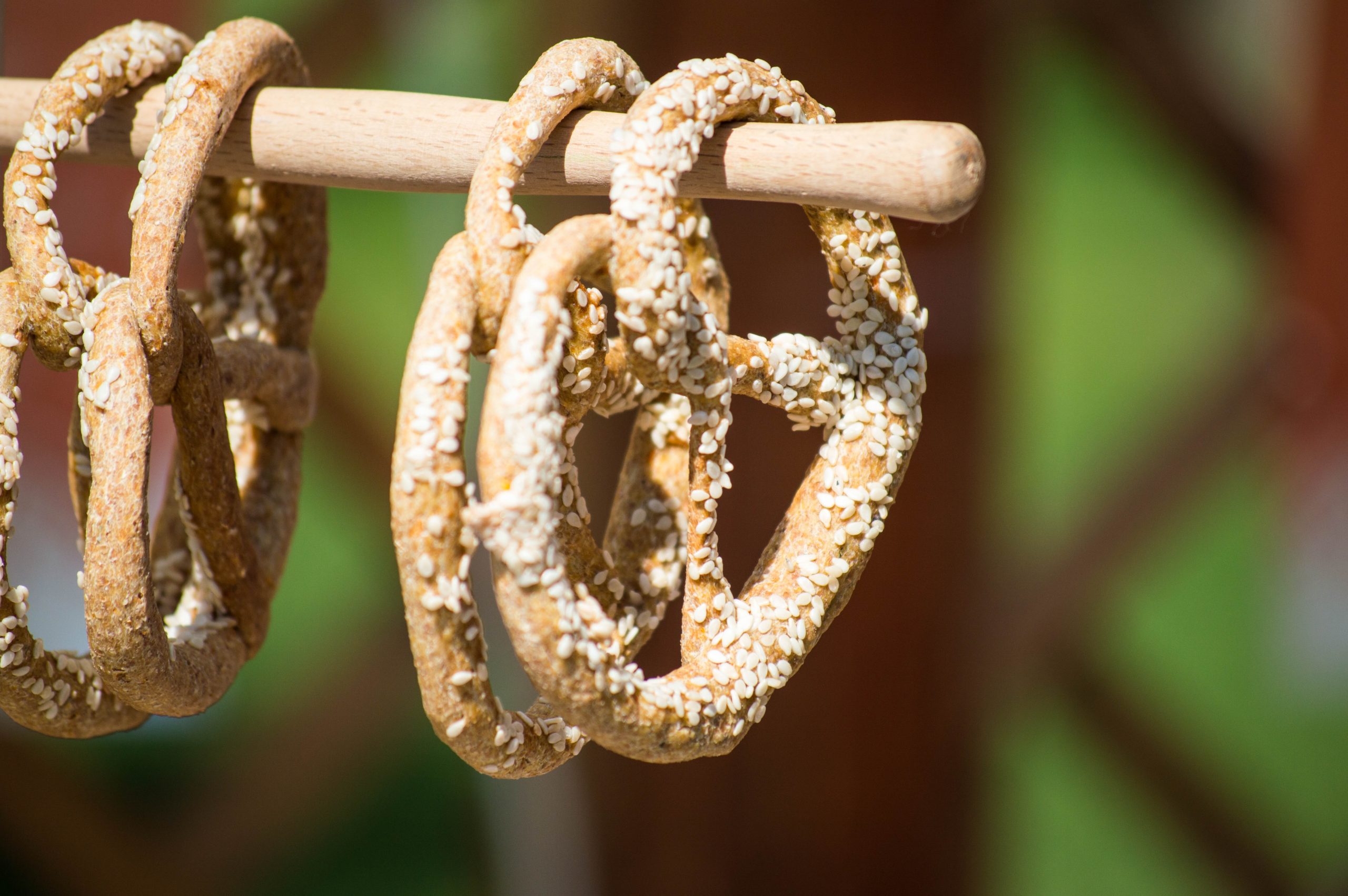 This is an excellent option for the bride who has an open bar at her wedding. Pretzels are a great food to absorb some of the extra alcohol your guest will be consuming. 
Dessert Options
Dessert is by far the easiest way to incorporate a build your own food bar into your wedding. Everyone needs to eat something sweet, especially after a long night of dancing. This is a great bonus for your guests. Not everyone loves cake, so this will give them an alternative!
Hot Chocolate
This is the perfect bar for the winter bride. Once the temperature gets below 40 degrees, creamy hot chocolate will delight your guests. It might seem like you don't have many options because hot chocolate is hot chocolate, right? Wrong! There are so many ways to customize this winter classic. 
First of all, there are so many types of chocolate. After you top off your hot chocolate with whipped cream, you can add whatever toppings or drizzle you want. Sprinkle a bit of cinnamon to polish it off. If you're going to get crazy, crush up different types of candy bars and sprinkle that instead!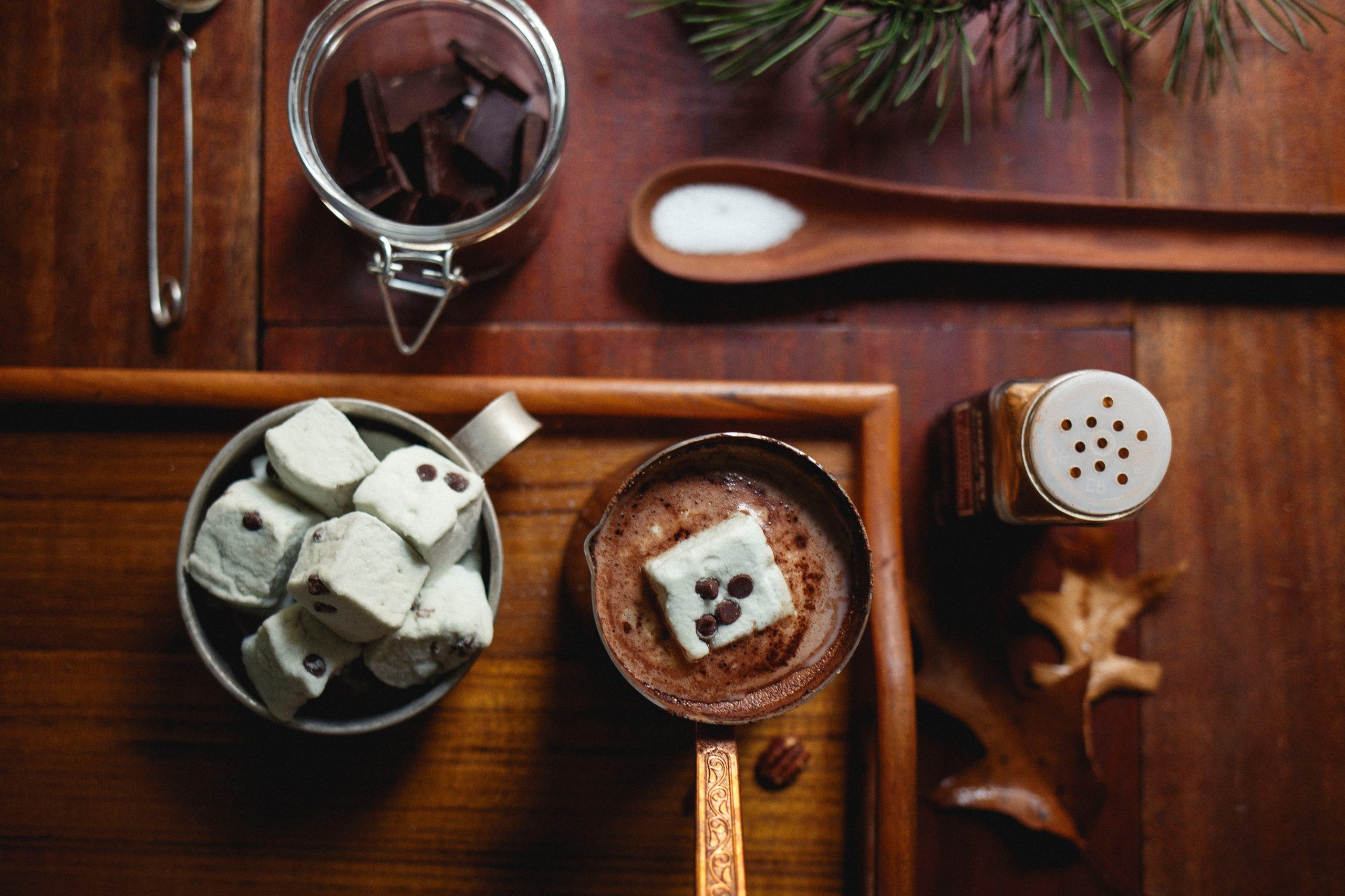 Ice Cream
Traditional does not have to mean boring. It's a known fact that everyone loves an ice cream bar. When there is an ice cream bar at a wedding, without fail, everyone gets excited. If you're a traditional bride and all of the other options seem too modern or crazy, this food bar is for you.
Like all of the other food bar options on this list, an ice cream bar will give your friends and family a completely customizable dessert option. Talk about a crowd-pleaser!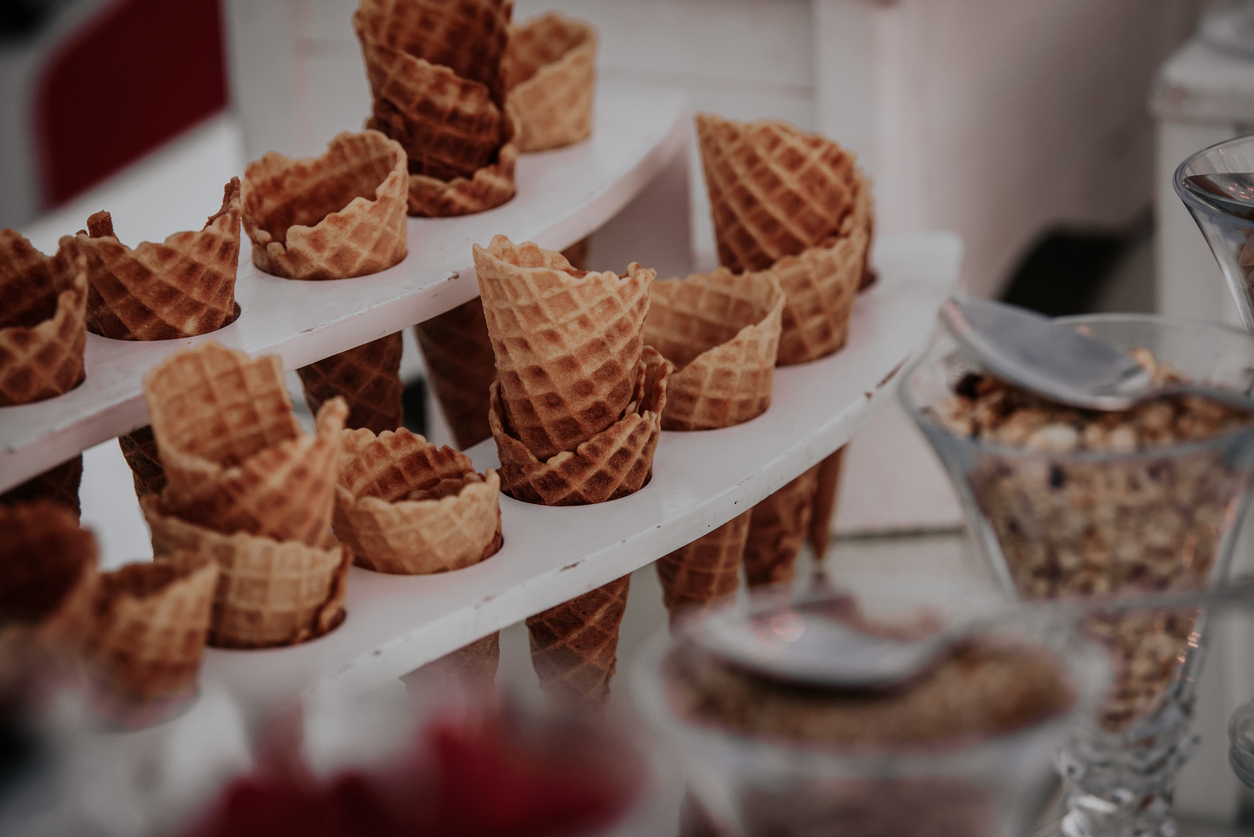 Cheesecake
I attended a wedding once that had a cheesecake bar. It was an absolute hit. It was set up so that the cheesecake was cooked in buffet trays, kind of like a sheet cake. Then the attendants used ice cream scoops to serve it. 
After that, we could add any toppings that we wanted. They were mostly toppings that would also be served at the ice cream bar, like the syrups and sprinkles. Still, the base of cheesecake was a fun changeup. I had never seen anything like it before, and I haven't seen anything like it since. 
S'Mores Bar
This is a personal favorite of mine, and I would bet that it would be a home run amongst your guests as well. I mean, do you know anyone who doesn't like s'mores? I sure don't. Like the hot chocolate bar, you can have several types of chocolate! Unlike the hot chocolate bar, you can also have different types of chocolate candy like Reese's, Snickers, and Kit-Kats.
Level up this bar by introducing your guests to different flavored marshmallows. Availability might depend on what season you get married in, but marshmallows are deceptively easy to make at home. If you decide to make them, you'll be able to create any flavor profile you want.
A cool addition to this food bar would be for you and your partner to create signature s'mores, similar to the signature cocktails. Personally, I would make mine with a honey graham cracker, Reese's cup, and a homemade salted caramel marshmallow. Doesn't that sound great?
Candy
Finally, you can have the classic candy bar. This is a final surprise for your guests. Not only is candy delicious, but it makes a great photo op. Show off you and your partner's favorite candy or fill the bar with the vintage candy that always makes people nostalgic. 
This bar also makes a great goody bag. It's a wedding favor your guests will happily take home with them. 
Don't be afraid to take these food bar ideas and run with them. Make them your own and have the flavors fit your theme or venue. Spruce up the table and let the bar decorate your space. Most importantly, find time to enjoy the food bar you've created!