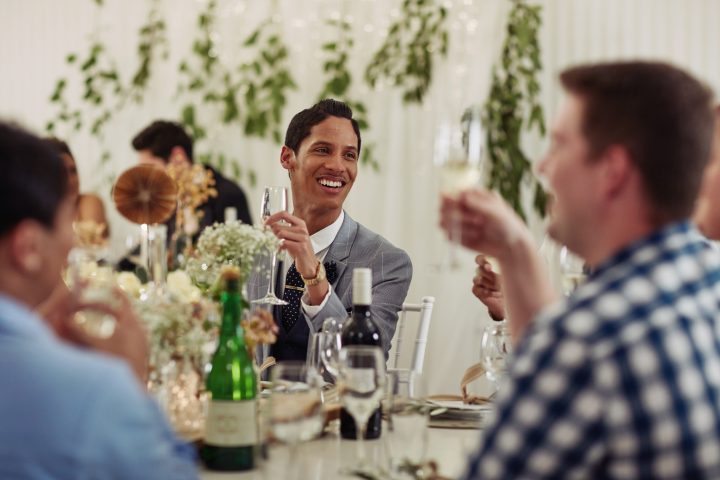 The more weddings you attend, the more wedding fashion errors you will see. To be fair, wedding attire can be tricky. There are a lot of unwritten rules and expectations. Even if you have a great wedding outfit, the season or venue of the wedding can make or break it. 
Sometimes even wearing the wrong color can make you stick out like a sore thumb, but don't worry. Follow this guide, and you'll blend in beautifully.  

Consider The Where 
When choosing an outfit for a wedding, the location = is very important. The venue will impact how casual you can dress and what kind of dress you should be looking for.
Your outfit is going to look very different if the ceremony is held in a church than it would if the ceremony is in a backyard. Church attire usually means that you will need to find a full-coverage dress. You don't have to look like a nun, but if you would wear it on a night out, leave it in your closet. 
On the other hand, your club dress might be an excellent option for a Vegas wedding. Sundresses aren't appropriate for church, but they're a fantastic choice for a backyard or outdoor wedding. No matter what the venue is, take the ceremony and reception location into consideration when picking an outfit. 
At the end of the day, the outfit you wear might not be your style, but this isn't your wedding. Your outfit isn't just about looking your best. It is also about showing respect for the bride, groom, and possibly the location. Don't take the spotlight away from the bride, especially if it's for all the wrong reasons.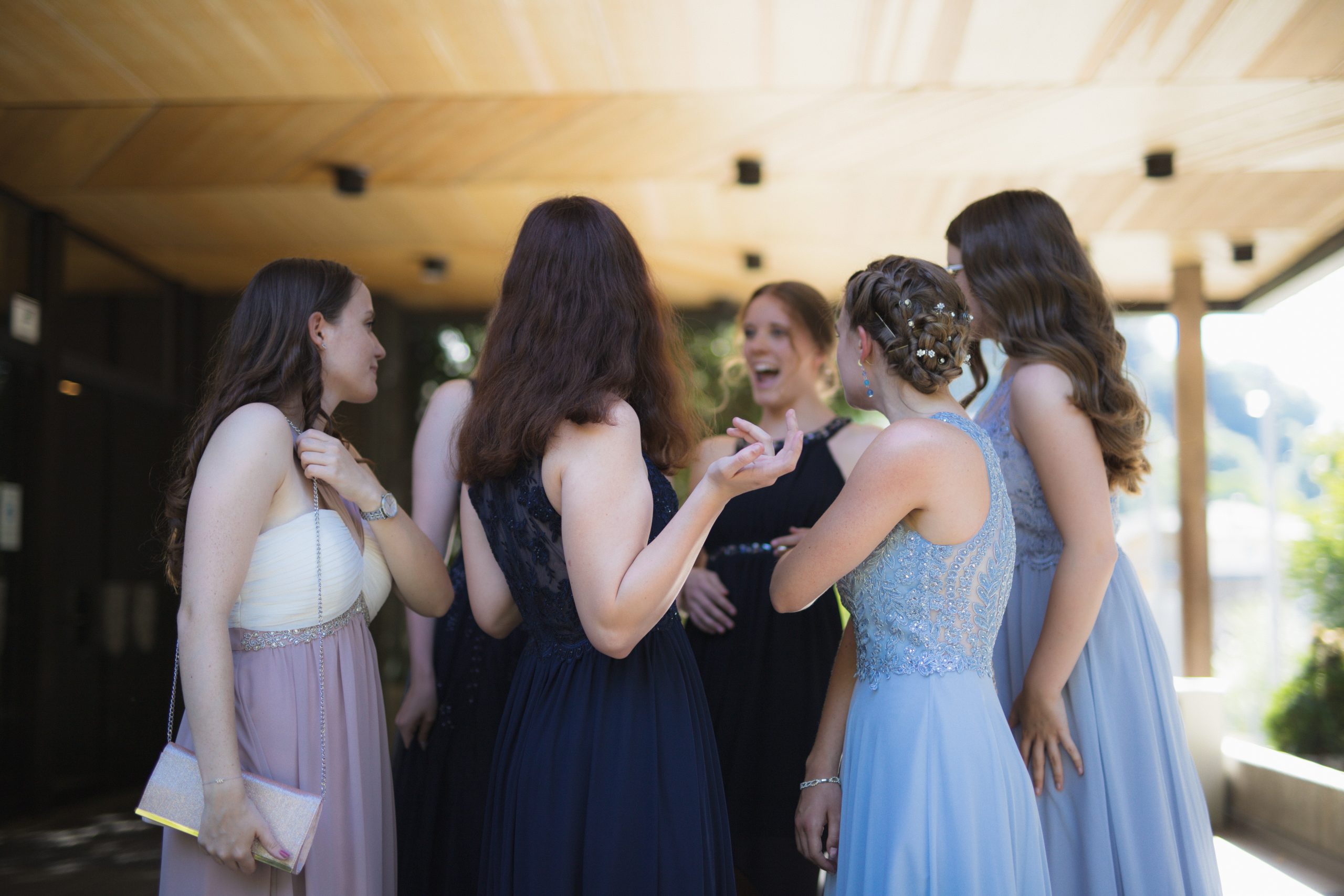 Consider The When
When the wedding is happening also has a giant impact on your wardrobe. Spring, summer, and fall weddings are usually pretty easy to dress for, but winter weddings are a whole different ball game unless you live in the south. 
Spring weddings are great because a pretty floral dress is always appropriate and always available. Make sure to wear a style of clothing that fits well and won't go wild when you start dancing. The same rules apply to the summer but try to be mindful of what fabrics will show sweat stains and which ones will hide them. 
You will want to work with a darker color pallet and heavier materials for autumn and winter weddings. In the fall, you can get away with a lighter material and even some lighter colors. It's tricky because what will be appropriate at the beginning of the fall will no longer be appropriate when we're about to enter into winter. 
As it gets colder, the colors you wear will probably get darker, and the material will be heavier. It's a difficult task to wear a short flowy dress in the dead of winter. Not only will you look a bit out of place, but you will freeze when you're walking to your car. 
If you're unlucky, parts of the ceremony or reception, like photos or send-offs, could be outside. The point is, don't dress for the one or two hours you'll be on the dance floor. Dress like you'll be out in the cold taking pictures for 45 minutes. 
If the venue is fancy enough, a floor-length dress is perfect. Velvet dresses are a gorgeous and warm option for winter weddings, and you'll be able to find a ton of options to choose from. At the very least, I suggest investing in a formal winter coat. 
An Important List Of "Don'ts" 
Everyone should know this rule, but it is sometimes ignored, so let's talk about it. Never, under any circumstances, wear white. Let me be super clear, that white doesn't exclusively mean a completely white dress. 
Don't wear white means don't wear an ivory dress. If you have a white dress with a cute pattern on it, save it for another day. Any light gray or tan dresses that could be confused at a glance as white should also be left at home. Basically, if the dress is more than half white or could look like a white dress in certain lighting, do not wear it. 
I know that seems like a bit much, but it is best to stay far away from anything that could be considered bridal. This rule also applies to any other wedding events like engagement parties, rehearsal dinners, and bridal showers. 
In addition to not wearing white, do your best not to upstage the bride. This can mean a lot of different things. Don't look too sexy or fancy. While it is a formal event, a skimpy black dress or a huge pink princess gown is not an appropriate outfit option. 
Honestly, this isn't the time to splurge and get your hair done or wear an expensive dress. Typically, the rule is not to upstage the bride, but I also think it's a bad move to upstage the bridal party. I'm not saying you should show up looking bad but be mindful not to outshine anyone. Wear the new shoes and accessories, do your makeup, and look beautiful, but you don't have to look like you just walked out of a magazine ad. You know what I mean?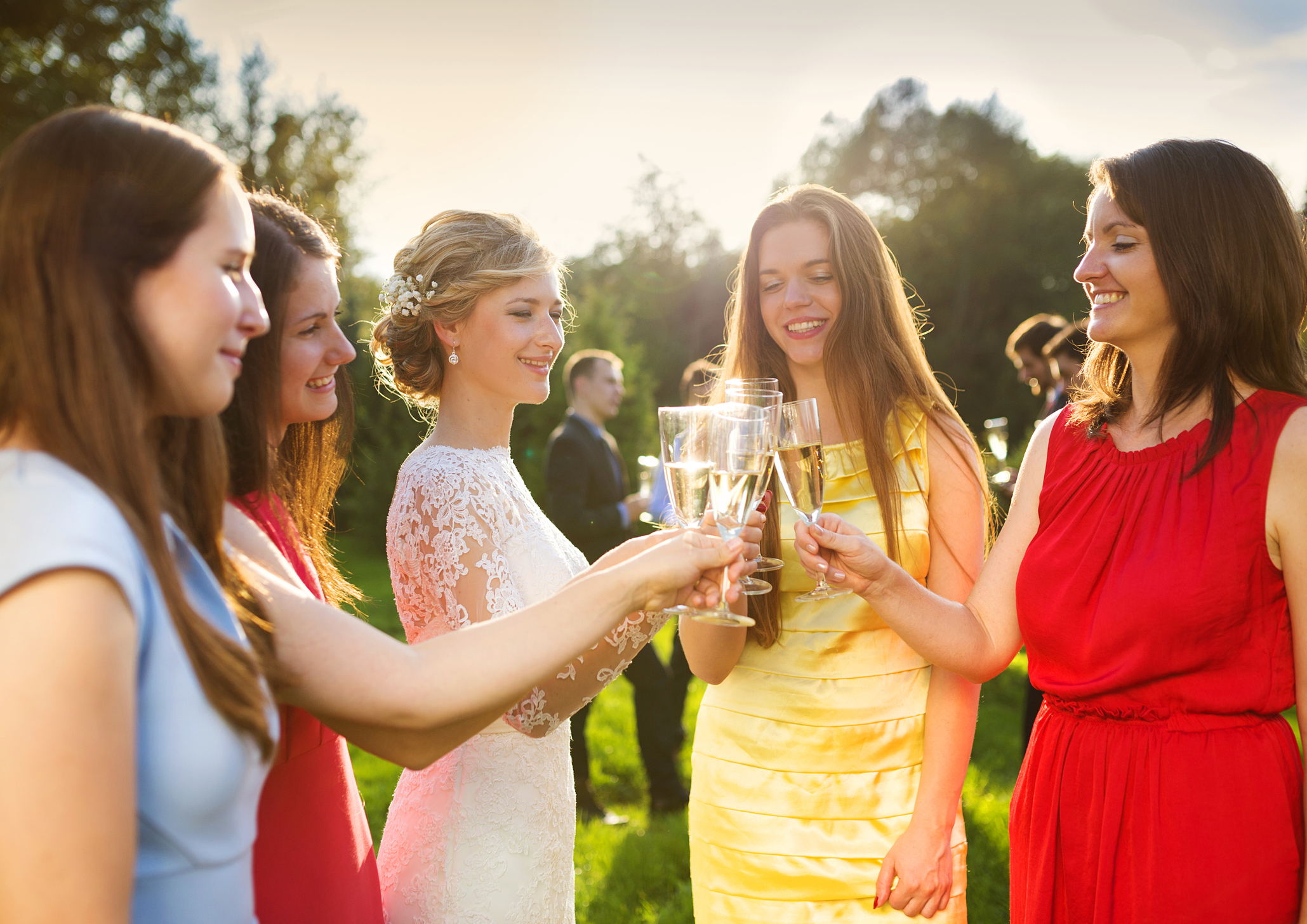 For The Men
Men always have it so easy when it comes to events like these. If it's a black-tie event, they have to wear a tux, but if it's not, then a nice pair of pants and a button-up is the way to go. When the event is more formal, a jacket is usually expected. No matter what, always wear a tie. It is a formal event, after all, even if it's in a backyard. Use your best judgment on what colors would be appropriate to wear. 
I know some of these rules and suggestions seem slightly over the top, but they're really not. It's easier to find a classy, comfortable outfit than you think. Follow these guidelines, and you'll thank yourself when you see the photos from the event and always, ALWAYS, follow the dress code on the invitation.