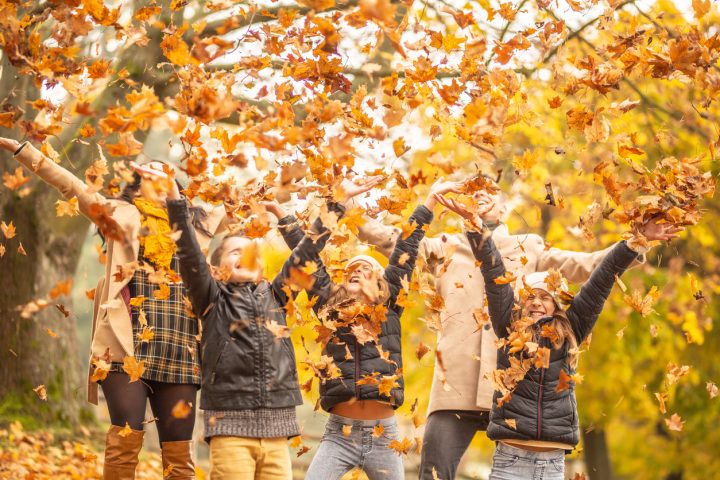 As fall begins to bring in colder weather, families will start to tuck themselves inside in anticipation for winter. With colder weather also comes cold and flu season, and families may decide to choose to stay in over going out to gatherings and events. 
Whatever the reason, if your family is spending most of the season at home, you still don't have to miss out on fall activities. If you're looking for inspiration on how to bring all of the joy of autumn into your home, look no further. You're sure to find an idea that will bring you and yours closer together this year's season.
BAKE TOGETHER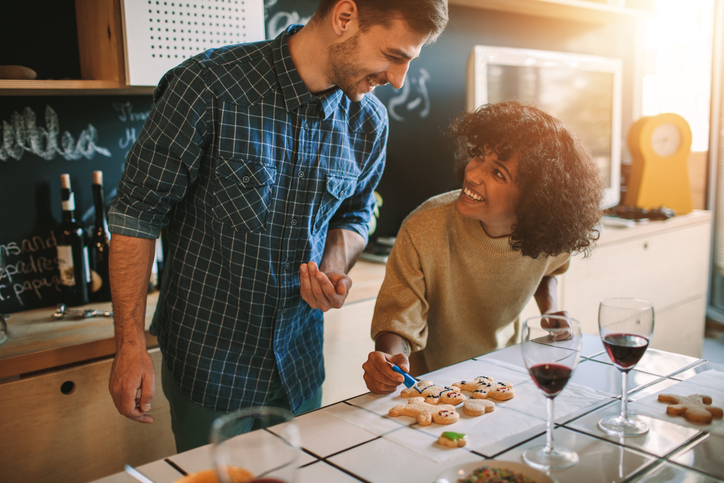 One activity that can bring the whole family together and yield an awesome snack is to gather up in the kitchen and bake a loaf of homemade bread. Even if you've never tried your hand at baking bread, this beginner bread recipe is for bakers of all experience levels. 
All you need is bread flour, instant yeast, salt, and water! Four ingredients, and you can bake the loaves with or without a dutch oven. This recipe is sure to be a winner, and you can add seasonings or cheese to make any flavor you like. Or, consider topping the slices with apple butter to get the taste of the season. 
If you're going to bake with kids, don't be afraid to let them get their hands dirty! This will be a great learning experience about how to measure and mix ingredients, as well as a great memory for them. It may even become a new family tradition!
CRAFT YOUR OWN FALL DECOR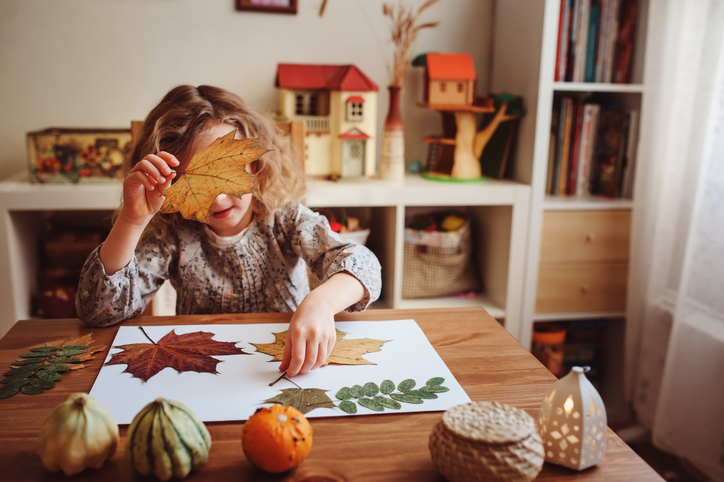 If you and your kiddos want to get creative, consider DIY-ing your very own fall decor!
For this recommended craft you'll need clay, a large leaf, an exacto knife, and an oven safe bowl. With these items you will create your own autumn leaf tray!
Roll out the clay into a flat sheet, then press the leaf into the clay. Here, you are stamping the shape and pattern of the leaf veins. 
If your kids are joining you in this craft, make sure they just watch this next step. Use the exacto knife to cut the clay out into the exact shape of the leaf.
Lastly, drape and mold the leaf over a large bowl, pattern facing down. It'll bake in this shape according to the clay's directions, leaving you with a rounded tray in the shape of a leaf! Feel free to paint or decorate your tray however you like. 
For video directions and more DIY ideas, check out Lone Fox's YouTube video titled "DIY FALL DECOR You Actually Want To Make!"
CHEESE AND WINE NIGHT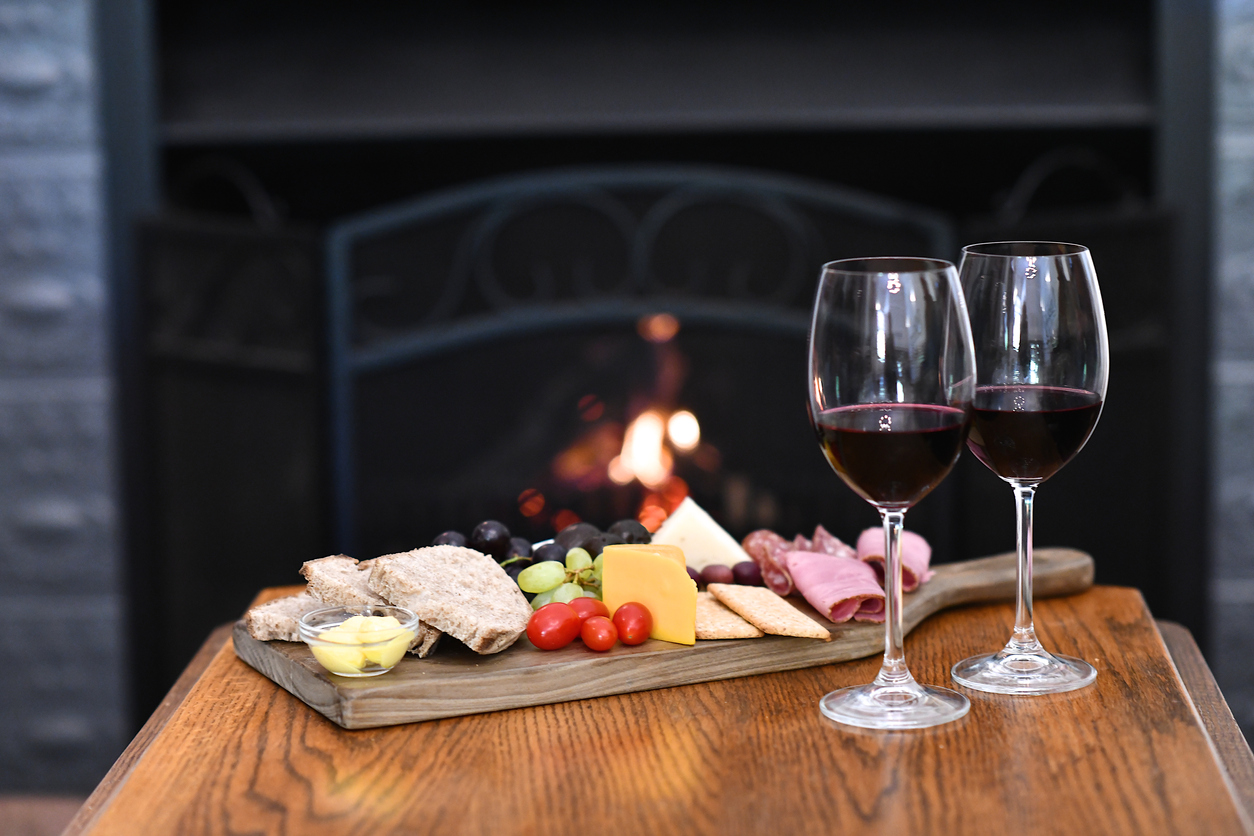 This idea is more for couples who'd like to tuck in for a romantic evening. Set up some blankets and pillows on the floor or on the couch for a cheese and wine date night. 
If you've never built yourself a charcuterie board, now is the time to try. Cut up your favorite cheeses and meats, grab some crackers, grapes and berries, and add nuts like pecans and walnuts. For a taste of bruschetta, stack a grape tomato, basil leaf, and mozzarella pearl along a toothpick, and drizzle it with olive oil and balsamic vinegar. 
Pair the charcuterie board with your favorite wine, and cuddle up for a fall movie. Put on a romance like When Harry Met Sally (1989) or Silver Linings Playbook (2012). For some nostalgia or if kiddos are joining you, put on E.T. the Extra Terrestrial (1982) or Disney's Coco (2017). 
DIY FAMILY PHOTOSHOOT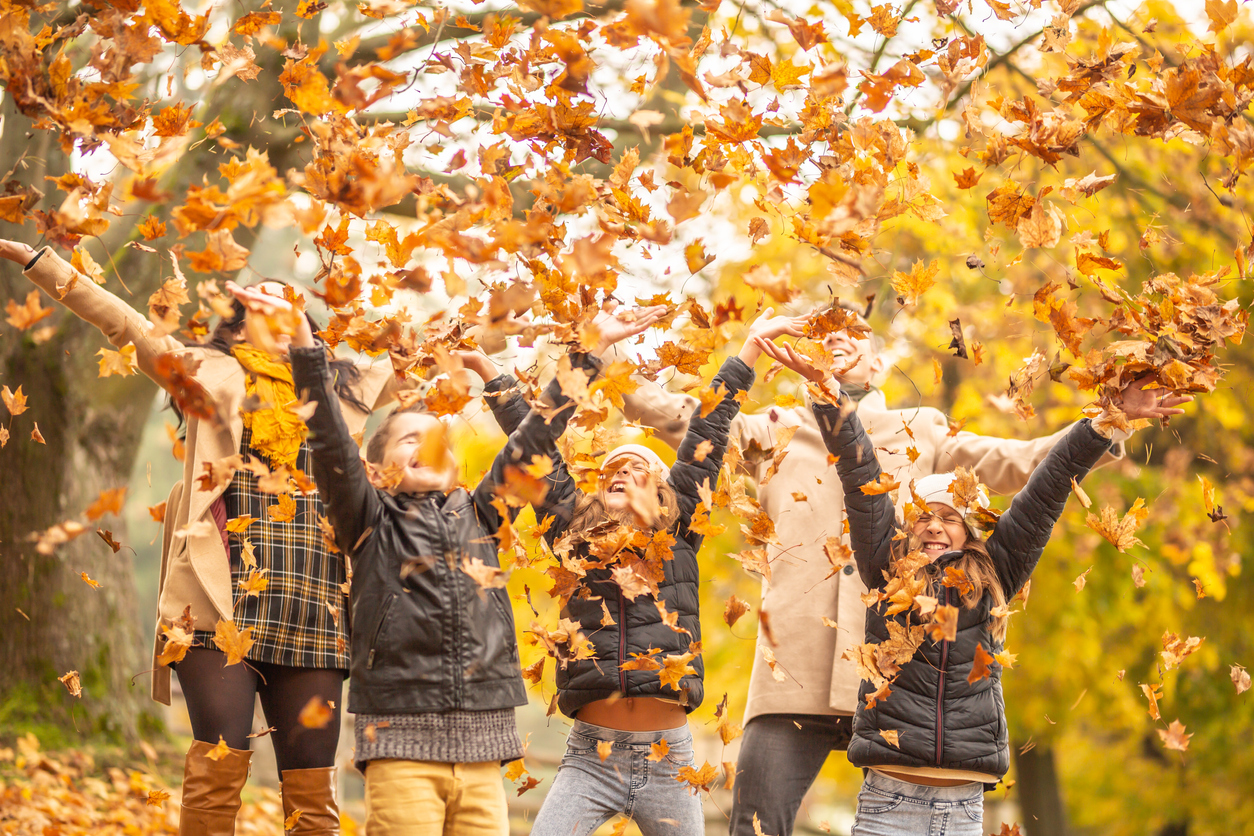 Have a couple of trees with color changing leaves in your backyard? Use them as the backdrop for a family photo shoot! Coordinate a dress code for your family, perhaps by choosing a fall color or dressing in flannel. Whatever the theme, gather outside to take some seasonal photos.
Before you get the whole family outside for pictures, get some pose ideas ahead of time. You can find inspo on Pinterest or Instagram to have a plan of action before you begin. Feel free to get some more natural candid shots as well! Those often turn out to be the family favorites.
Of course, if you have one, you can set up a tripod and a fancy camera. However, a smartphone and a way to prop it up works just as well! Utilize the self timer to set up the shot and join the photo before it's taken. 
Photos are a great way to hold fast to memories. You can either use them to post on social media, send to family, or even have them printed for you and your loved ones!
HOST A "FRIENDSGIVING"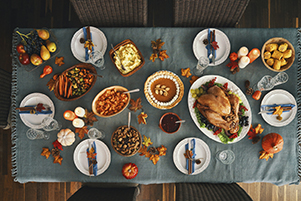 If you don't want to leave home, but would like to bring the social event to you, consider hosting a potluck "friendsgiving." It is a great way to celebrate Thanksgiving with your peers or other family friends. 
Each person brings one part of the meal: the appetizer, the sides, the main dish, the desserts, and the drinks. Feel free to get creative and go outside of the box from the traditional holiday fare.
Get together and feast up, and don't forget to play games and dance. This is a great way to extend the holiday season beyond the day you spend with your close family!
MAKE YOUR OWN PUMPKIN SPICED LATTE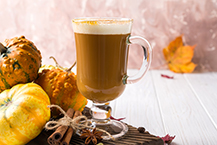 If you always stop by your favorite coffee shop to get your favorite PSL, consider making the classic fall drink right at home! This pumpkin spiced latte recipe is made with strong coffee that you can brew right at home, so no espresso is required. 
Most of the ingredients you will already have on hand. You just need milk (dairy or non-dairy), sugar (you can also use honey or maple syrup), coffee (brewed for a strong taste), and vanilla extract for the base. Then, for the pumpkin flavor, you'll need pumpkin puree and pumpkin pie spice.
This warm drink will bring the popular taste of fall right to your home and is sure to be a new go-to recipe!
FALL INDOORS
Hopefully, this has given you the encouragement that you can enjoy all the joy and warmth this season brings. Whether that's by crafting with your children, enjoying a romantic night in with your significant other, or hosting a potluck with close friends!8 You can take advantage of the season all within the comfort of your own home.
Sources:
https://www.realsimple.com/work-life/entertainment/fall-activities
https://www.popsugar.com/family/fall-activities-you-can-do-with-your-family-amid-covid-19-47738484
https://www.inspiredtaste.net/8419/pumpkin-spice-latte-at-home-recipe/
https://www.youtube.com/watch?v=b_Gug50Gpls
https://parade.com/1273965/samuelmurrian/best-fall-movies/
https://sallysbakingaddiction.com/homemade-artisan-bread/comment-page-20/#comments
https://natashaskitchen.com/charcuterie-board/
https://chatbooks.com/blog/diy-family-photo-shoot