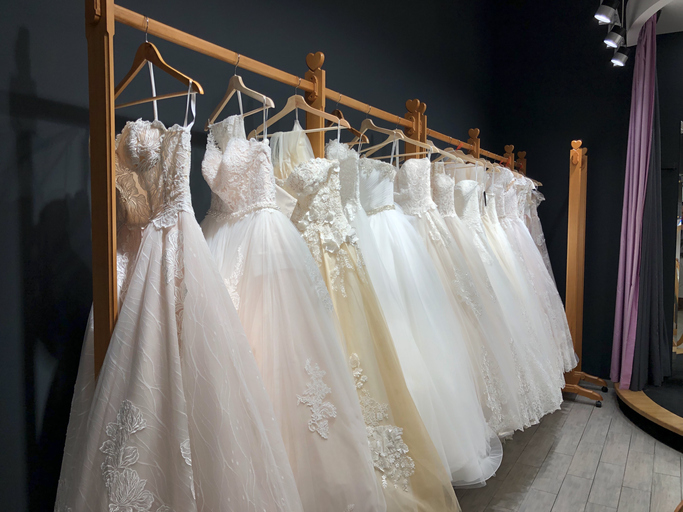 Winter wedding planning comes with many choices for a couple to make from venues, to food, to drinks and music. A decision of utmost importance to many brides is the gown she will wear on her day. The variety of dress design can create an overwhelm, from lace to chiffon, a-line to mermaid, there are so many possibilities. And with the wedding falling in the winter, the bride may wonder how to incorporate the beauty of the season into her dress. If you're looking for inspiration, you're in the right place. This list has been compiled with six winter dress details to consider for many different types of brides and weddings.
TURTLENECK DRESS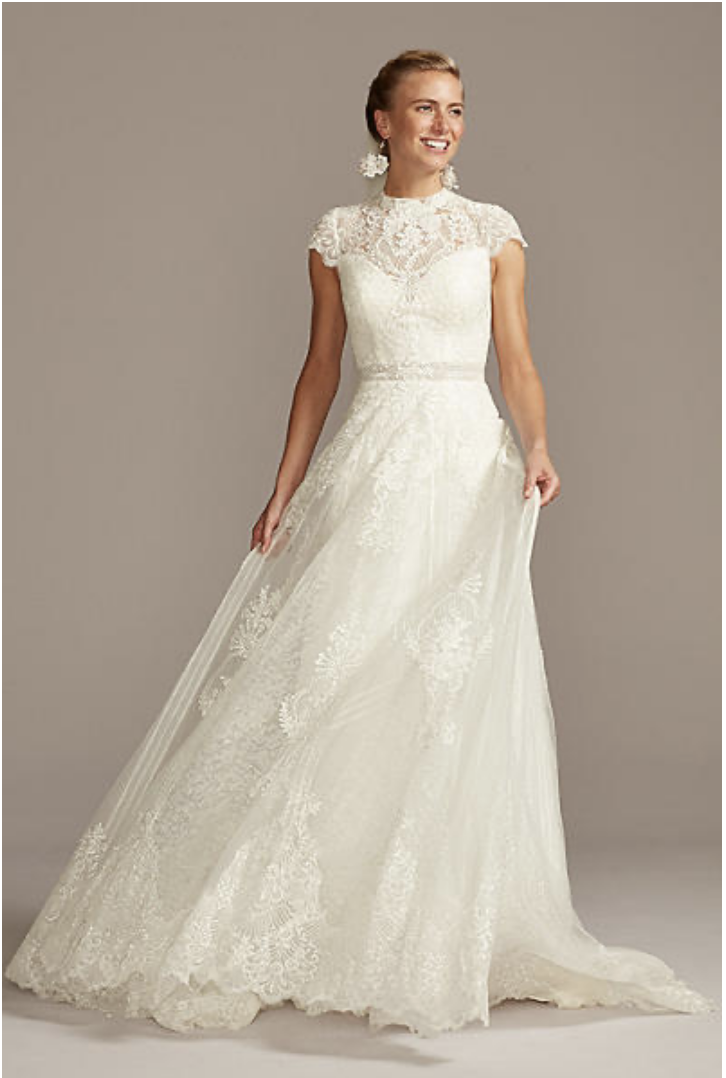 The time of year known for brisk weather brings the annual fashion trend of the turtleneck sweater. Adding this detail to your dress, as seen in this wedding dress from David's Bridal, is a flattering testament to the season you're marrying in. Vintage inspired, this mock neck gown showcases floral lace and cap sleeves with eyelash-trimmed scalloped detail. The dress is inclusively available in various sizes and body types, including petite, tall, plus, and tall plus.
LONG SLEEVES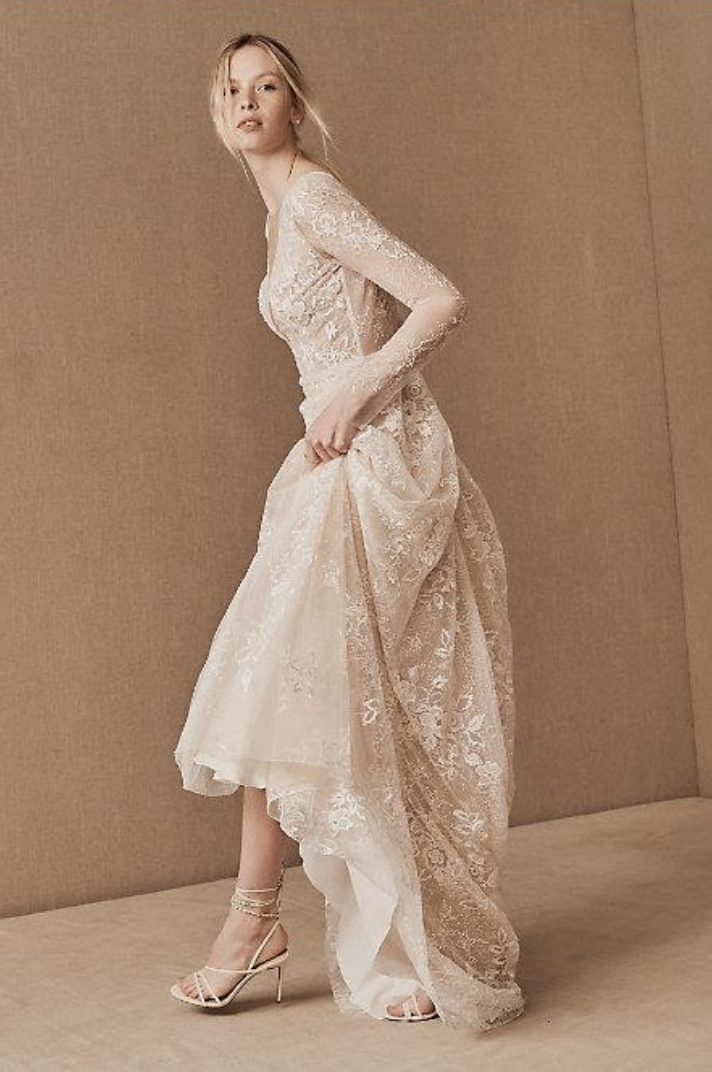 A classic way to bring the style of winter season into your gown is to add long sleeves. Not only does it protect your bare arms from the cool air, it showcases the sophistication of the season. This long-sleeved Riki Dalal Joan Gown from BHLDN is an off-white ivory color with a lace overlay and features a plunging v-neck. It's brought in at the waist with a crystal belt and flows down into a gathered train. Available in sizes 0 to 16, this charming dress is perfect for the winter bride with a softer style while still staying cozy in the cold.
BUTTON DETAIL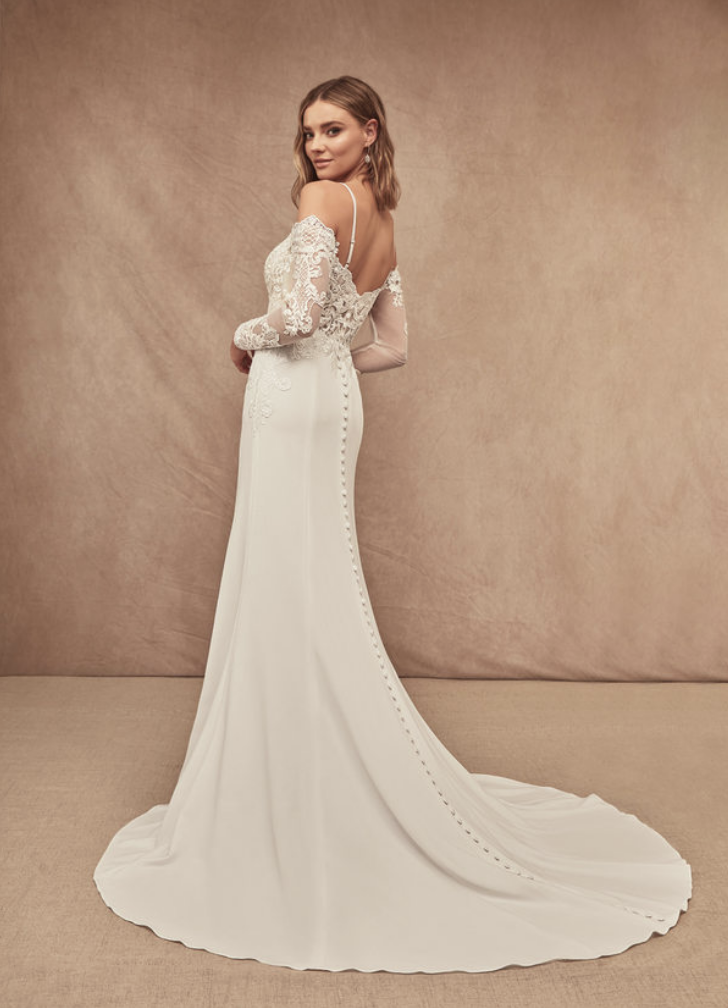 A romantic and classy detail to feature in your winter gown is a button enclosure. As shown in the Danea Bridal Gown by Azazie, it has white buttons clasped all the way to the train of the dress. The buttons cover the hidden zipper, which makes it much easier for the wearer to take on and off. The Danea gown has a sweetheart neckline with long sleeves and lace. This off-the-shoulder dress comes in three colorways and over ten sizes and can even be made custom at no extra cost.
SATIN FINISH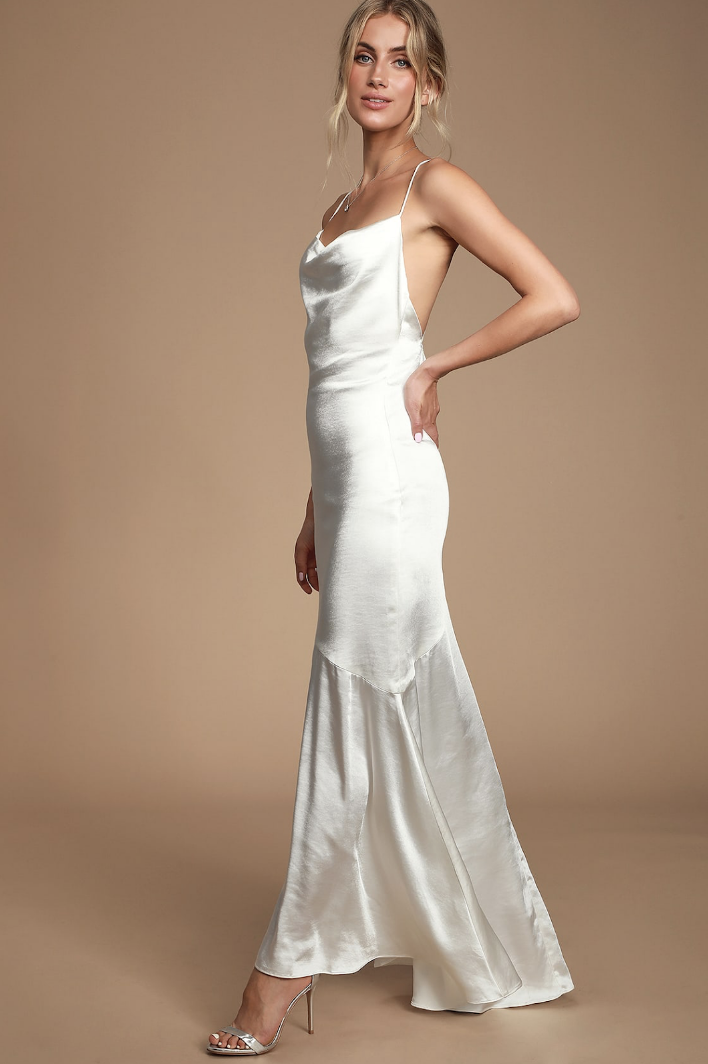 The sheen of a satin finish is a romantic reflection of the gleam of a new fallen snow. Winter is arguably the most elegant season to wed in, and the cowl neck Elliat Aisle White Maxi Dress from Lulu's is a timeless look that captures this elegance. Simple but distinguished, the Elliat is a sheath style and features faux buttons to conceal the zipper and clasp enclosure. It hugs the hips and falls longer in the back along a ruffled hem. It is available in sizes small to extra large and ships for free within the US.
LONG TRAIN SKIRT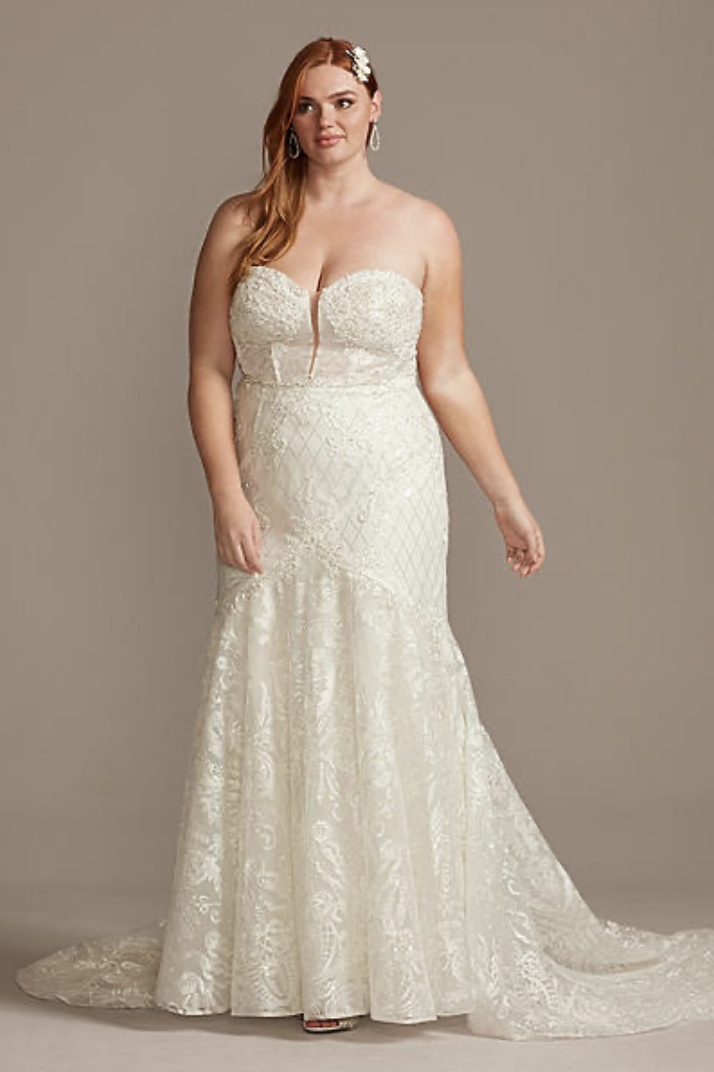 Winter is a striking season full of drama and passion, and what better way to encapsulate this than with a cathedral train like the one in this beaded mermaid dress by David's Bridal. Featuring diamond patterned tulle, as well as lace and bead work, the faux plunging neckline is followed by a trumpet skirt and full cathedral train. The gown marries vintage and modern style and is available in three colors, many sizes, and can be ordered petite, tall, plus, or tall plus.
GO DARING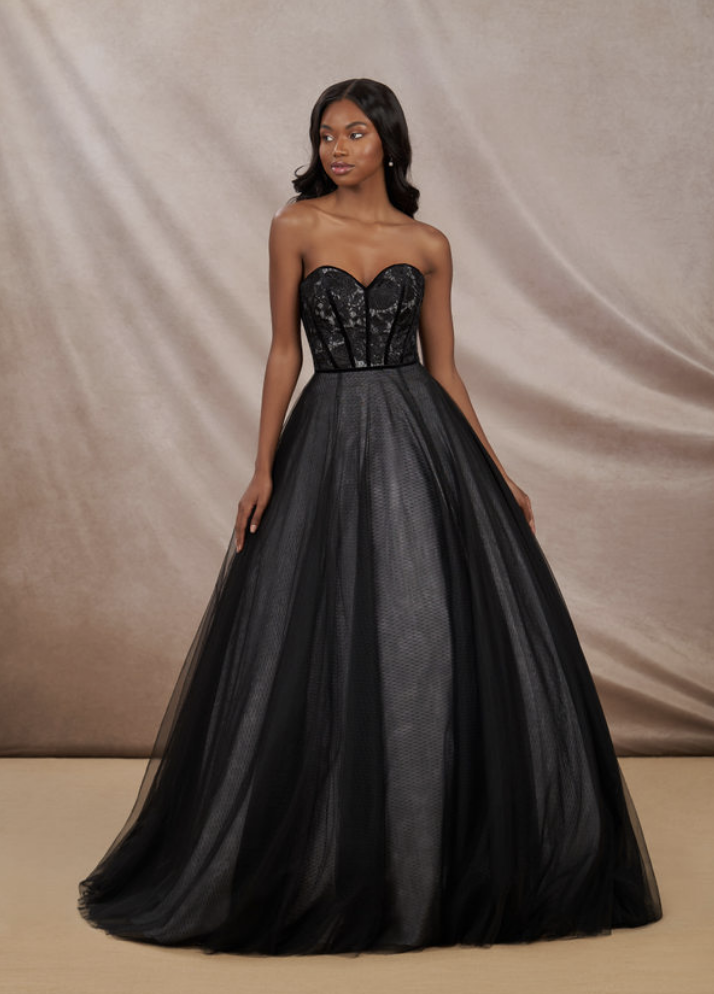 Where's the rulebook saying the bride must wear the expected white? Bring the moodiness, drama, and boldness of the cold winter months by wearing a black gown instead. In the Persephone Bridal Gown by Azazie, the black tulle and lace overlays either a white, champagne, or nude fabric creating dimension and interest. The heart shaped bodice is trimmed with velvet and meets a full ball-gown skirt. Available in many sizes and can even be custom made-to-order, this dress is a show of romance and mystery and is sure to turn heads.
A DRESS TRUE TO YOU
Every bride is unique and deserves a dress true to herself and that makes her feel confident and beautiful on her wedding day. These suggestions are merely to inspire, not to limit or pressure a bride to wear a certain style in a certain season. The best way to find the dress right for you is to remove the limitations and try on as many styles that are of interest as possible. You may be surprised by the one that feels the most "you!"
Sources:
https://www.davidsbridal.com/Product_embroidered-illusion-mock-neck-wedding-dress-ms251205
https://www.bhldn.com/products/joan-gown?via=Z2lkOi8vdXJibi9Xb3JrYXJlYTo6Q2F0YWxvZzo6Q2F0ZWdvcnkvQ0E3MjA3QjY
https://www.azazie.com/products/azazie-danea-wedding-dress?color=diamond-white%2Fchampagne
https://www.lulus.com/products/aisle-white-satin-cowl-neck-maxi-dress/816392.html
https://www.davidsbridal.com/Product_beaded-brocade-embellished-plus-size-wedding-dress-9swg835
https://www.azazie.com/products/azazie-persephone-wedding-dress?color=black%2Fdiamond-white