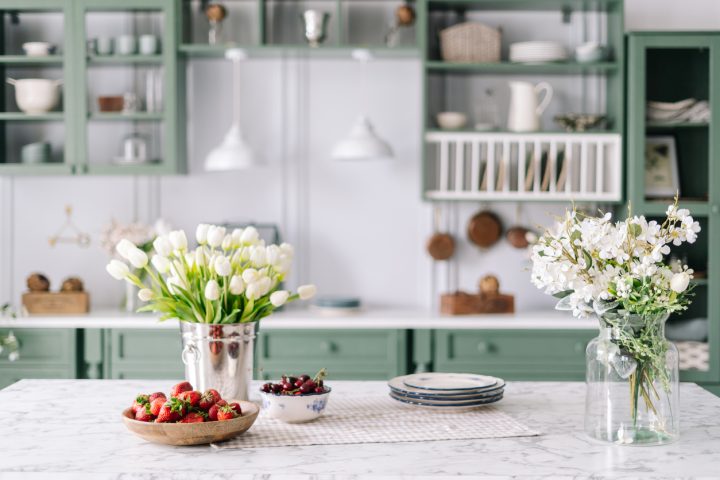 When it comes to fall food, we think warm, hearty, comfort food like pumpkin pie, mashed potatoes, and lush soups. Now, with spring upon us, it's time to change up our menus. With spring we think cooler flavors, brightness, and citrus tastes. For your ease, we've picked out some of the best recipes that remind us of all things spring and freshness. This list includes a recipe for each meal of the day, from breakfast to dinner, and even a dessert drink.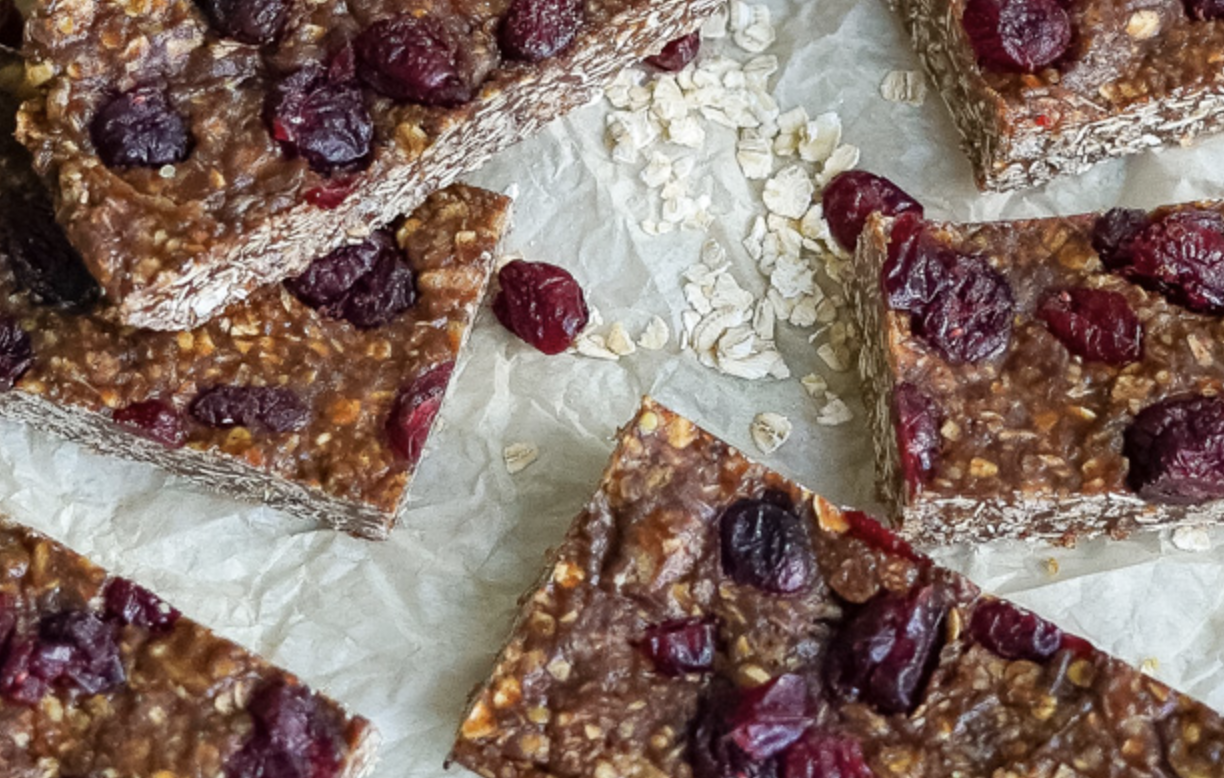 CRANBERRY OATMEAL BARS
These easy breakfast bars are the perfect grab and go for spring. Those warmer areas will love that they can keep the oven off for this one, as these bars are no bake! They are a healthy alternative to those packaged granola bars, and are also vegan and gluten-free.
For this recipe, you'll need quick-cooking oats, chia seeds, agave or maple syrup, and dried cranberries. Alternatively you can swap out the cranberries for your favorite dried fruit such as dried blueberries or even raisins. After a quick heating up of oil, nut butter and agave, you'll mix the wet ingredients with the dry, and press them tightly into an 8×8 pan. Let it sit in the refrigerator overnight, then pull out of the container and cut into easy-to-grab bars. Keep in the fridge for easy breakfast all week, or freeze for up to one month!
See full recipe here.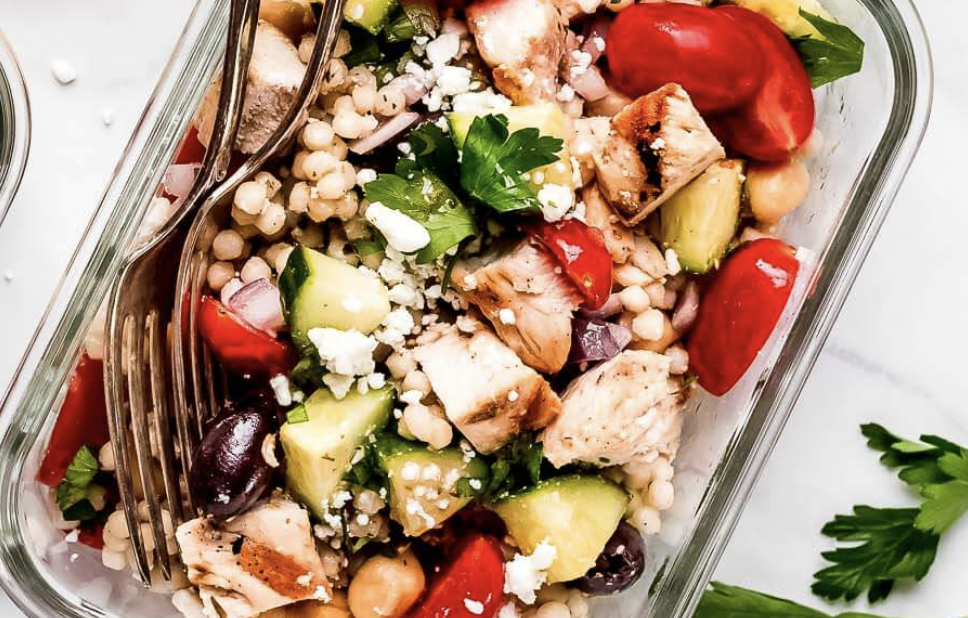 GREEK COUSCOUS SALAD
This bright, tasty, and veggie filled salad is full of bright colors and flavors for spring. This salad comes together in under an hour and is perfect for a week of meal prep lunches. The protein in this salad comes from both chickpeas and chicken, but to make it vegan simply leave out the chicken and feta cheese. To make it gluten-free, swap out the couscous for some brown rice. This recipe allows for multiple swaps or customizations for your preferences or dietary needs.
For this recipe you'll need Israeli or pearled couscous, chicken, chickpeas, cucumbers and other veggies, parsley, feta, and a homemade dressing. This salad also has no need for the oven, and only requires cooking for the chicken. For a completely no-cook method, grab a premade rotisserie chicken from the store. Simply chop the veggies and herbs, and toss everything together in a large mixing bowl. You can serve as a meal immediately, or separate into meal prep containers for easy no-heat lunches all week.
See full recipe here.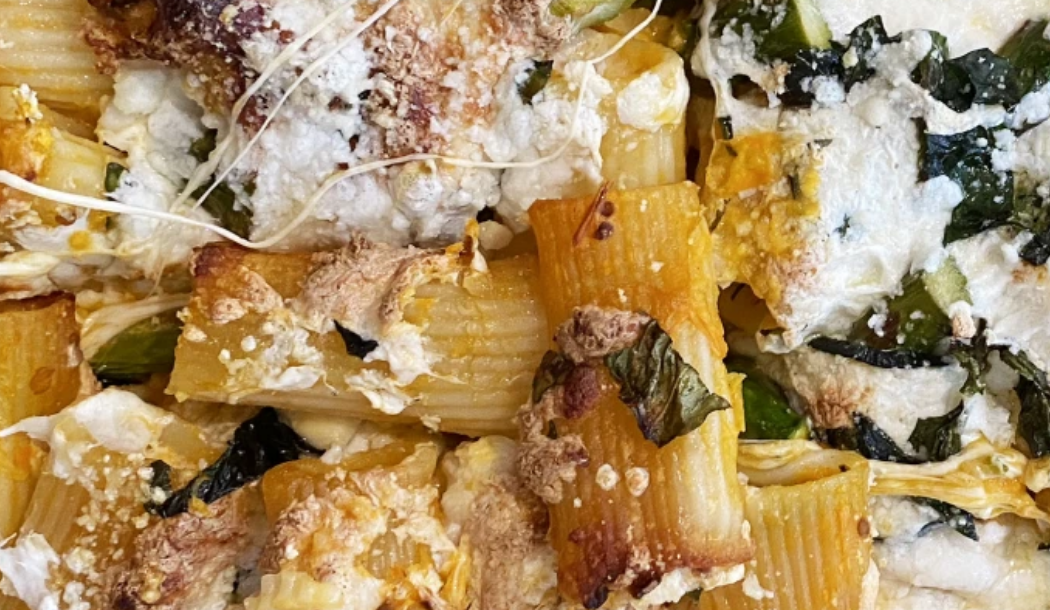 SPRINGTIME PASTA BAKE
This dinner recipe is for those who still want a warm and comforting meal while incorporating the tastes of spring. This pasta bake has a light and veggie filled sauce and features spring's asparagus and zucchini. Alternatively, you can use other quick cooking springy veggies like snap peas or green beans. To make this dish vegan, you'll need to omit the cheese or use a vegan cheese alternative. To make it gluten free, simply use a gluten free pasta.
For this recipe, you will heat and blend the sauce ingredients, and then cook the pasta according to its package instructions. In a separate pan, you'll fry up the chopped asparagus and zucchini until soft. Then, combine all parts, top with cheese, and bake for warm pasta goodness.
See full recipe here.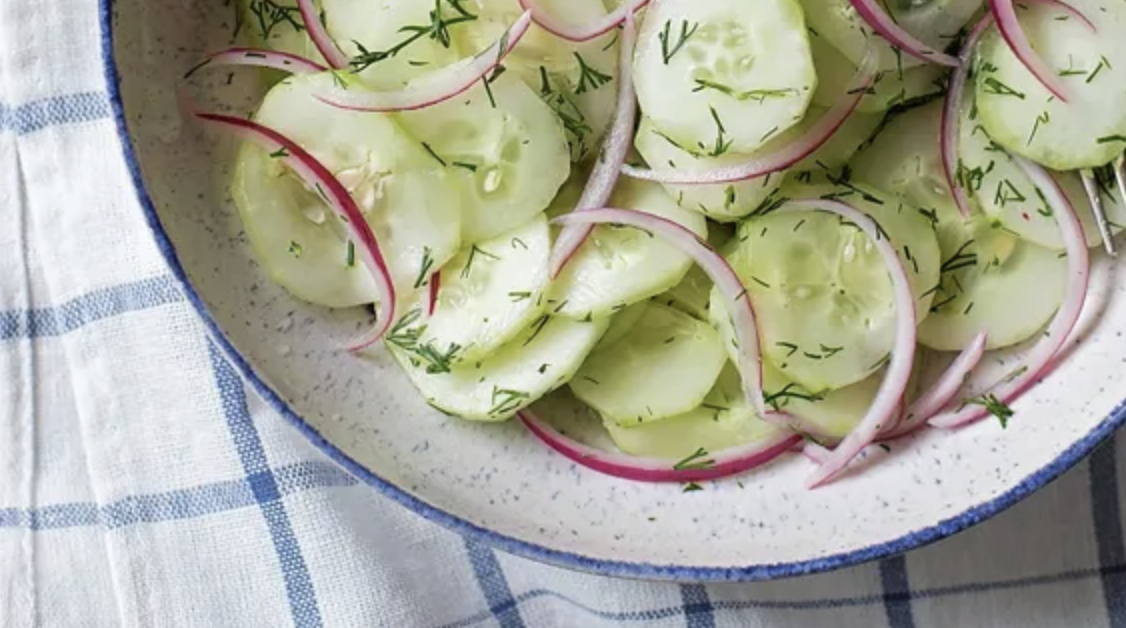 CUCUMBER DILL SALAD
This quick, six ingredient side salad showcases all of that bright tanginess of spring. It has the sharper flavors coming from dill and vinegar, and has crisp freshness coming from cucumbers and red onion. For the marinade, you'll just need vinegar, dill, sugar and salt. This recipe is naturally vegan and gluten free!
For easier and even slicing, you can use a mandolin slicer. If you don't have this tool in your kitchen, simply chop them the old fashioned way. You'll only need about one fourth of an onion in this salad, and you'll want to peel the cucumbers unless you like extra crunch. Serve this fresh salad as a side to some grilled chicken or salmon for a complete meal.
See full recipe here.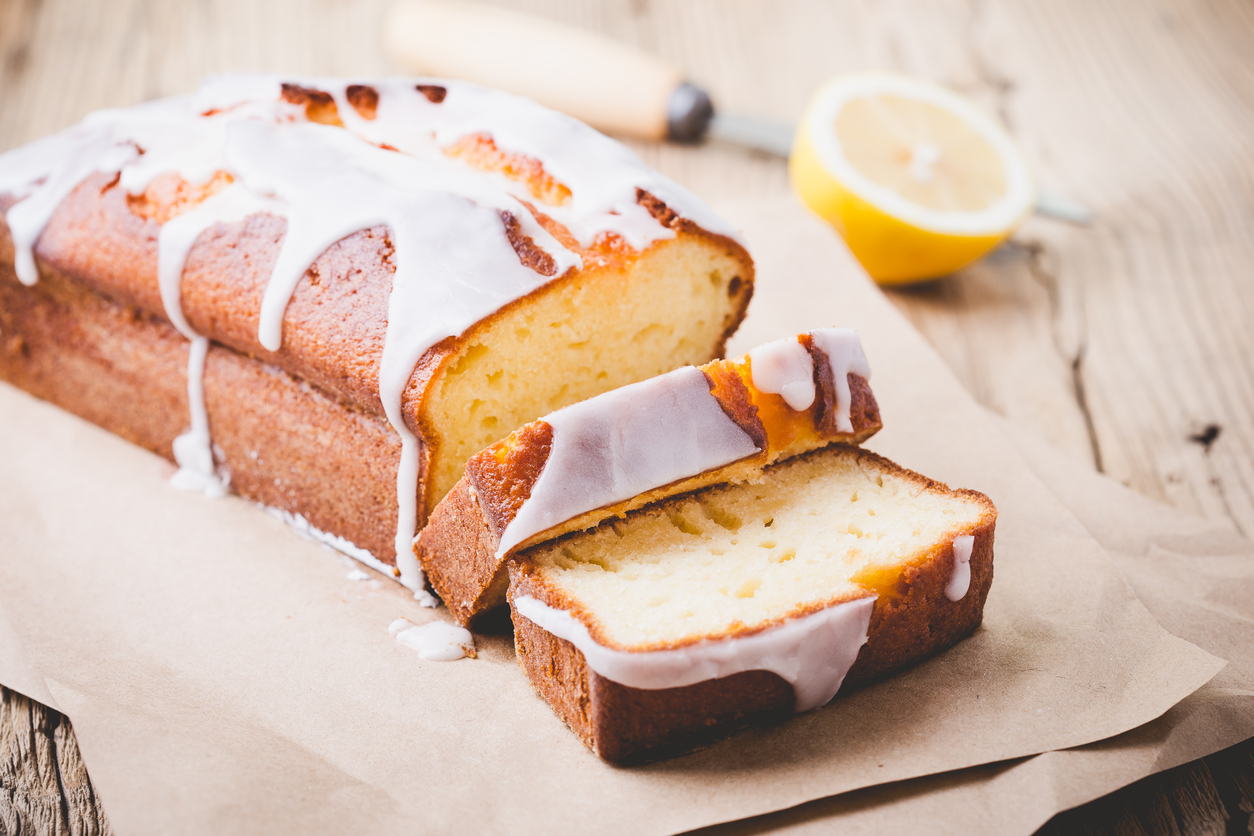 LEMON CAKE
We know it's easy to miss the days of pumpkin bread and banana bread on a brisk winter night, but no fret. This lemon cake is a great spring replacement for you. The recipe creates a tart, moist and warm cake to have as a side to your dinner or as an after-meal treat.
In addition to all the classic baking ingredients, for this cake you'll need buttermilk, vanilla extract, lemon zest and lemon juice. This recipe may take a few more steps to come together, but the labor is worth it. While the cake is baking in the oven, you'll whip up a sweet glaze made of confectioner's sugar and lemon juice that you'll drizzle over the top of the baked loaf.
See full recipe here.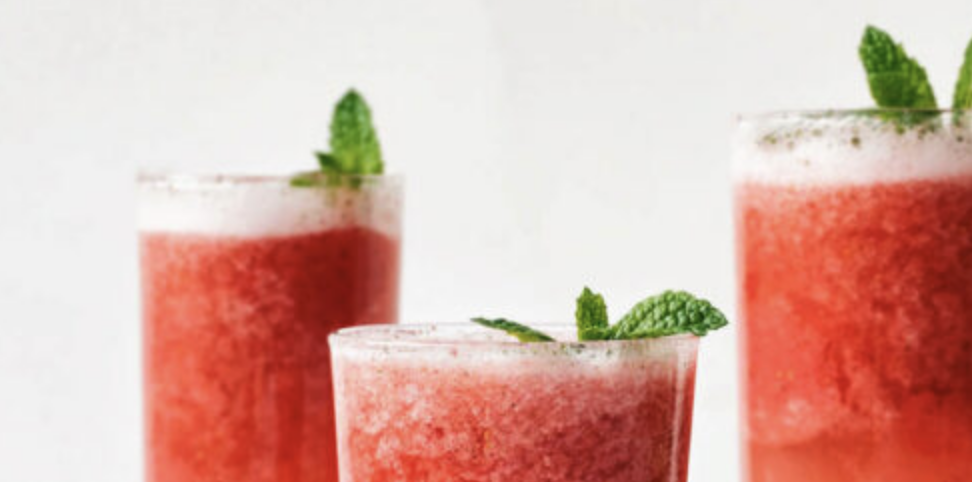 STRAWBERRY LIME SLUSH DRINK
If you love those fruity slushies from the convenience store but would like something less artificial and sweet, you'll love this strawberry slush drink recipe. These drinks come together easily in the blender and are very kid friendly topped with sparkling water. For an adult only variation, you can top with champagne! This bright fun drink is sure to be a hit for the upcoming warm spring days.
This recipe is vegan and gluten free as is. It only includes five ingredients: frozen strawberries, lime juice (or lemon juice if you prefer), raw honey or other liquid sweetener, mint leaves, and sparkling water (or champagne for an adult only option). Simply blend the first four ingredients together to make the strawberry slush. Store in the fridge until you're ready to serve, then top with sparkling water.
See full recipe here.
Sources:
https://www.theedgyveg.com/2021/02/16/cranberry-oatmeal-bars/
https://lifemadesimplebakes.com/cucumber-dill-salad-6/
https://www.foodnetwork.com/recipes/ina-garten/lemon-cake-recipe-1913110
https://www.occasionallyeggs.com/springtime-strawberry-sparklers/
https://www.today.com/recipes/alex-guarnaschelli-s-springtime-pasta-bake-recipe-t214988
https://www.garnishandglaze.com/greek-couscous-salad/