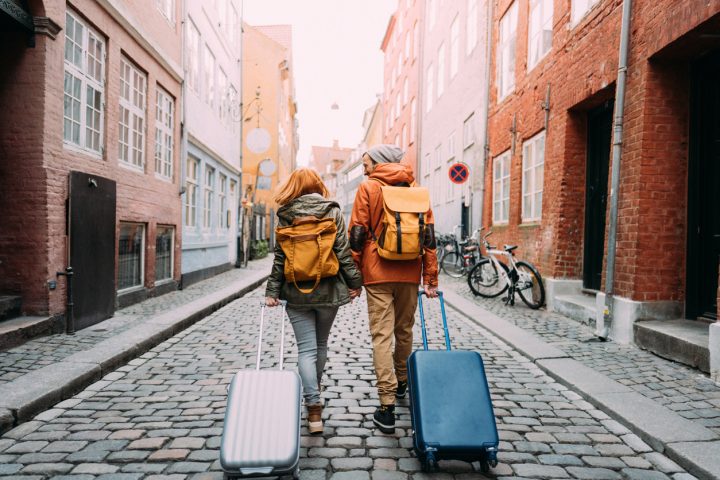 You've booked the venue, you've picked out your florals, you said yes to the dress, and planned all those important wedding details. Next, it's time to think about planning the much needed vacation for you and your new spouse to spend undivided, stress-free time together. Once you've chosen your destination and planned all your festivities, we know the last thing you want to do is plan out a packing list. To take this unneeded stress off your shoulders, we've compiled a list of essentials, nice-to-haves, and fun bonuses to add to your honeymoon packing list so you won't be scrambling for any missing items right after saying "I do."
THE ESSENTIALS
These are the items that must be double and triple checked that you have because you will not want to be without. The night before your flight, or the morning of, go over this list to be sure you did not miss any of these crucial items.
Passport and driver's license
These two are fairly obvious but can easily get misplaced in the midst of chaos and any moves taking place. If your honeymoon is out of the country, have your passport ready to go in a secure and easy-to-find location. Ensure your driver's licenses are on hand and in a safe place.
Credit cards
Not unlike your IDs, ensure your credit cards are accounted for and in a secure place in a bag or wallet. Also, be sure to call your bank to inform them of your upcoming trip to avoid your transactions getting blocked or flagged as fraudulent!
Prescription medications, allergy medicines, vitamins
These daily essentials can get easily overlooked in the packing. Ensure you and your spouse have all of your prescribed medications, including allergy medicines and vitamins. If either of you suffers from asthma, double check for an inhaler. Likewise, if you have a severe allergy, pack an EpiPen to have on hand. That way, you'll rest assured you're prepared for any emergency situation.
Chargers for all devices
You won't want to be across the country with dead devices and no way to charge them. Double check for all charging cables before getting on your flight! Luckily, if this essential does get left behind, you should be able to purchase them at your new location or even in the airport itself.
Copies of important information
To ensure everything goes smoothly and you have all the paperwork you need, make hard copies of all important documents. Have copies of your hotel booking confirmations, your health insurance information, copies of your prescription medications in case you forget or lose your medications, and have a hard copy of essential phone numbers. You'll want the phone numbers of your doctor, an emergency contact, your house or pet sitter, and your health insurance.  In case your cellular device gets lost or stolen, you'll want all of these things on paper!
Clothing appropriate for your destination's weather
If you're going tropical, remember to pack swimwear, sandals, and clothes for the warm weather. If you're headed to the mountains or a ski resort, remember snowproof gear and hiking boots.
Skincare
Don't forget your skincare products. If you're packing light, ensure you have at least makeup remover and sunscreen. If you anticipate long days in the sun, you may want to throw in aloe as well.
THE NICE-TO-HAVES
Our list of nice-to-haves are the items that can be left behind without ruining your trip but will help make your trip more enjoyable and/or stress free.
Luggage tags
Luggage tags make for quick and easy bag identification at baggage claim. They also ensure no confusion over similar looking luggage. Make collecting your luggage more fun by adding cute newlywed luggage tags with your new titles of "Mr." or "Mrs."
eReader or Books
If you have a long flight ahead of you, download a book onto your eReader or grab that copy you've been eyeing to keep you entertained while you reach your destination. A book is also a great companion to lounging at the beach if you're headed to an oceanside vacation spot.
Earplugs, a neck pillow, and sleep mask
Prioritize your comfort on a long flight by bringing these nice-to-haves. That way you won't have to worry about a crying baby or bright lights disturbing you on your trip.
Clothing for your nights in and out
You'll probably want at least one "night out" outfit including heels and a nice dress, as well as some loungewear for your nights in.
Light jacket/sweatshirt
Even if you're going someplace warm, prepare for a windy or chilly night by throwing a light jacket or sweatshirt into your suitcase.
Extra socks and underwear
Remember to pack one set for every day you plan to be gone, and then three to five extra pairs. You can never overpack undergarments.
Tide To-Go Pen
A Tide Pen is travel friendly and easy to use for touching up small stains on the go.
Silicone wedding bands
We know you love showing off your newly married status. So, if your honeymoon involves any adventuring or swimming, try switching off your nice wedding bands for silicone bands. That way, the symbol is still on your finger while your official bands are kept safe from being lost or damaged.
THE FUN BONUSES
Travel playlist
Ensure your memories are made with a curated playlist going in the background. You and your spouse can build a playlist together of your favorite tunes, or songs that fit whatever vibe of trip you're going for. You'll be able to go back and listen to that playlist for years to come and remember all the memories you made together.
Matching newlywed clothes
Why not go all out and show off to everyone your new married status? You can get matching t-shirts or sweatshirts, or even matching bathing suits so everyone at your new destination knows why you're celebrating.
Sources:
https://www.brides.com/honeymoon-packing-list-4843722
https://emmalinebride.com/planning/honeymoon-packing-list/