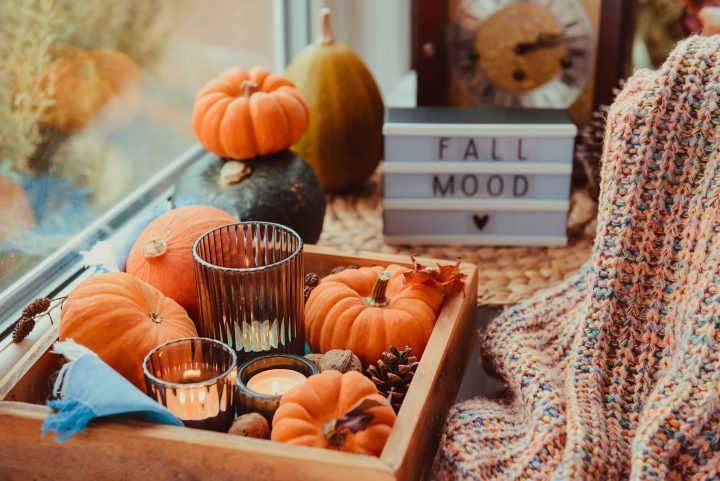 Pumpkin spice is back on the menu, and the temperatures are dropping. Depending on where you live, you may already see the leaves changing from shades of green to red, yellow, and orange. Fall has arrived! 
With the changing of the seasons, we always love switching up our homes a bit to reflect entering a new time of year. Accenting your home with décor doesn't have to be a difficult or expensive project. If fact, it can be quite easy and affordable to decorate your home with fall décor! We're here to recommend some awesome tips that will keep this project fun and won't break the bank. A lot of our options can easily be stored post-season and reintroduced every fall, maximizing simplicity and affordability. Check out our five tips for fall décor below.
Make a DIY Fall Leaf Wreath
Wreaths are great pieces of décor because they can easily add personality and class to the door or area where they are hung. Instead of spending money on a preassembled wreath, a more affordable option is to make one yourself! DIY wreaths are simple and creative crafts to take on. They are highly customizable as well. First, take a trip over to your local dollar store. Dollar stores often have craft supplies and faux flowers and leaves at a fraction of the price of big craft stores. The starting piece for this craft is a wire wreath frame, and the rest is up to you! Check out sites like Pinterest for inspiration. A fall leaf wreath can be threaded with red, yellow, and orange leaves and accented with twigs, pinecones, gourds, and more. It can be as simple or as complex as your creativity takes you. But let us warn you – this fun craft that will likely have you making extras to gift to friends and family. 
Display Gourds Around Your Home
Nothing says 'fall' quite like a collection of gourds. Gourds are hard-shelled fruits that grow on some flowering plants. Because of their small sizes and various fall colors and patterns, they are synonymous with fall décor. Displaying gourds around your home is a quick and simple way to invite the season into your living space. Gourds can usually be found at your local grocery store, or you can purchase faux, decorative gourds from craft stores that can be reused each fall. They can be placed in a variety of ways, like in a glass jar in the kitchen – for an easy and understated pop of fall color, or on an accent table with other elements of décor like moss, picture frames, and fall leaves. These little uniquely shaped fruits will bring fall vibes to your home however you decide to display them. 
Warm Color Accents
Fall is a season known for its warm colors. Thanks to the gorgeous transition of deciduous trees, shades of red, yellow, and orange are prominent colors associated with fall. They are also perfect colors for accenting your home décor during this time of year. Adding fall-themed throw pillows and throw blankets are an effortless and budget way to change up your living room for fall. Pillows and blankets can be purchased at big box stores at a reasonable price, or you can also check discount or thrift stores for even better deals. Fall-themed patterns like leaves and pumpkins work great for throw pillows, and chunky knits in warm colors make for cute and cozy additions to your living room seating. 
Add in the Smell of FalL
Scents like cinnamon and apple are divine scents associated with fall. By welcoming these scents into your space, you add another dimension to your home's fall atmosphere. There are a few different ways to incorporate these scents, including candles, wax warmers and melts, and products like scented pinecones or cinnamon brooms. These are all easy to find at different craft and discount stores at a sensible price. Consider incorporating a variety of these options in your home, like scented pinecones near your entryway for a burst of fall scent when you first enter the house and a warm apple or pumpkin-scented candle in your living room that you can light when you are at home.  
Think About Winter, Too
Yes, another great easy and affordable fall décor tip is to think about winter when purchasing or making your fall décor! By keeping the next season in mind, you can incorporate some neutral, complementary colors and pieces that double as both fall and winter décor. These winter-minded pieces assist with the decorative change in seasons. They can also save you money because rather than having two entirely different décor collections for fall and winter, you can have pieces that are perfect for both seasons and the transition between them! For décor that works for both fall and winter, consider elements like tree branches and twigs, faux berries, acorns, and other accents in shades of brown, rustic orange, or rich evergreen for a perfect blend of these two lovely seasons.