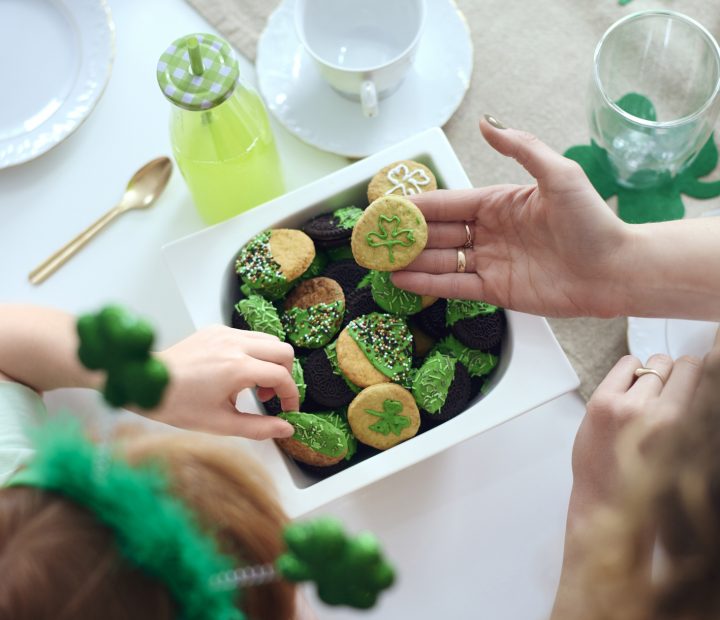 Saint Patrick's Day. A day where everyone is seen wearing a green shirt with the quote "Kiss Me I'm Irish." Unless you're a six-year-old, then you've just been coloring in leprechauns and making pots of gold out of construction paper.
Do you think those people actually know the history behind St. Paddy's Day or is it just an excuse to get totally sh*t faced? I mean, it was the rage in my early twenties, but once you've tied the knot and pushed a couple of humans heads out of you, you're lucky to squeeze in a glass of wine.
Getting off topic, I know.
So I doubt many people know the story of Saint Patrick so to honor the Saint, here's a quick summary of the infamous holiday.
First, he was born in Scotland, and his actual name was Maewyn Succat, and he took the name Patrick after becoming a priest. When he was a young boy, the Roman empire was weak and under attack. By the time he was a young man, he was captured by raiders and sold as a slave. He was taken to Ireland where in his confessions, he mentions spending time with the sheep and finding solace in prayers and God. He mentions seeing God in his dreams and believing he had a mission for him.
Long story short, he brought Christianity to Ireland and drove out paganism which was the dominant religion at the time.
The Irish celebrate this conversion on the 17th of March every year. Here are a few activities that are adult and kid friendly to get you in the spirits of this Irish holiday.
1. Teach Your Kids About The Holiday
March marks Irish American Heritage Month. The Irish know why they're celebrating this day, but many American households celebrate it because of the fun and sake of the kids. While it's always great to take part in a foreign holiday, both children and adults should know the history behind it.
Printing out coloring pages with leprechauns, pots of gold, rainbows, and even the flag of Ireland is a great way to hype kids up and get them learning about the holiday. You can also hit them up with some trivia! There are many myths that surround the story of St. Patrick and kids love those! Who knows? You might learn something yourself.
2. Green Desserts
I'm talking rainbow cupcakes, shamrock gummies, lucky charms rice krispies, Bailey's Irish Coffee Caramel Brownies, shamrock pretzels, St. Patrick's Day cake, and a little something called drunken grasshopper fudge. Good Housekeeping has a ton more recipes but I only picked the ones I've personally tried and have fallen drunk in love with, haha.
So a majority of these desserts can be done with the help of a pair (or two) of little helping hands. It's a great way to bond with children because well, it's a lot of sugar and kids love helping out in the kitchen. There will be a lot of green frosting, and rainbow sprinkles so have them administrate the final touch.\
3. Gold Hunt
You create two teams, and each team gets a "leprechaun" bucket (just a tin bucket I got from The Dollar Store). I painted a four-leafed clover on one and a rainbow on the other to make it more fun, but you can paint anything else that's related to the holiday.
Both teams have to scour the area and find as many gold chocolate coins as they can before a certain amount of time. Of course, those gold coins would have been hidden by you the night before. If you want the competition to heat up, you can conceal dollar bills and whichever team wins, gets a payday. The other side gets chocolate gold coins! It's a win-win!
4. Leprechaun Relay
For this activity, you do need a leprechaun costume. You can choose to make it at home or take the easy road and purchase it from your nearest Party City. I love the idea of this activity because it encourages kids to get moving!
You split your players into two teams and have them form two lines. You offer the costume to the first player in front. Then, they must run an obstacle course conducted by an adult, return to the line, take off the outfit, and pass it on to the next player. The process continues until one team uses up all its players and win.
5. Celebrate With Irish Music
Finally, some dancing.
I love watching kids dance because they get so creative with those dance moves! You can play Irish music and even hire a dancer to teach the children (and yourself) some new moves. If you want to make it a game, you can play Freeze Jig. It's the Irish version of Red Light, Green Light. You play music, and when the music stops, the children stop dancing and freeze. The last person to freeze is the winner.
There are so many activities to choose from! I promised myself I would never get sucked into the Pinterest Vortex, but Pinterest has a ton of great ideas for activities, food, and fun! It's a day full of luck so you should be just fine! Good luck!