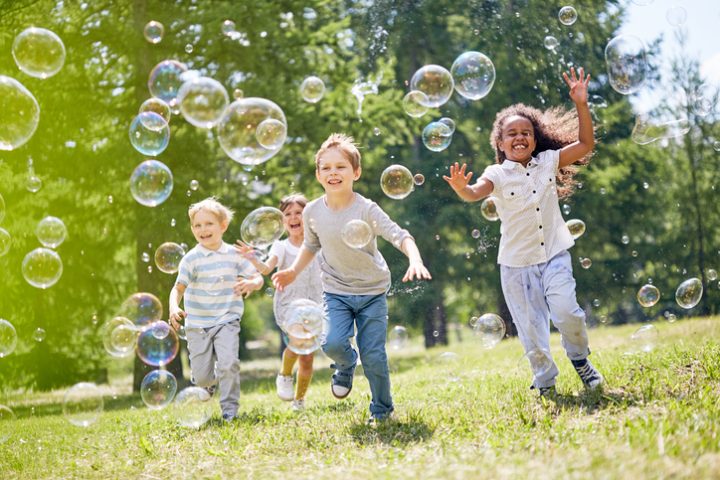 It is finally summertime, my good folks, and temperatures this year have been record-breaking. It is hot, humid, and sticky! 
Before giving birth to the most amazing kids in the world, my usual summer plans would be me in a bathing suit, stretched out in the backyard, getting a tan. 
Now…well, now it's just more fun (and noisier…and messier). Still, I wouldn't change it for the world! 
As if the rest of the year wasn't hard enough for your typical stay at home parent, now the kids are on summer vacation.  So the little ones don't get fussy, you need an idea on how to keep them busy, relaxed, and cool. 
Well, have no fear, we've got the perfect compilation of easy DIY summer activities that will have you releasing your inner kid, too!
Ice Block Treasure Hunt
You think Summer; you're going to think about large bodies of water (pools, lakes, beaches, etc.). But staying home and putting together these affordable and simple activities will be less of a headache and you will be in the comfort of your own home!
For this activity, you will need a large container, children's small toys (animals, shovels, bouncy balls), water, and a parent's supervision since your child will be using heavy-duty tools. 
The idea is to place all the toys in the bin, cover them with water, and freeze them overnight! Have someone help you turn the bin upside down the next day, and that's it!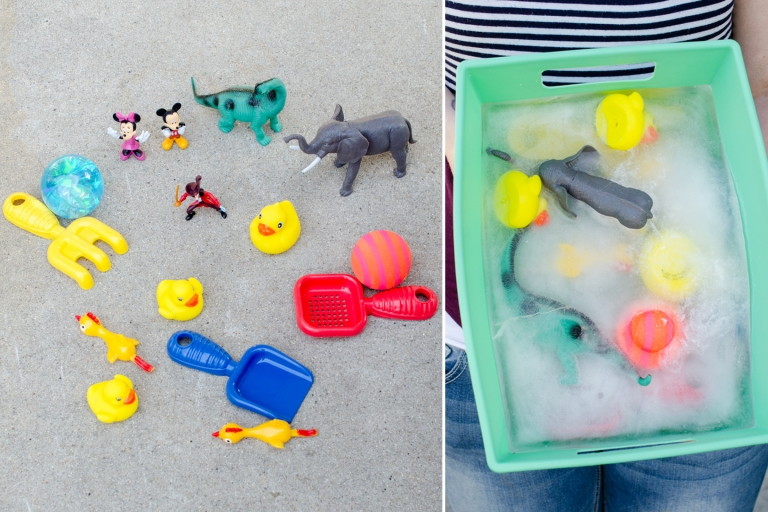 Have your child wear safety goggles as they chip away on the ice with a small hammer to rediscover their toys! They can also use room temperature water over the ice to help it melt faster. 
Another version of this activity is using a small container and freezing the toys in layers of ice. Click here to watch the super simple video! 
Washing Farm Animal Sensory Bin
Yes, another activity with a bin, because they are genuinely life-saving equipment when you're a parent! Not only is this a great summer activity for your toddler and kids, but it's an excellent activity for any time of the year. Its simplicity makes it a recurring favorite in our home.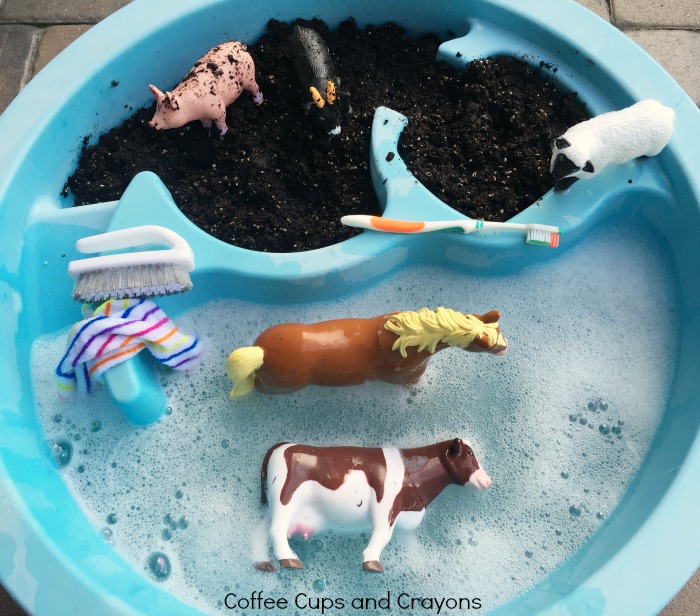 All you need is a bin, dirt, dish soap, water, small farm animal, washcloths (brushes, sponges, etc.). Happy cleaning!
Bubble Trucks (Bubble Foam!)
Ok, if you don't play with this foam more than your kids, get back to me!
Will you need a bin or any other type of large container? Uhm, yes. 
Let's just get this out of the way right now. If you don't own any large bins or containers and you are a parent, then you need to haul your butt to the container store right now and get to purchasing!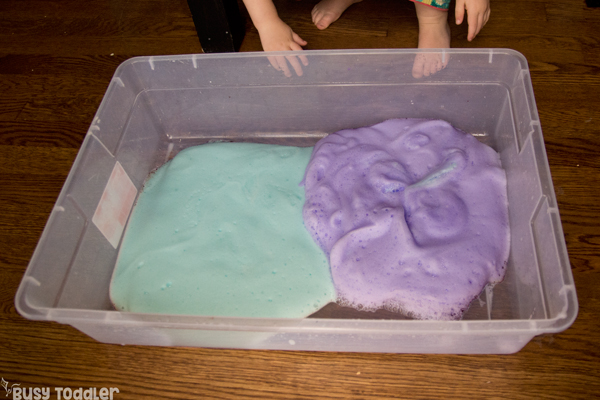 Bubble bath/ body wash, water, food coloring (optional), toy trucks, or any other types of vehicles (preferably small). 
That's it. Boom. Life changed. 
Rainbow Ice Cube Painting/ Frozen Popsicle Chalk 
For ice cube painting, you will need two ingredients: liquid watercolors and water. You fill your ice cube tray with ⅔ water and ⅓ paint and stir! The activity doesn't call for it, but you can place foil over the ice cube tray and place popsicle sticks so it would be easier to hold when frozen.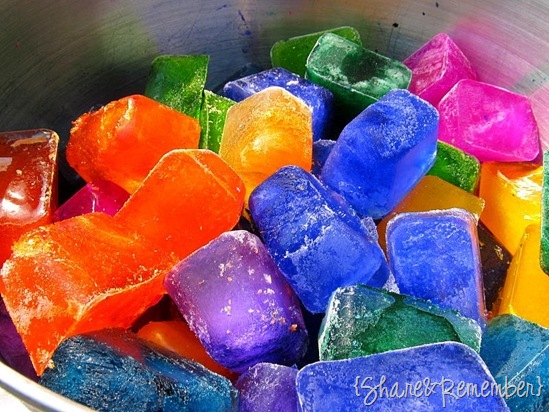 The frozen popsicles hold the same idea but use tempera paint and cornstarch for the recipe. Read more about the activity here. 
Water Balloon Pinata/Water Balloon Volleyball 
C'mon, you know this heat is just going to get worse, so why not tie up balloons filled with water, blindfold your kid, hand them a foam bat, and get to swinging!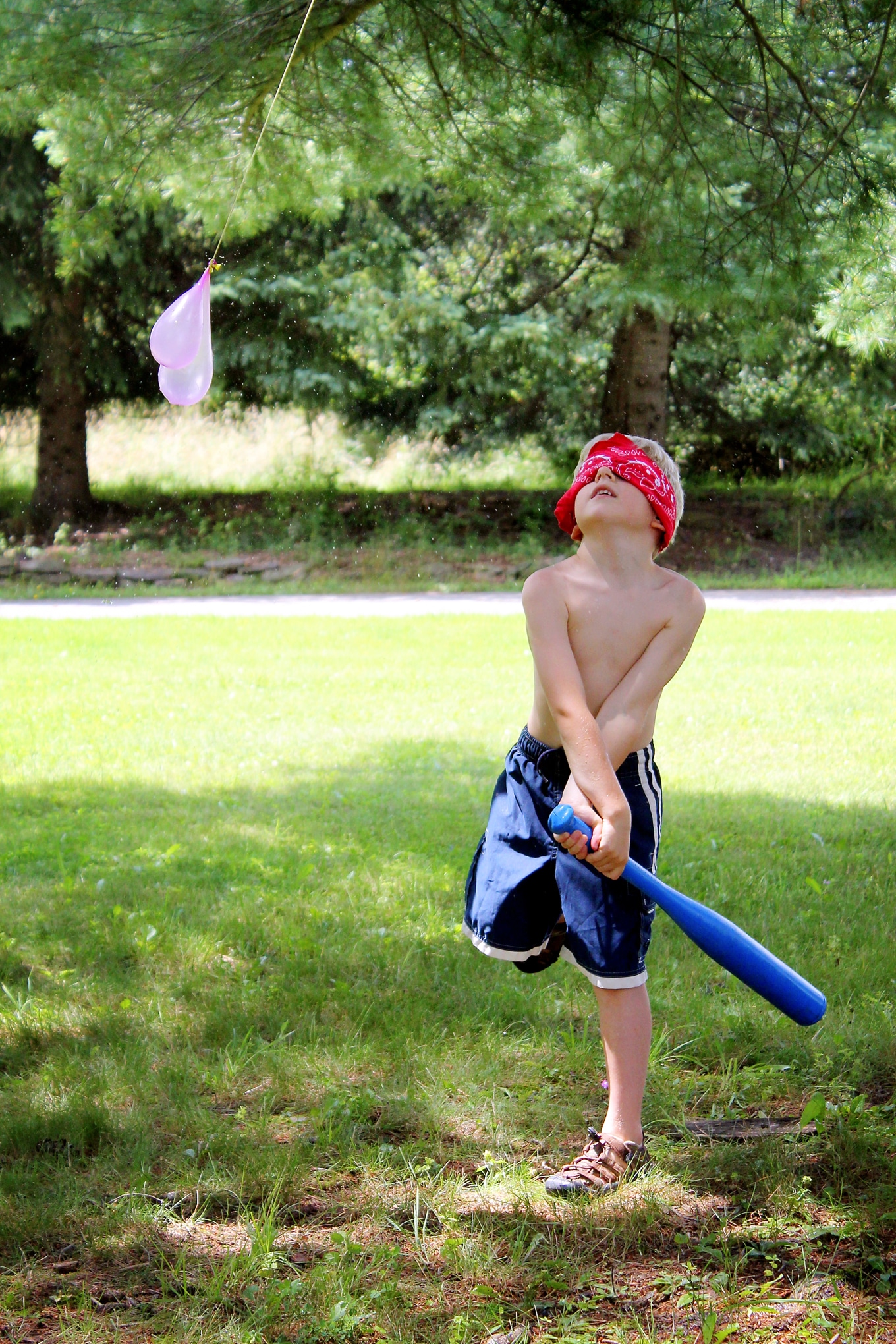 If you want something a little more competitive, then grab some towels! Water balloon volleyball is a fantastic group summer activity where kids have to work together to get the water balloon from their sheet, over the net, and without popping it! 
Toddler Fishing
This one is for all my toddlers out there. They can't do anything serious yet, so sitting in a pool of water is pretty much is as exciting as it gets. Please do not leave your child unattended while they are still in the pool.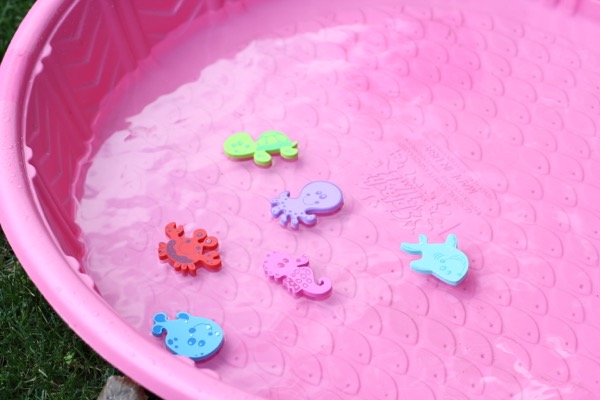 The idea is to fill your kiddie pool with water, dump a few bath (or any water) animals in there, and set them in. Give them a small net to attempt to catch the animals in the water. This is a great way to strengthen their fine motor skills, as well. 
Spray Bottle Silhouette Art 
Alright, so something that doesn't have to do with water. You will need adult supervision with this activity because it does involve a spray bottle, and you don't want your kid spraying the walls with paint.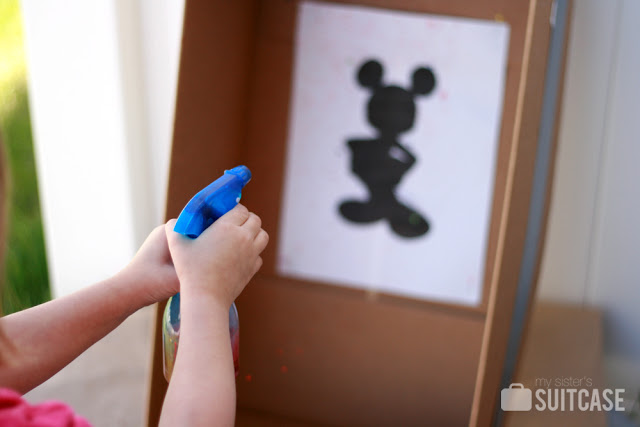 The process is relatively simple and will result in a beautiful art piece that you could eventually frame. 
Rainbow Spaghetti Sensory Activity
 Another great sensory activity for toddlers (and older kids as well!).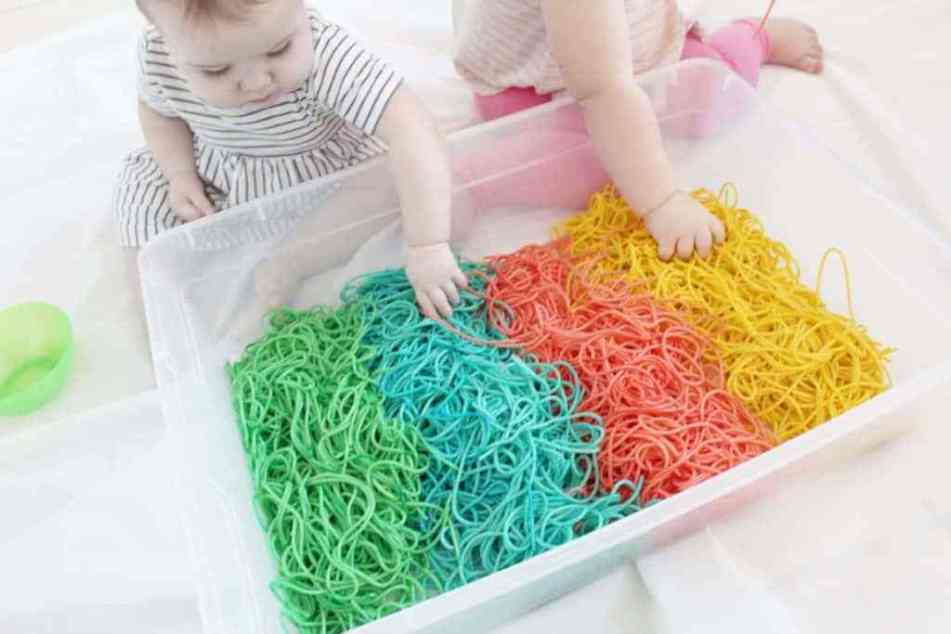 All you need is spaghetti and food coloring. This is one of those activities that you can prep before the kids wake up on a busy day, and not worry about it for the rest of the day.