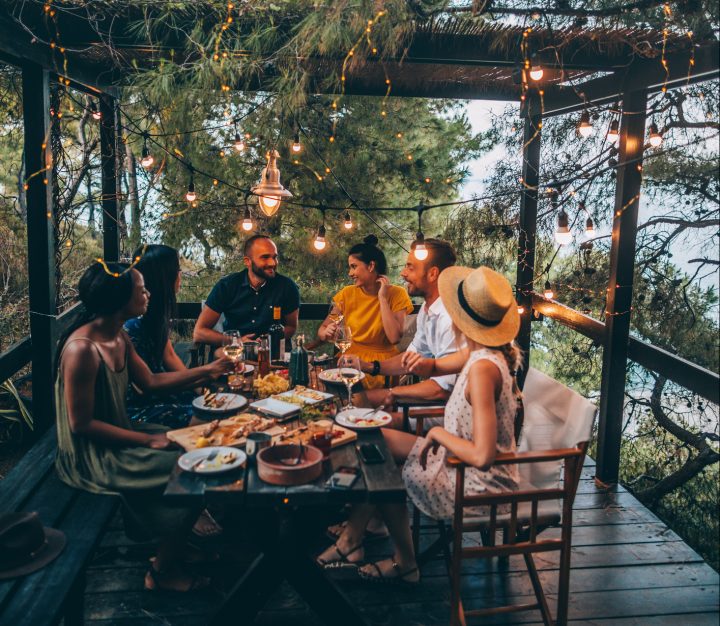 The best part about summertime is finally able to enjoy all of your outdoor space. All of the gardening and landscaping is done, and it's officially time to decorate and enjoy. It's also an excellent time to test your DIY skills on some summer classics. It's never too early to start, so let's begin.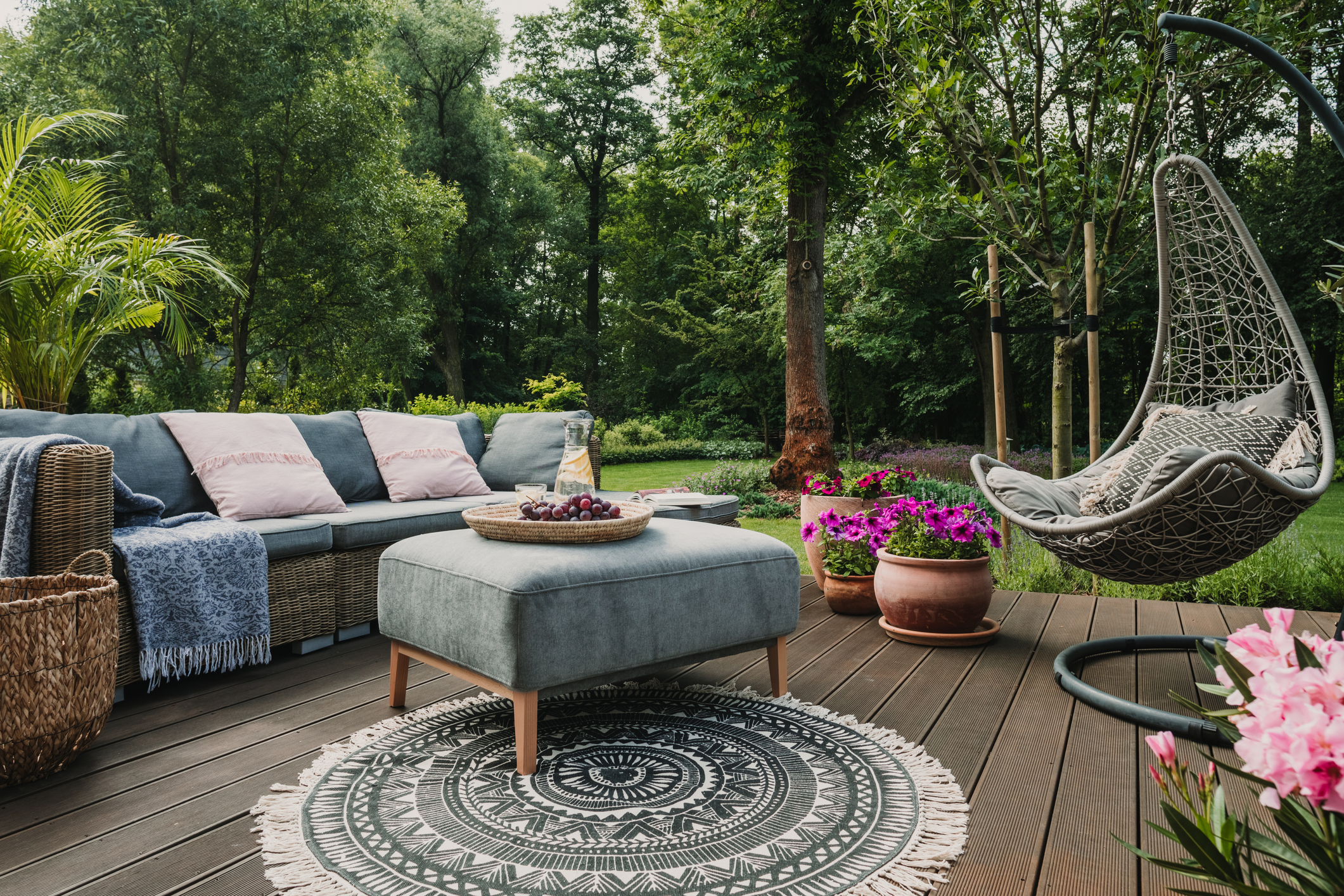 Sitting Area
An outdoor sitting area has so many possibilities, and it all starts with what type of outdoor furniture you want. Buying plastic or easily washable furniture is a safe bet. Still, if you're looking for a more luxurious seating arrangement with cushions, you need to make sure it's all waterproof or water-resistant. 
Outdoor cushions and pillows are available so they won't get ruined if it rains or if someone in a wet swimsuit sits down. They're usually a different material than indoor cushions, and you can find them in an array of colors. It's also a good idea to get a storage bin specifically for your outdoor cushions, so they're easy to store and easily accessible. 
If you can't find any outdoor pillows or cushions that match your aesthetic, they're easy to do yourself. There are a million sewing patterns online, and making them yourself gives you the power to choose any design you want. They'll also be much cheaper if you make them at home. 
Another item that can bring in a fantastic vibe is an outdoor rug. If your sitting area is on a patio, a rug can complete the look and be practical. Brick, stone, and wood can get hot when it's been in the sun all day, and they can be rough on bare feet. A rug could provide some much-needed relief.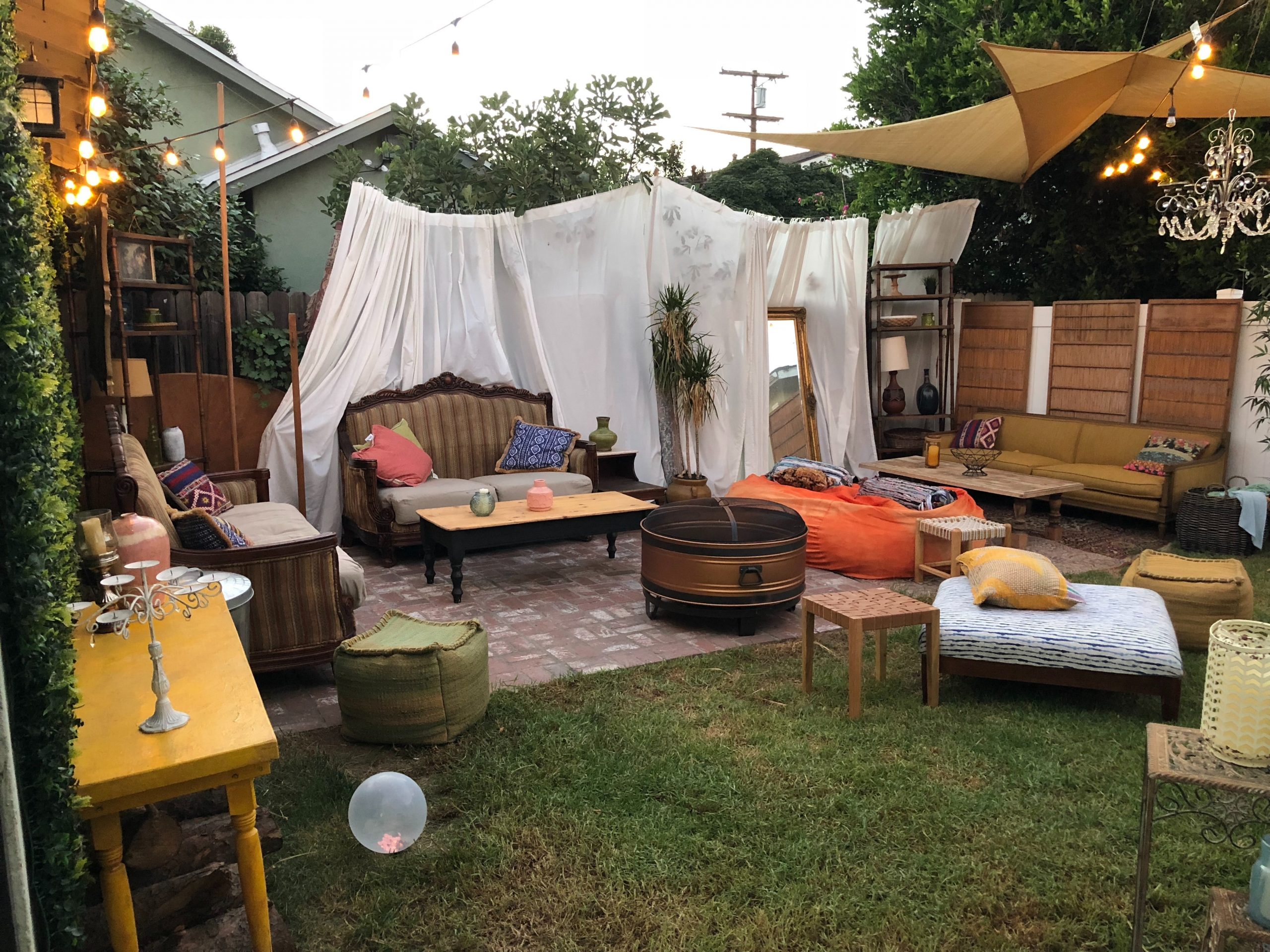 Fun Accents 
Accent lighting is all the rage right now. Depending on your aesthetic, you can choose between twinkle lights or Edison lights. Either one will elevate the space and give you more visibility as it gets dark. You won't have to rely on your porch light and fire pit anymore. 
In addition to whatever outdoor seating you chose, you can also include a hammock or bench swing. They're always a lot of fun, and they're relaxing after a long day of yard work. They will quickly become your favorite spot.
Fun backyard accents don't have to be big to make an impact. Having a backyard doormat can make a big difference! It can welcome you and your guests into your backyard, and it can help keep your floors a little bit cleaner if people remember to wipe their feet. Windchimes are another great addition that can add some charm and beauty to your space. 
These are great options because they're quick, affordable, and anyone can implement them. When you want to get creative, wind chimes can be a great DIY project. You can add bells, shells, wood, or other materials to create a unique look and sound. Your kids can even help make it! 
The final accents are plants. In addition to all of the landscaping you put so much hard work into, you can use potted outdoor plants to add depth and dimension to an outdoor sitting area. They're great because you can easily move them around, and you won't have to do any digging. Just stick them in a pot, make sure they get enough water, and enjoy.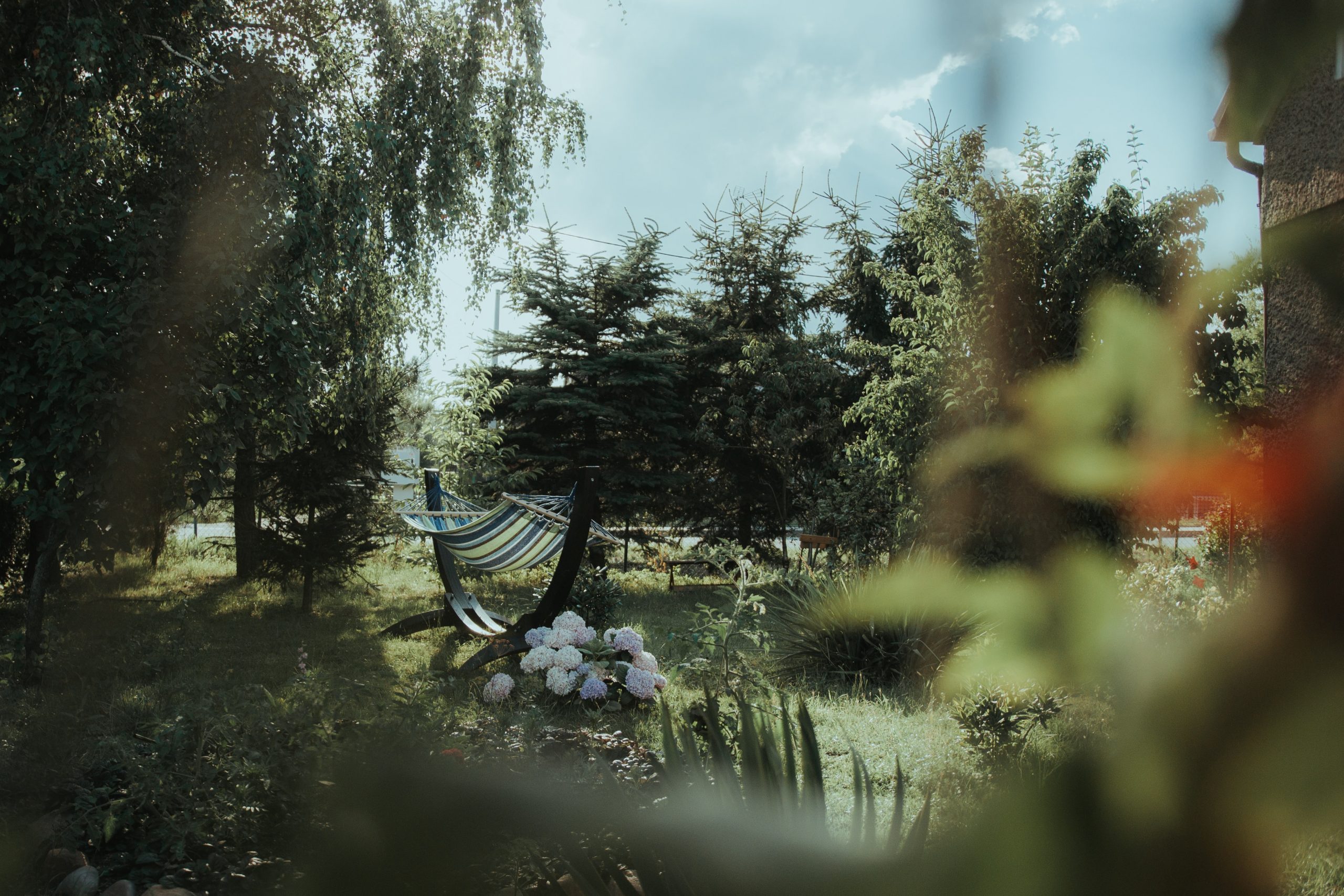 For The Kids 
Kiddie pools are one of the most straightforward outdoor décor items to find and set up. They'll also keep your kids busy for hours on end. Still, you probably think that a kiddie pool shouldn't be considered home décor, but you're wrong! 
They're not the ugly hard plastic ones we remember from our childhood. Now, they have gorgeous blowup pools in tons of different colors and designs. It won't be hard to find a pool that matches your outdoor color scheme. Plus, you can add lights and torches around it to jazz it up.
When you need a child-friendly DIY project, consider adding a tire swing or rope swing to your backyard. Once you have the supplies, it doesn't take long to hang them on a tree and let the fun begin. Get the kids involved by buying outdoor paint and letting them decorate the tire swing any way they want, or you can always spray paint it to match all of your other outdoor décors.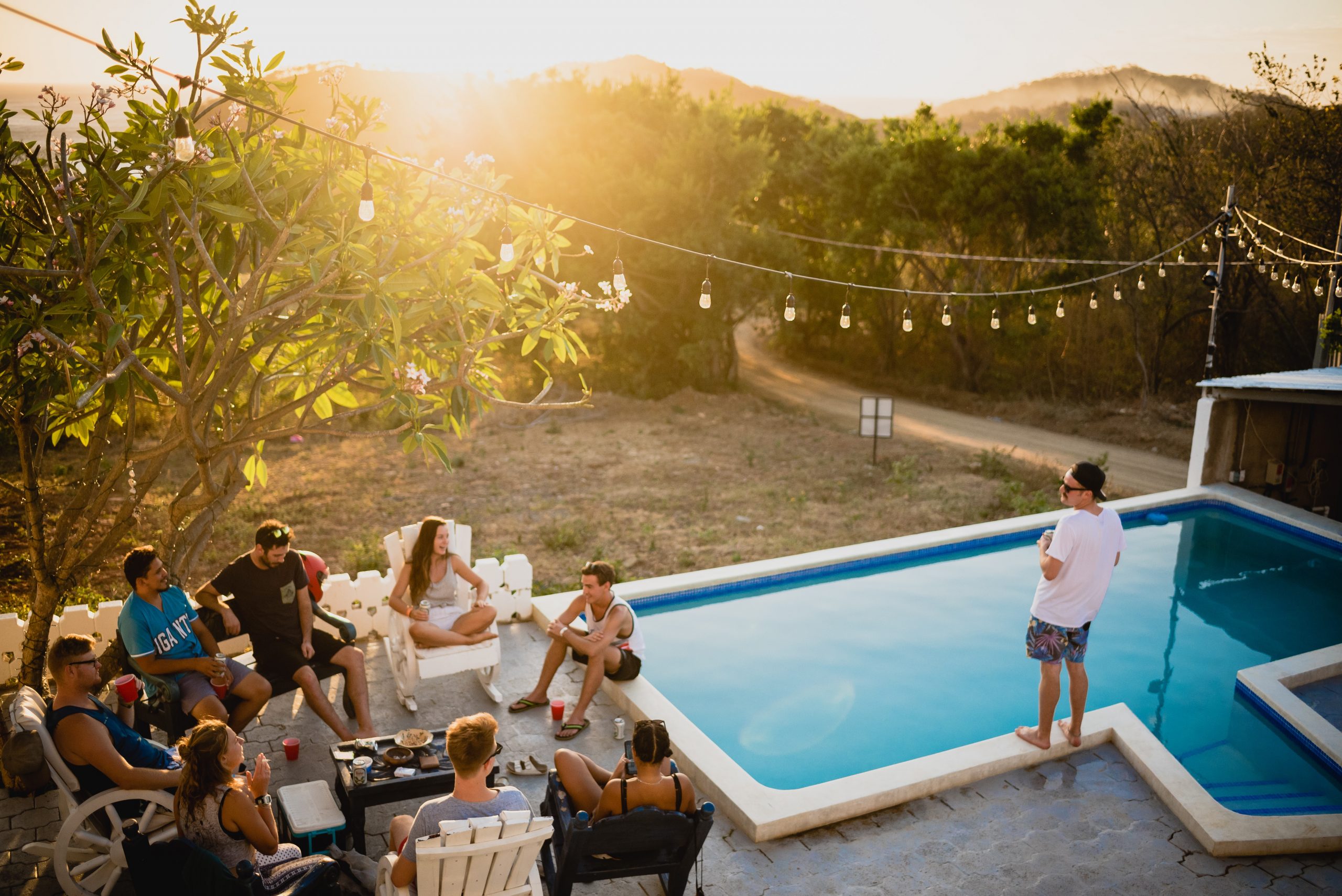 Other Things To Remember 
Try to keep everything as waterproof or water-resistant as possible. If you can't, get covers, bags, or bins to store them in. Also, just because something says it's for outdoor use doesn't mean it's waterproof. It's best if you always double-check.
This décor will also get dirtier a lot faster than you think. Check to see how easily these items can be washed and use darker colors to hide stains. Outdoor items also tend to get ruined a lot quicker than indoor items; sometimes, they only last one season. Please don't dump your money into an item unless you think it will last. 
Consider looking at yard sales and paying attention to store discounts, especially if you need outdoor furniture. Look at different online stores and utilize coupons. Most people are rough on their outdoor décor, even if it's unintentional. It gets rained on, kids jump all over it, food and drinks get spilled, and animals might even mess with it. Don't spend any more money than you have to. 
Finally, the most important tip you need to keep in mind is to be very aware of your space and how it's configured. Just because you have the space available to you doesn't mean you should use it. Beware of putting flammable items too close to a fire pit or barbeque. At the same time, don't put anything involving fire too close to your home. 
For guaranteed success, plan out your furniture and summer home décor set up before you purchase or decorate anything. Give yourself the opportunity to plan for the kiddie pool and bench swing before you ship them to your front door. Then, all you have to do is start planning your first summer barbeque.